Soon we will have another big event coming up at Marvel, and it will bring significant changes in several heroes. In Darkhold, the Book of Sins has fallen into the hands of Doctor Doom.
So, Scarlet Witch has put together a group of Avengers to protect the multiverse from this threat. However, like Blade and Iron Man, Wasp will undergo a frightening transformation, taking a darker look in the comics.
As fans already know, Darkhold was written by Chthon, a mighty evil deity. To fight Doctor Doom, the Avengers will have to enter the entity's dimension and read the cursed book.
Then, at the risk of going mad and getting changed drastically, the heroes must overcome their own darkness to save the multiverse from complete obscurity.
In Darkhold: Wasp#1, written by Jordie Bellaire and art by Claire Roe, we see Janet, the original Wasp, taking on a terrible and frightening appearance. The official synopsis for the comic focusing on the first Avenger reads:
"Scarlet Witch chose Janet Van Dyne for her ingenuity and strength, will she prove to be the lynchpin in the coming battle against Chthon or will she be consumed by darkness?

After reading the Darkhold, Wasp's entire life is subject to question but she has the power to reclaim her story…and fight back."
We see Janet in a darker look on the comic's cover, with spines emerging from her shoulders and eyes glowing red. From her hands, we have reddish energy that grows in a spiral, while in the background – in black and white – we see the Avengers with frightened expressions.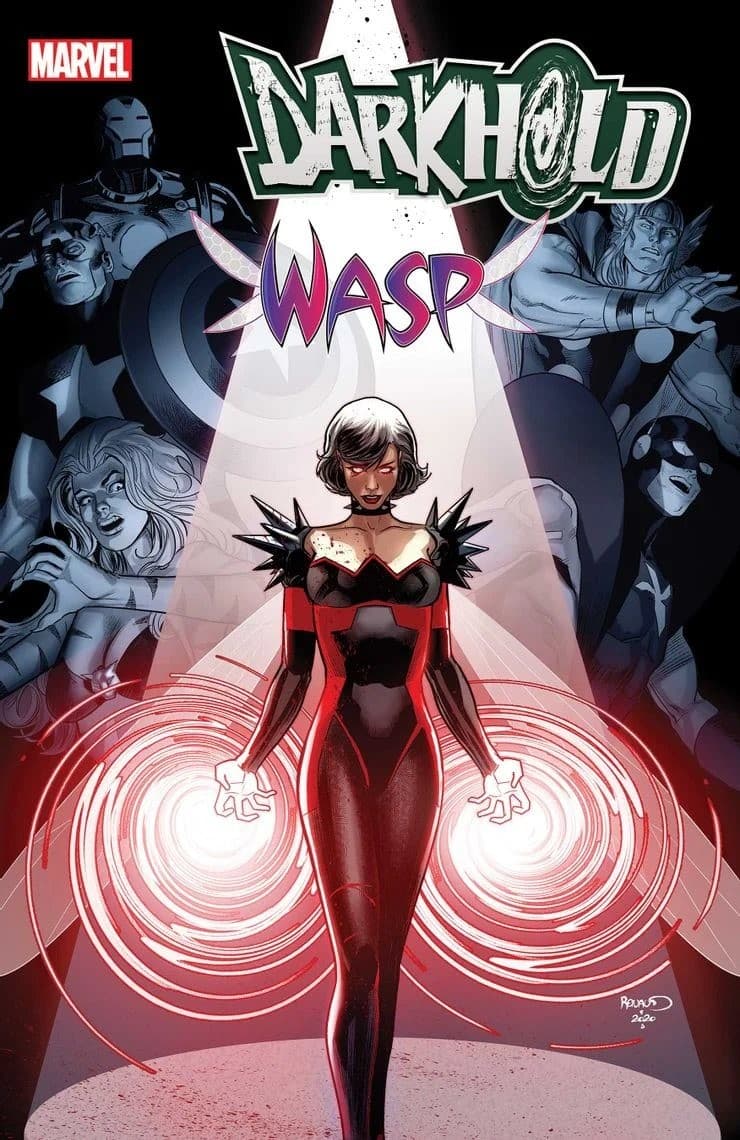 But that's not the heroine's scariest look. Along with the cover, the "contaminated" Darkhold appearance was also released.
This time the heroine embraces the savagery and the more bizarre side of her heroic name, having pairs of wings sprouting from her back – with blood dripping from where the wings cut the skin to bloom.
On his legs and shoulders, we have sharp stings, which match his giant claws. As if that wasn't enough, the heroine's mouth appears ripped open in a gruesome way, making room for tweezers from the jaw of a wasp. Check it out: