Marvel released today (19) the Eternals' final trailer, which clarifies the film's connection to Avengers: Endgame. Several sources close to the cast reported that the film is probably Marvel's "most ambitious" to date.
Early in the trailer, we see Ajak (Salma Hayek) telling Ikaris (Richard Madden) that the "blip," the act that undid Thanos' finger snap and brought back the population that had disappeared from Earth, released the energy needed to start something she calls the. ""
The process appears to have something to do with the Eternals' ancestral enemies, the Deviants since we see the millennial beings coming together to fight several of them throughout the rest of the trailer.
One of the dialogues explains why the Eternals have not interfered in the fight against Thanos, as well as any other previous wars or conflicts that have occurred over the past 7,000 years.
Even Black Knight, who will be played by Kit Harington, also appears a lot in the trailer, including questioning why the Eternals didn't interfere during the wars and problems faced by humanity.
We can also see plenty of action scenes and even some fun moments, which promise another big hit for Marvel's Phase 4.
A new poster has also been released: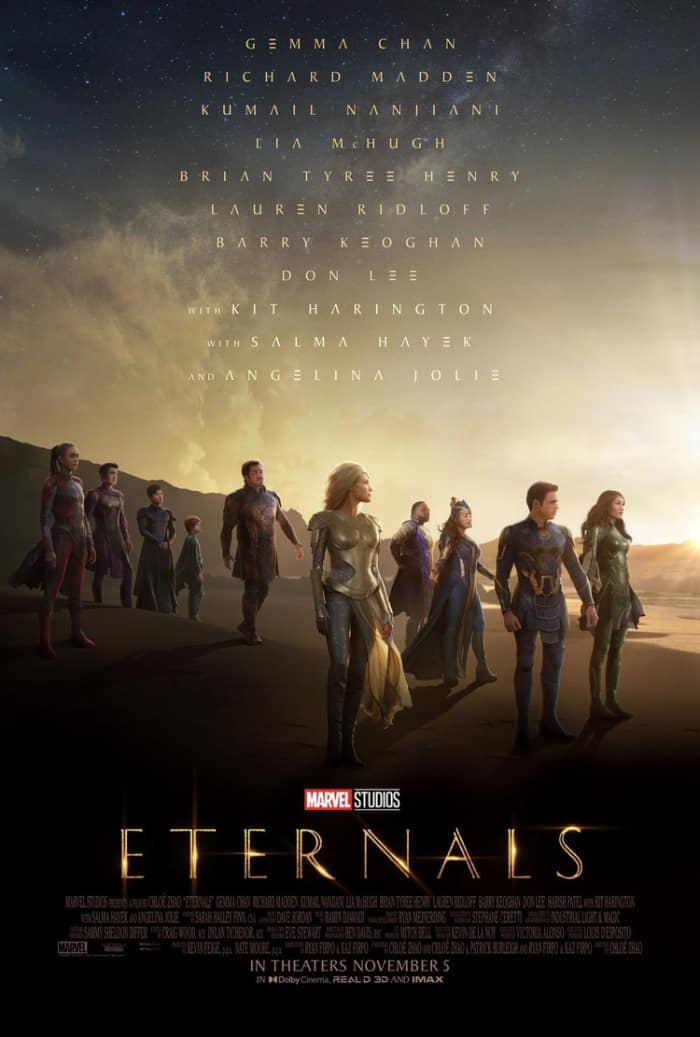 The film's story takes place five years after the events of Avengers: Endgame.
"Marvel Studios' Eternals features an exciting new team of Super-Heroes in the Marvel Cinematic Universe, ancient aliens who have been living on Earth in secret for thousands of years.

Following the events of Avengers: Endgame, an unexpected tragedy forces them out of the shadows to reunite against mankind's most ancient enemy, The Deviants," says the official synopsis.
Eternals will tell the story of 10 heroes, played by big names: Gemma Chan (Sersi), Richard Madden (Ikaris), Kumail Nanjiani (Kingo), Lia McHugh (Sprite), Brian Tyree Henry (Phastos), Lauren Ridloff (Makkari), Barry Keoghan (Druig), Don Lee (Gilgamesh), Salma Hayek (Ajak), Angelina Jolie (Thena) and Kit Harrington (Dane Whitman/Black Knight).
Directing is in the hands of Chloe Zhao, winner of the 2021 Academy Award for Nomadland.
Eternals should hit theaters on November 5.