Funko's terrifying new range of  Marvel Zombies Pop! Vinyl Figures, boasting zombified versions of some badass guys, must be one of my favorite Marvel releases in quite some time.
The undead are returning, and now POP fans know exactly who's to blame. The Marvel Zombies Funko POP! Line features some horror-themed pop collectibles displaying severe symptoms of infection.
Which one-by-one Earth's Mightiest Heroes were transformed into the universe's most terrifying predators, and now the biting and moaning are beginning to take over the World! 
Good news, though. It gives the comics, horror, and Halloween fans a chance to add some of their favorites pops to their Funko Pop! collection, like Wolverine, Deadpool, Hulk, Magneto, Silver Surfer, and more …
The Marvel Zombies line of Funko Pops! was teased at Toy Fair 2020 with a few amazing takes on zombified Marvel heroes and now confirmed in the Funkoween 2020 Event.
Where you can find all about Zombies, including the Marvel Zombies Funko Pop list as well as exclusives, release dates, and Shopping guides. 
With Great Power Comes Great Hunger
Some say the only good zombie is a dead zombie. We humbly offer a different take: The Best Zombie Is a Marvel Zombie!
Marvel Zombies debuted in 2005, kicking off a franchise in and of itself thanks to creators Robert Kirkman and Sean Phillips. A number of spinoff series and one-shots have emerged since then.
The story begins at a time when a good part of the common population is already infected and Magneto has just made sure that the last non-infected people have escaped. He himself, however, is less lucky. Although he is considered one of the most powerful mutants, he is eventually overwhelmed and – well – eaten.
The most obvious difference to other zombie stories, however, is that the zombies, apart from their hunger for the flesh of living beings, retain their complete personality and knowledge. This makes it even more difficult for non-zombies to escape, not to mention the mutants' still existing super abilities…
Now Seriously… Zombie pops are here! Do you think you can live without a creepy zombie in your life?
Funko Pop! Funkoween Event: Marvel Zombie Announcement
Funko Pop! Marvel Zombies Figures List
Zombie Mysterio
Zombie Hulk
Zombie Magneto
Zombie Wolverine
Zombie Deadpool
Zombie Gambit
Zombie Black Panther
Zombie She-Hulk – Hot Topic Exclusive
Zombie Wolverine (Glows In the Dark) – Entertainment Earth Exclusive
Zombie Venom – GameStop Exclusive
Zombie Mysterio (Glows in the Dark) – Walmart Exclusive
Zombie Silver Surfer – Hot Topic Exclusive
Funko Pop! Marvel Zombies Figures Gallery, Shoopping Guide & Release Date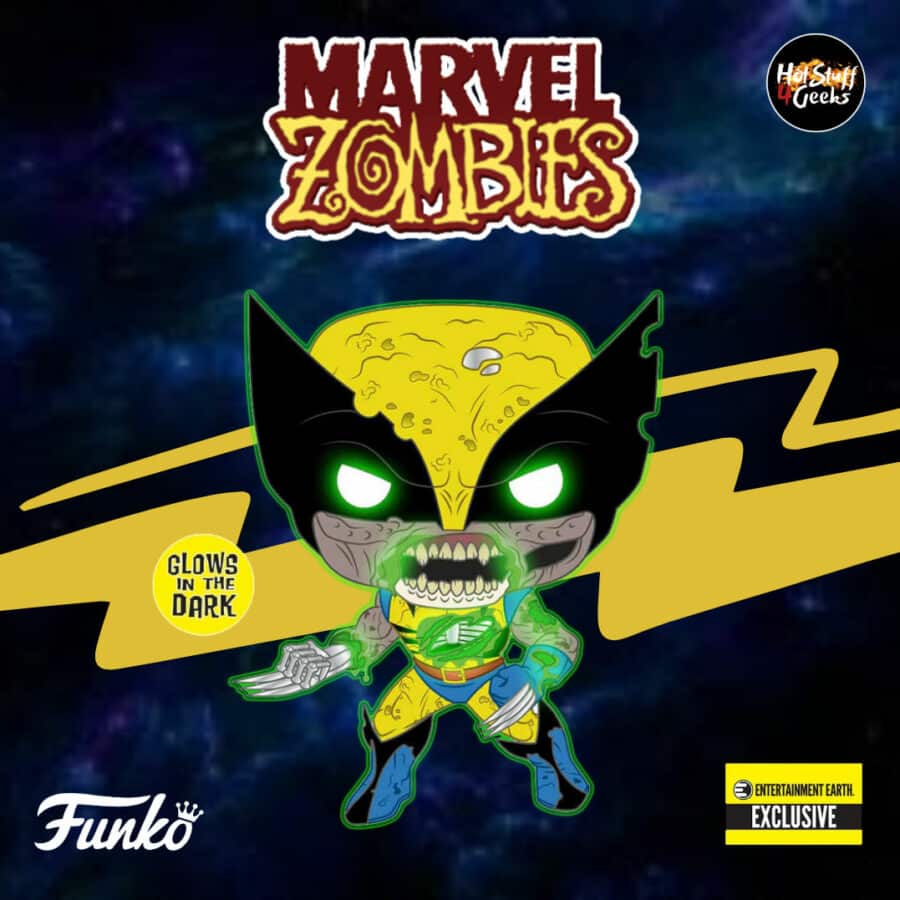 Marvel Zombie Wolverine Funko Pop Glows In the Dark (Entertainment Earth Exclusive)
" I came from a world of hurt, bub. The downer is that I never got to play it all out my way. Too many chefs in the kitchen. That's all changed. Here… In your world… I'm not only the best there is at what I do… I'm the only one who can do what I do." – Zombie Wolverine
Available at:
Expected date: Sep 2020
Read More »
AMAZON PRIME Exclusive Membership Program
Offers Special Benefits Including:
* Instantly watch thousands of movies and TV episodes
* Borrow Kindle books
* Get unlimited FREE two-day shipping (no minimum order size)
DON'T MISS IT!
GET OUR FREE TICKET TODAY! 
HotStuff4Geeks.com is not affiliated with Funko or any of its subsidiary companies. Also, this site contains affiliate links to products. If you purchase some of the awesome Pops featured above, we may receive a small commission from the retailer. This is at no extra cost to you.
Thank you for visiting our site and thank you for your continued support.