New Marvel X-Men: 20 Years Funko POP Figures Announced!
Funko just announced the release of an all-new set of Funko X-Men Pop figures arriving from the cinematic world of Marvel, dedicated to the X-Men 20th Anniversary first movie.
The first X-Men film produced by 20th Century and released in theatres in the year 2000, is celebrating its twentieth anniversary this year. And if the famous mutant saga is about to come to an end next August with the film The New Mutants, the merchandising brands are not missing this opportunity to celebrate these two decades of existence.
The X-Men Of Our Childhood in Funko POP
On the occasion of these twenty remarkable years that have allowed us to discover the adventures of Professor Charles Xavier, Wolverine, Jean Grey, Cyclops, Magneto, and Storm, the Funko brand wanted to pay tribute to the characters of the very first film.
No less than 13 new Funko POP! collectible figures will be released in August, featuring these men and women who, thanks to their famous "X gene," possess supernatural gifts.
These Funko POP! figures celebrate 11 characters from the X-Men franchise and the unique powers they possess, which they will use for good or evil. Hugh "Wolverine" Jackman even gets 2 new figures featuring him, including one in a casual outfit (with his famous tank top and jeans). You'll also find the same character in battle gear.
Magneto is not to be outdone in his original outfit worn by Ian McKellen. You'll also be able to summon lightning, and other weather phenomena with Storm played on screen by Halle Berry.
Henry "Hank" McCoy, aka The Beast, is also present. He only really appeared in the third film of the saga, played at the time by Kelsey Grammer, even if he made a few very short appearances in X-Men 2.
Speaking of the latter film, praised for its visual and script qualities, remember the magnificent introductory scene at the White House where the audience could discover Kurt Wagner alias Nightcrawler, played by Alan Cumming. He, too, has his own Funko POP! figure.
James Marsden's Cyclops, present in the first three films, is also available as a pop figure. What would Scott Summers be without his Jean Grey? The mutant played by Famke Janssen, who turned into Phoenix in X-Men: The Final Encounter is present. In this trilogy, before Jennifer Lawrence took over the role, Raven Darkhölme alias Mystique was played by Rebecca Romijn. They all have some pop treatment!
Of course, Professor Charles Xavier (or Professor X for the gifted youngsters of his school) made famous by Sir Patrick Stewart is getting a new pop in his famous wheelchair.
Finally, the features of the actress Anna Paquin can be found in the pop figure dedicated to Marie d'Ancanto alias Rogue.
Summing up: As regular Pop! figures we can bring home Wolverine, Logan, Mystique, The Nightcrawler, Magneto, Professor X, plus Jean Grey and Cyclops. 
The two announced exclusives are distributed among chain stores such as Walmart (Magento)  and Target (Mystique). 
The Funko Pop! Figures are already for pre-order in the usual stores, and you can check them in the links below.
Funko Pop! X-Men 20th Anniversary Announcement
Funko Pop! X-Men 20th Anniversary Figures List
Mystique (Metallic) – Target Exclusive
488 Magneto – Walmart Exclusive
637 Wolverine
638 Mystique
639 Nightcrawler
640 Magneto
641 Professor X
642 Storm
644 Rogue
645 Jean Grey
646 Cyclops
647 Logan
Funko Pop! X-Men 20th Anniversary Figures Gallery, Shoopping Guide & Release Date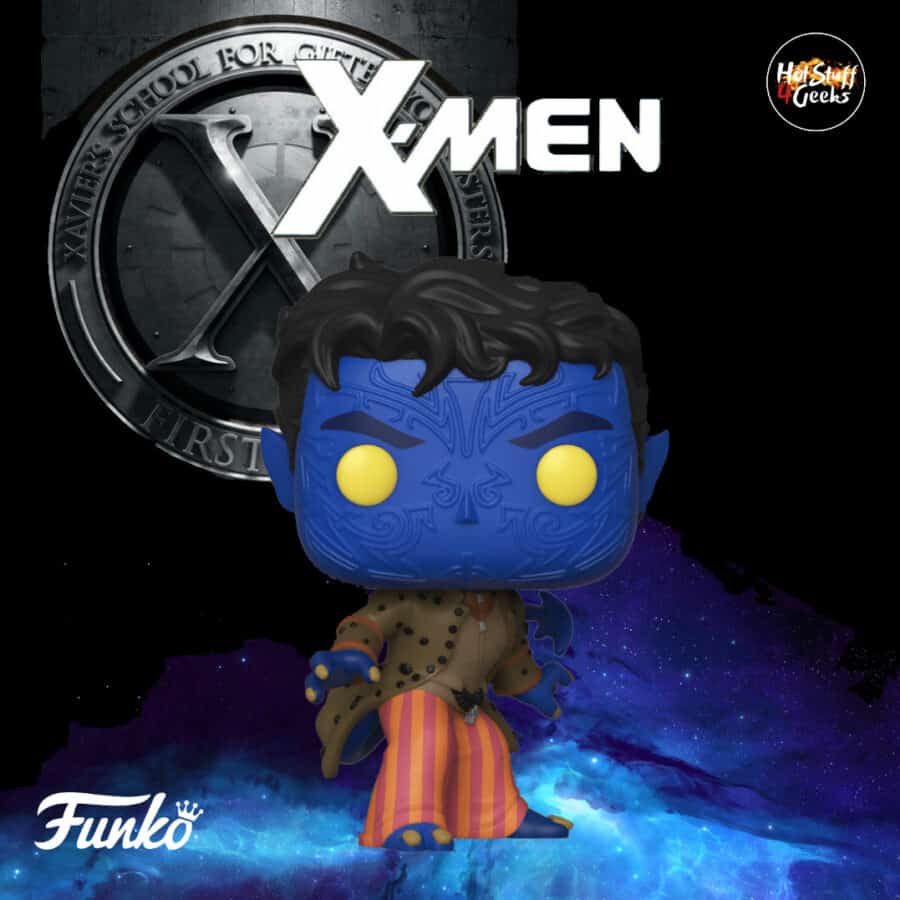 AMAZON PRIME Exclusive Membership Program
Offers Special Benefits Including:
* Instantly watch thousands of movies and TV episodes
* Borrow Kindle books
* Get unlimited FREE two-day shipping (no minimum order size)
DON'T MISS IT!
GET OUR FREE TICKET TODAY! 
HotStuff4Geeks.com is not affiliated with Funko or any of its subsidiary companies. Also, this site contains affiliate links to products. If you purchase some of the awesome Pops featured above, we may receive a small commission from the retailer. This is at no extra cost to you.
Thank you for visiting our site and thank you for your continued support. You're the best!