Modern Family is one of the most acclaimed comedy series on TV. The show has presented the most diverse stories, always with sharp writing and fantastic performances.
Alongside Friends, Brooklyn Nine-Nine, and others, Modern Family is one of the most famous sitcoms beloved by fans.
When it comes to selecting the 15 best episodes from a series with 250, most of which have very stable quality, the challenge is tremendous. But of course, it would be accepted, and here you find a list of essential episodes to understand the critical and audience success of one of the most famous shows on TV. Check it out:
15 – Little Bo Bleep (Season 3, Episode 13)
Jay is worried about his dog, Stella, jumping in the pool without knowing how to swim.
Meanwhile, Mitchell and Cam are nervous over a wedding party in which Lily has been invited to be a bridesmaid. The problem? The girl has learned to cuss and now repeats the word at the most inopportune moments.
However, without a doubt, the funniest scenes of the episode are the ones at the Dunphy house. Claire decides to run for the city council but is criticized for being a "nasty" person. In light of this, Phil and his sons begin to simulate a debate to help Claire sound more sympathetic in the eyes of the voters. In this simulation, they all try to make Claire lose habits such as rolling her eyes, pointing fingers, being sarcastic, and even teach her to use only one side of her face.
The result of the training can be seen in the debate between Claire and her opponent for office. And, of course, the whole thing sets the stage for a lot of confusion.
14 – Perfect Pairs (Season 11, Episode 3)
In this episode of the Modern Familyfinal season, all three storylines are great. First, at Jay and Gloria's house, Gloria's sister, Sonia, introduces her fiancé, Nestor, a man Gloria believes is trying to get his hands on Sonia's money.
The Dunphys are exhausted from helping care for Haley's twins. However, when they realize that the children can help accomplish their tasks, they offer Haley a day off. It is the classic story of borrowing a baby for selfish reasons, but here, instead of trying to seduce women, the characters have somewhat more "modern" motivations.
Mitch and Cam decide to rent the upstairs of their house to a gay couple who also have a daughter around Lily's age. The problem is that the two begin to have issues with their own fitness and cultural repertoire since the new couple seems perfect in every way.
13 – Won't You Be Our Neighbor (Season 6, Episode 5)
The is another episode featuring three different stories in their respective cores. Here, all three levels are about the main characters relating to outsiders.
Jay forbids Manny from seeing his new girlfriend because she is the granddaughter of his biggest rival in the closet business. Cameron and Mitchell, meanwhile, discover that at Lily's school, there is an opening in the teacher's class that is generally liked by the kids. However, because Lily is stressed by her current teacher, the couple decides to pull out all their strings to change the girl's class.
The most entertaining story ends up focusing on the Dunphys. Phil is selling the house next door, and Claire is excited at the prospect of being able to "choose" her new neighbors. However, the whole thing becomes a problem when a family with nasty behavior offers an incredible offer to Phil. The latter is torn between getting rid of the inconvenient family and being ethical with his job as a real estate agent.
12 – The Wedding – Part 2 (Season 5, Episode 24)
The last episode of the series's fifth season reveals Cam and Mitchell's chaotic wedding ceremony.
After the wedding is interrupted by issues out of the family's control, they decide to move the ceremony to another location. This, of course, will not solve all the problems that befall the celebration.
Meanwhile, Jay and Gloria try to mend the relationship between Merle and Barb, Cam's parents. Alex is amused by the fact that Manny and Luke are looking like a couple, and Haley is faced with her true feelings about Andy.
This is an episode that, in addition to being funny, is mostly heartwarming.
11 – Our Children, Ourselves (Season 2, Episode 12)
When Mitch and Cam meet Mitch's ex-girlfriend on the street, they realize that the girl is really uncomfortable with the situation.
Shortly after, they make a startling discovery when they see the woman with what appears to be a redheaded child: Mitchell may have had a child. This is the most absurd and funny scene of the episode, which sees Mitch and Cam having to decide what to do now that they are confident of Mitchell's paternity.
The story at Jay and Gloria's house is not much less amusing. The two end up befriending a somewhat "too cool" couple that Jay can't stand. To correct Jay's rudeness, Gloria ends up making up a lie that makes the whole thing hilarious.
Phil and Claire, on the other hand, are concerned that Alex doesn't have fun like an average teenager and instead lives obsessed with studying. Starting from this, they begin to question their own intellectual instincts.
10 – Phil's Sexy, Sexy House (Season 7, Episode 7)
This episode of Modern Family puts almost all the characters in the same house, and if you know this family well enough, there is no chance of this going well.
The main adventure of this story is inflamed by romance. A series of mistakes and mishaps begin when everyone secretly has the same idea: to stop by at the sensational house that Phil is currently selling.
Haley wants to take a nice bath and meets Andy, Joe's nanny Andy. The problem is that Mitch and Cam also want to enjoy some luxury moments and have some "fun alone." They did not expect that Alex and her new boyfriend, Ruben, would also be hiding in the house while Luke and his friends decided to get together and get drunk on the spot.
As if that wasn't enough, Claire thinks that Phil also wants to enjoy the house alone and heads over there in a sexy Viking outfit. To her surprise, and everyone's surprise, Phil also goes to the place, but his intentions couldn't be more different.
9 – Not in My House (Season 1, Episode 12)
This is one of Modern Family's funniest episodes. Unfortunately (or not), the three central cores of the series are having problems at home.
Much to Mitch's chagrin, Cam decides to help his gardener, a man who is having a hard time in life. For her part, Claire is determined to punish Luke after finding porn on his computer. What she doesn't know, however, is that the owner of the content is her husband, Phil, who is unwilling to admit his guilt. A series of lies then need to be sustained so that no one finds out the truth.
Meanwhile, Gloria is infuriated by Jay's new acquisition for the home decor: a life-size statue of a dog dressed as a butler. The visual gags in this plot are a sight to behold and will get a laugh out of anyone.
8 – The Future Dunphys (Season 4, Episode 19)
When Claire goes for tests at the hospital, she and Phil run into older versions of their own children. The three adults are actually the children of Claire's next-door patient in the hospital room. And it is from their interaction with their father, Claire and Phil begin to project their own family's future.
We also witness Jay taking Manny to visit a private school, but without a doubt, the most entertaining plot of all is that of Mitch, Cam, Lily, and Gloria.
Here, the couple decides that Lily needs a female influence in her life, so they assign that role to Gloria. However, the whole thing gets out of their control when Lily, who is four years old, tells them that she is gay. This storyline opens up an entire range of possibilities for the writers to play with several conservative discourses ingrained in American culture.
7 – The Party (Season 7, Episode 18)
Claire and Gloria plan a magnificent day at the spa. Jay and Cam go to a bar to watch a big fight. And Phil and Mitch go to the premiere of a geeky movie at the theater. So what could possibly go wrong with all the adults going out of the house and leaving the kids alone?
The suspicion that Luke and Manny will have a house party leads Claire to give up the spa, much to Gloria's regret. Claire is convinced that a party would be going on in her absence but will have a hard time proving it, especially since Gloria doesn't believe Manny would make such an act of defiance.
Meanwhile, at the movies, Mitch and Cam use marijuana for the first time, and, completely stoned, they go on the rampage at the Dunphy house.
6 – Yes-Woman (Season 10, Episode 19)
To try to deal with life in a less negative way, Claire decides she will start saying "yes" more. In her yoga class, her teacher Jenny confides in Claire and Gloria that she is dating someone much younger than her – but what neither of them knows is that the boyfriend is none other than Claire's son Luke.
Some of the best episodes of Modern Family are those in which a misunderstanding generates chaotic energy that drives the characters to extremes. This is the case in the nineteenth episode of the tenth season.
Not knowing the identity of Jenny's boyfriend, Gloria invites her to have dinner with her boyfriend. However, upon encountering Jenny's presence, Jay thinks that the woman is interested in having sex with him. The result is simply hilarious, and hardly anyone can go these twenty minutes without having a good laugh.
5 – I Don't Know How She Does It (Season 7, Episode 15)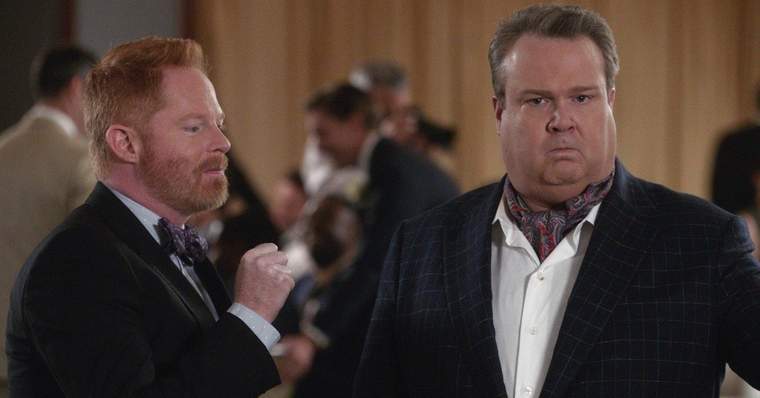 Mitchell and Cam are treated like second-class guests at their friend's wedding, which causes them to try to figure out at all costs what they have done to deserve such treatment.
At the Dunphy home, Claire surprises her children, especially Phil, by managing her routine as a mother, a housewife, and the manager of Jay's company. Naturally, this frustrates Phil a bit, but he has no idea that his wife is hiding the real secret of his success.
In the funniest scene of the episode, Jay and Gloria hide things from each other that they know make them angry. However, the situation starts to get dangerous as the two get closer to the truth.
Meanwhile, Luke and Manny also see their secret on the brink, so the episode becomes one of the most absurd in the entire series.
4 – Las Vegas (Season 5, Episode 18)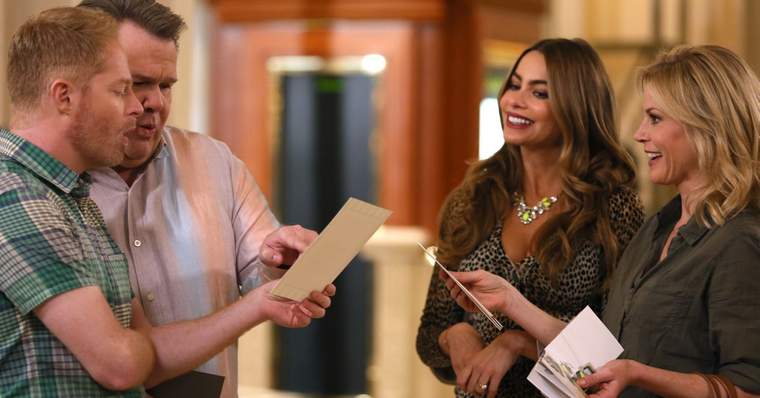 An episode focused entirely on Modern Family's adult characters, 'Las Vegas' follows Jay, Gloria, Mitch, Cam, Phil, and Claire's trip to a luxury hotel in Sin City. Another sample episode brings together a series of misunderstandings, culminating in some of the show's funniest moments.
Gloria discovers a female version of Barkley, the butler dog, in the hotel where they are staying, which causes the woman to try at all costs to prevent Jay from seeing the statue. Meanwhile, Claire is determined to win all the money she lost years ago at the casino, while Cam hides her interest in going to a bachelor party from her husband.
The whole thing reaches its climax when the characters, including one of the hotel staff and a friend of Mitch's, misinterpret each other's intentions, creating a truly unforgettable mess.
3 – Fizbo (Season 1, Episode 9)
In Modern Family season 1, we are introduced to Fizbo, Cameron's alter-ego, when he dresses up as a clown. The episode that introduces the painted-face version of Cam deserves to rank in the top 3 among the best episodes of the series because it brings all the characters together, and it does it very masterfully.
The plot revolves around Luke's birthday party. Phil brings an animal keeper to the party, who in turn drags along snakes, iguanas, and scorpions to the scene. Manny wants to impress a girl at school and asks for Jay's help, who, of course, is not very good at advice.
Meanwhile, Cam refuses to believe that Phil didn't hire a clown for the party and decides to pull his clown costume out of the closet, much to Mitch's dissatisfaction. As they arrive at the party, a series of events unleash pure chaos, leading to the escape of venomous animals and even a severe injury.
2 – A Tale of Three Cities (Season 8, Episode 1)
In this episode, we follow the story of three families in different cities that culminates, of course, at Jay and Gloria's house. And all the plots here are simply sensational, making this one of the hilarious Modern Family episodes.
The episode begins with the Dunphys saying goodbye to New York, where they spent a few days together. But back home, Phil and Claire are determined to go on a road trip while their three children will take a flight as usual – at least that's what they tell each other.
In fact, Haley plans to stay with her siblings for a few more days in NY to enjoy the city without her parents and return home before Claire and Phil arrive. The couple, however, ends up having a similar idea and decides to stay in NY instead of venturing out on the US road. Whether they will be able to sustain the lie for long, you'll have to watch to see.
Cam and Mitch are in the American Midwest to spend their last days with Cam's grandmother, who is on the verge of death. Jay, Gloria, Manny, and Joe are in Juarez, Mexico, where they meet Gloria's sister Sonia, with whom she has a rivalry.
As they all return to Los Angeles, Manny is kidnapped by Sonia. Cam decides to deliver the gifts left by his grandmother to Mitch and Cam, and the Dunphys must pretend to each other that they were not in NY until a few hours ago.
1 – Connection Lost (Season 6, Episode 16)
Just watching a preview of the sixteenth episode of Modern Family is enough to understand why it deserves the top spot on the list of best episodes. Connection Lost breaks with the show's format for the first and only time and presents its entire story through Claire's laptop screen.
Claire waits for her flight home while getting in touch with Haley after a fight. Unsuccessfully, the woman calls everyone to find out where her daughter might be, and as she talks to everyone, Claire begins to suspect that Haley has, in fact, run away to marry Andy in Las Vegas and that she is pregnant.
Both the plot and the jokes are on the level that audiences have come to expect from Modern Family's brilliance. Still, without a doubt, the way they experiment with telling their story by making use of the limitations and tools of the internet is absurdly clever.