In the streaming world, where darker, moodier narratives often seem to drown out anything with a glint of sunlight, Netflix's live-action adaptation of "One Piece" is akin to a gust of sea breeze clearing away the fog.
It's as refreshing as taking that first step onto warm sand after a chilly night.
While Netflix has stumbled before with anime adaptations—let's not sugarcoat it, "Cowboy Bebop" and "Death Note" fell far from the mark—the seasoned pair of Steven Maeda and Matt Owens perform a kind of creative alchemy.
They take us on a heartwarming voyage, navigating through not just the open seas but also intricate themes of friendship, loyalty, and the quirky complexity of human emotion.
For those who might dismiss this as just another anime adventure, let me assure you, it's much more. The series cleverly intersperses moments of laugh-out-loud humor, evoking the whimsy of the "Pirates of the Caribbean" saga.
While it pays homage to its anime roots and pleases dedicated fans, it's also accessible to those who might not know 'manga.'
If anime isn't your go-to genre, you might find "One Piece" a tad extravagant at first glance. Featuring a protagonist, Luffy, who is so cheerful he could give a sunflower an inferiority complex, the show initially comes off as an amped-up cartoon.
But bear with it. As Maeda, Owens, and their skilled cadre of scriptwriters unpack each character, they begin to feel like long-lost friends you're getting to know all over again.
As you go, episode by episode, you'll witness the narrative unfold, layer by nuanced layer. The narrative doesn't merely entertain; it evolves.
It's like staring at one of those optical illusion paintings—stand there long enough, and you'll see dimensions and depth you never knew existed.
This show, in other words, is not a flat surface. It's a kaleidoscope, offering shades of emotional and visual nuance that are as stunning as they are diverse.
The animation is not just about eye candy; it's a narrative tool. Scenes bathe in the glow of warm colors when the mood is light and shift to darker, more complex palettes when tackling gravitas and conflict.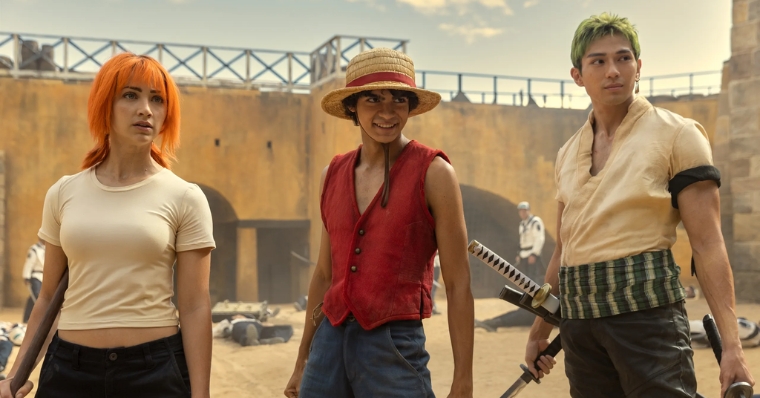 Underlying all of this is Eiichiro Oda's seminal work, the canvas on which this vibrant tapestry is painted. This isn't a mere retelling; it's an expansion.
It's like being told a bedtime story by a bard who doesn't just recite but also improvises, creating an epic that would put Homer's Odyssey to shame.
And let's not overlook the cast. These aren't just characters; they're performances sculpted by an ensemble that's as talented as it is diverse. I
ñaki Godoy, Mackenyu, Emily Rudd, Jacob Romero, and Taz Skylar bring Luffy's Straw Hat crew to life with a vivacity that turns your TV screen into a portal to another world.
Technically, the series is a marvel. It marries rustic aesthetics with cutting-edge filmography, including rapid cuts and seamless framing that Edgar Wright would nod approvingly at.
In a time where nostalgia is a double-edged sword, "One Piece" taps into the same effervescent spirit that made movies like "Scott Pilgrim vs. The World" fan favorites.
The soundtrack is more than just background noise; it's an auditory odyssey that's uplifting and engaging.
It accentuates the rollercoaster pace of the Straw Hat crew's escapades, carrying viewers along like a current you can't fight—and wouldn't want to, even if you could.
As you consider what to cue up during your next Netflix binge, you might want to let "One Piece" hoist its sails and take you along for a ride.
Whether you're a die-hard anime fan or you're still wondering why grown adults are so fascinated by what you perceive as kids' stuff, there's something in it for everyone.
Make no mistake, this is not just a series; it's an exploration into a world as unbounded as the ocean itself, a world teeming with magic, heart, and the kind of adventure that leaves you thirsting for more.
In a landscape filled with countless shows vying for your attention, "One Piece" is that hidden treasure you didn't even know you were searching for.