2021 NEW AC/DC Back in Black Pop! Album (All 5 Band Members)
Funko is celebrating rock and roll music with the Funko Pop! Deluxe Albums: AC/DC – Back in Black Funko Pop! Vinyl Figures – Walmart Exclusive
It features each band member as Pop figures and the album cover art packaged together in a hard protective case that can be hung on a wall. Brian Johnson, Phil Rudd, Angus Young, Cliff Williams, and Malcolm Young Funko Pops! are ready to rock in our music collection.
After the success of the Highway to Hell album, AC/DC had to deal with the tragic and untimely death of lead singer Bon Scott.
Heartbroken, the band members considered breaking up, but, encouraged by Scott's own father, they not only moved on but turned grief into tribute.
And this is how the album Back In Black, released in 1980, was born.
The Walmart exclusive, AC DC – Back in Black Funko Pop! Albums Vinyl Figures can be found at the links below (click to jump!)
41 years ago, the Australian group AC/DC managed to turn tragedy into glorious victory
The best-selling rock album of all time began at a funeral.
On February 29, 1980, the ashes of AC/DC lead singer Bon Scott were buried in the Fremantle Memorial Garden cemetery outside Perth in Western Australia. It was an intimate ceremony: the closest family members, his bandmates, and not many other people.
At the end of the burial, Scott's father, Chick, approached Malcolm Young, the group's guitarist, who was depressed. He stood facing him, put his hands on his shoulders, looked him in the eye, and said, "You guys have to keep going. Bon would like it to be like this."
This statement was the first step towards Back In Black, the rock album that circulated the most: 50 million copies worldwide, only surpassed in sales by Michael Jackson's Thriller (66 million). The third is Pink Floyd's The Dark Side of the Moon (45 million).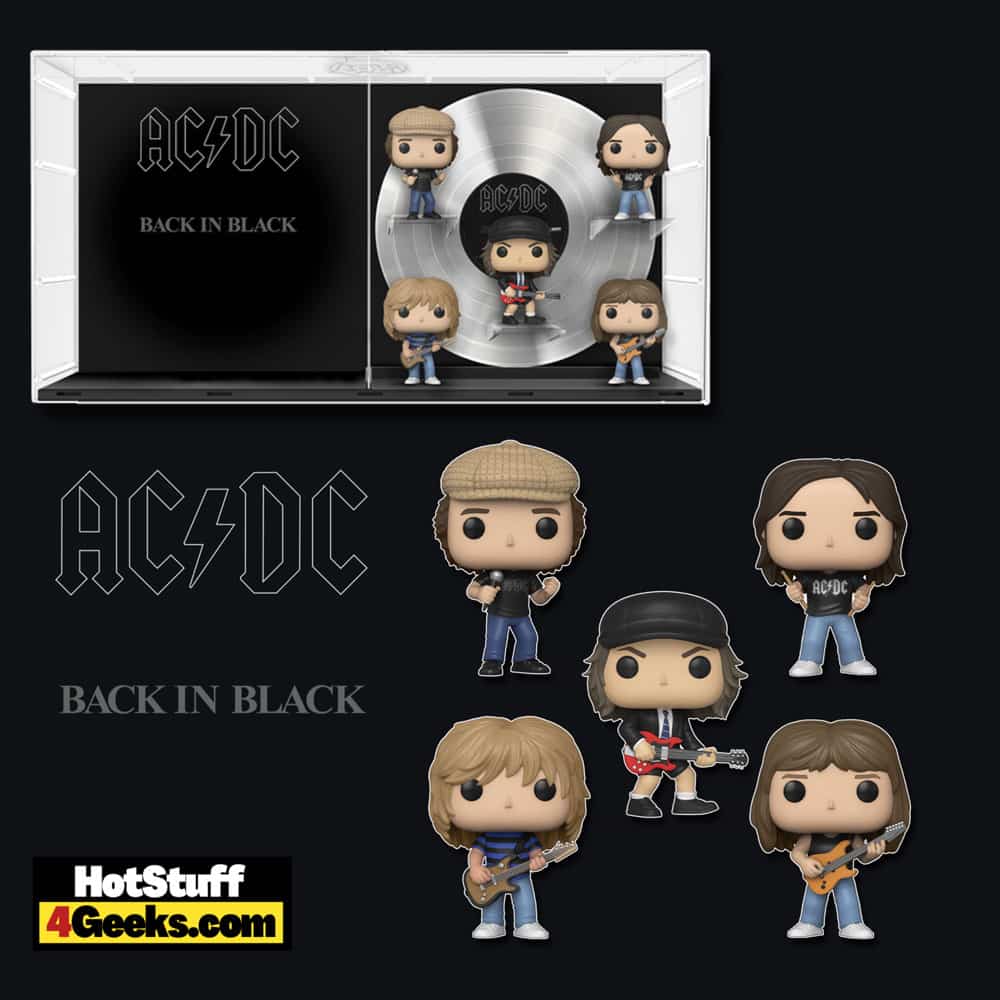 The Walmart exclusive, AC DC – Back in Black Funko Pop! Albums Vinyl Figures can be found at the links below (click to jump!)
Back In Black came out on July 25, 1980, five months after the singer's death. The cover (Black), the title, and the entire album are a tribute to Scott. The album immediately began to climb up the best-seller charts, both in the United States and in Europe.
Guns N'Roses guitarist Slash once said:
"Back In Black saved rock 'n' roll! It was the defining rock record that came during the biggest lull for rock music. It just exploded! (…) We all missed Bon, but we let him go and at the same time welcomed and embraced Brian."
Despite coming from a dark area, Back In Black is a party, a record containing only a few gloomy moments: the 15 chimes at the beginning of the album, the onset for Hells Bells.
From then on, everything is fun and rock and roll: What Do You Do for Money Honey, You Shook Me All Night Long, Have a Drink on Me, Shake a Leg… Until the closing with Rock and Roll Ain't Noise Pollution manifesto.
Starting now, you can receive 10% off in-stock items and free shipping on $39+ orders with my special link at Entertainment Earth!
You can also use CODE: 4geeks anytime. Enjoy!
As an Amazon Associate I earn from qualifying purchases
Want more stuff like this?
Get the best viral stories straight into your inbox!
Don't worry, we don't spam