2021 NEW Disney: Dumbo In Bubble Bath Funko Pop! Exclusive
Inspired by the adorable bath time scene in Dumbo, this Funko Pop! Disney: Dumbo In Bubble Bath Funko Pop! Vinyl Figure – VeryNeko Exclusive is too cute for words!
In the story, the elephant Mrs. Jumbo (Verna Felton) is a circus animal who receives a little package brought to her by the storks: a baby boy. However, little Jumbo Jr. is not like the other elephants: his ears are huge.
Between teasing from the other pachyderms and ridicule from the humans visiting the circus, the little elephant is soon nicknamed Dumbo.
He gets into a lot of trouble, not from his disproportionate ears but from the misunderstanding and prejudice of those around him.
This Dumbo In Bubble Bath – VeryNeko Exclusive Funko Pop! Vinyl is now available for pre-order at the links below (click to jump!) It's expected to be released in March 2022.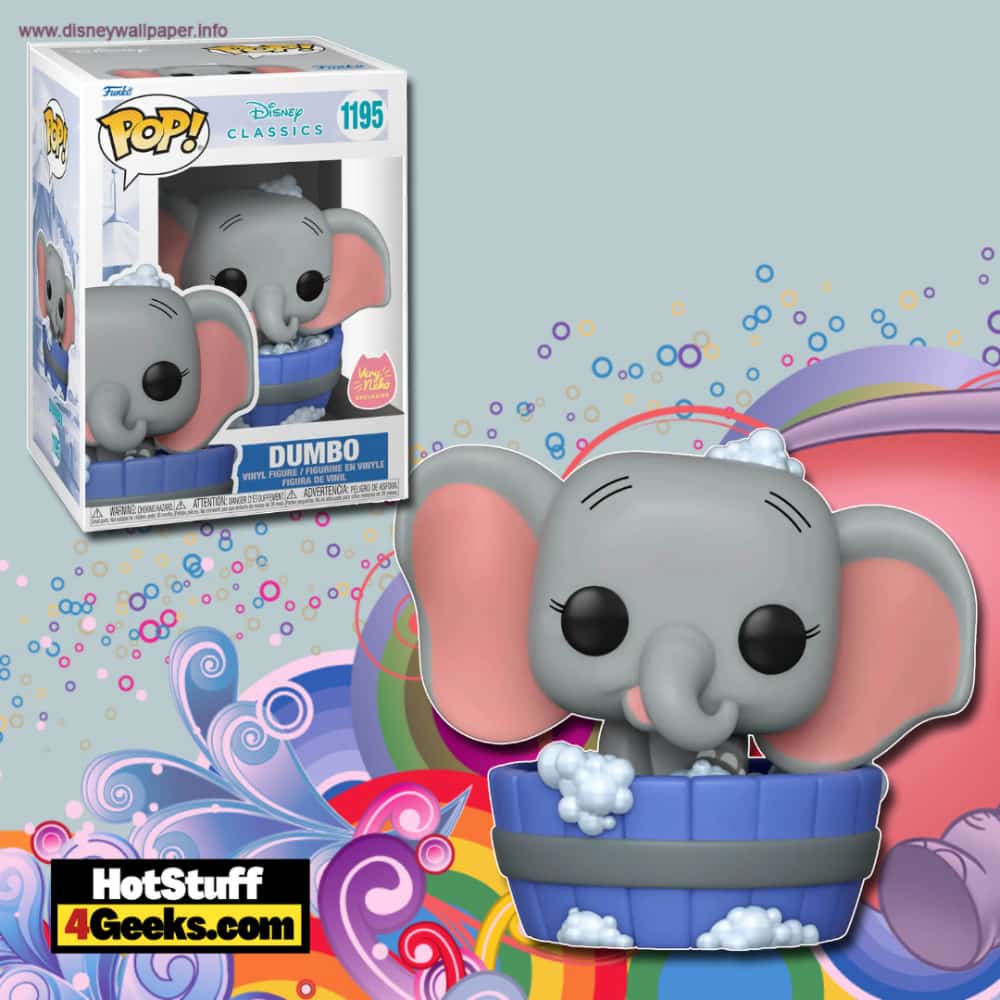 Dumbo is a baby elephant that was born with huge ears. One day he meets Timothy, a little mouse who scares most of the elephants in the circus where Dumbo lives.
Contrary to what might be expected, the mouse and the elephant eventually become friends, and together they become the biggest attractions of the circus. Using his ears, Dumbo does what no other elephant can: fly!
Dumbo is an ode to difference, in a film that is a visual delight (the colors), musical (the songs full of humor and emotion), sentiment (the mother-son bond, the friendship between Dumbo and Tim), humor (the crows), and surprise (Dumbo's abilities).
It is also a prodigy of the narrative economy (lasts over 60 minutes) and technique (small crew and few means).
It was an "ugly duckling" (few believed in the film, starting with Walt Disney), but time has made it a beautiful Elephant and one of the most beloved characters ever.
Starting now, you can receive 10% off in-stock items and free shipping on $39+ orders with my special link at Entertainment Earth!
You can also use CODE: 4geeks anytime. Enjoy!
As an Amazon Associate I earn from qualifying purchases
Want more stuff like this?
Get the best viral stories straight into your inbox!
Don't worry, we don't spam