2021 NEW & Exclusive: Mini Nezuko in Box Funko Pop! Deluxe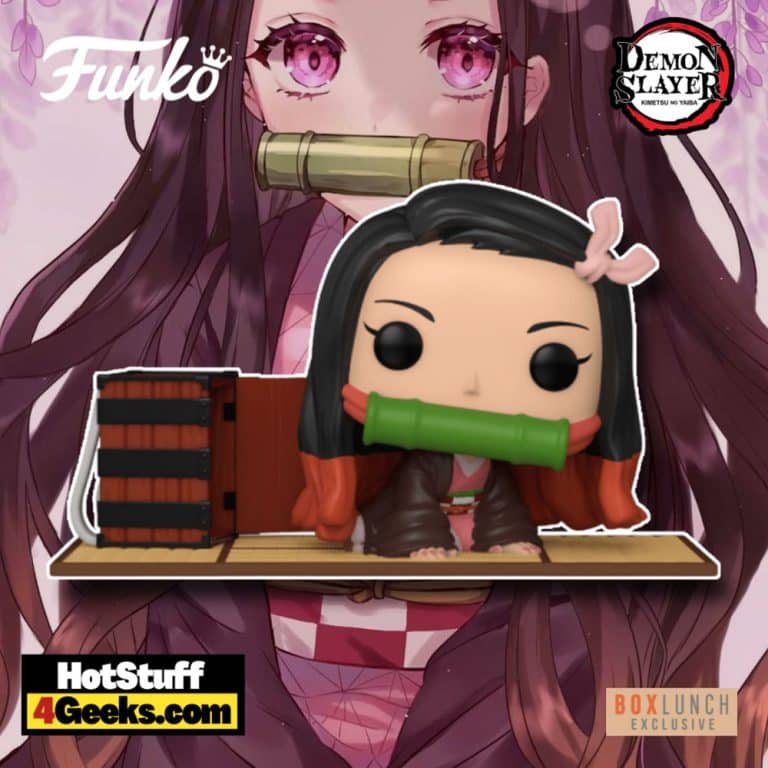 Modeled after the sweet demon and posed to strike, this Funko Pop! Animation: Demon Slayer: Mini Nezuko in Box Funko Pop! Deluxe Vinyl Figure – BoxLunch Exclusive is ready to protect our Funko collection from any wandering Demons, in or out of her box (available for order at the links below).
By becoming an Oni, Nezuko grew stronger and acquired powers, and had her appearance changed. The character then had claws, jaws with fangs, and red locks of hair.
Also, after the transformation, Nezuko lost her memories and even attacked Tanjiro. However, it was soon possible to see that the character still had humanity.
An example of this is the moment when Nezuko defends Tanjiro. Thus, even being an Oni, the character could still control her strength and instincts and protect a human!
Every fan knows, Nezuko Kamado is better when she's let out of the box. But this one time, you may want to keep her there!
The BoxLunch Exclusive, Mini Nezuko in Box Funko Pop! will be released on 19 December 2021 in stores and online. It's now available for order at the links below.
Demon Slayer is set in Japan during the Taishō Period (1912-1926) and features its main character Tanjirō Kamado, a coal merchant who lives with his mother and siblings in a quiet hut on top of an icy mountain.
One day, after returning from a day's work, Tanjirō discovers that his family was attacked by onis (demons) and that the only survivor was one of his sisters, Nezuko.
However, Tanjirō soon realizes that his sister is not the same. Instead, she attacks him and tries to bite him. Nezuko has turned into an oni.
Onis are demons, beings with unusual strength and regenerative ability. They eat humans, use blood magic to increase their powers, and their main weakness is sunlight.
After discovering the existence of onis, Tanjiro becomes a hunter of these demons and goes in search of a cure for Nezuko.
Starting now, you can receive 10% off in-stock items and free shipping on $39+ orders with my special link at Entertainment Earth!
You can also use CODE: 4geeks anytime. Enjoy!
As an Amazon Associate I earn from qualifying purchases
Want more stuff like this?
Get the best viral stories straight into your inbox!
Don't worry, we don't spam