2022 Anime Expo: Gentle Criminal & La Brava 2-pack Funko Pop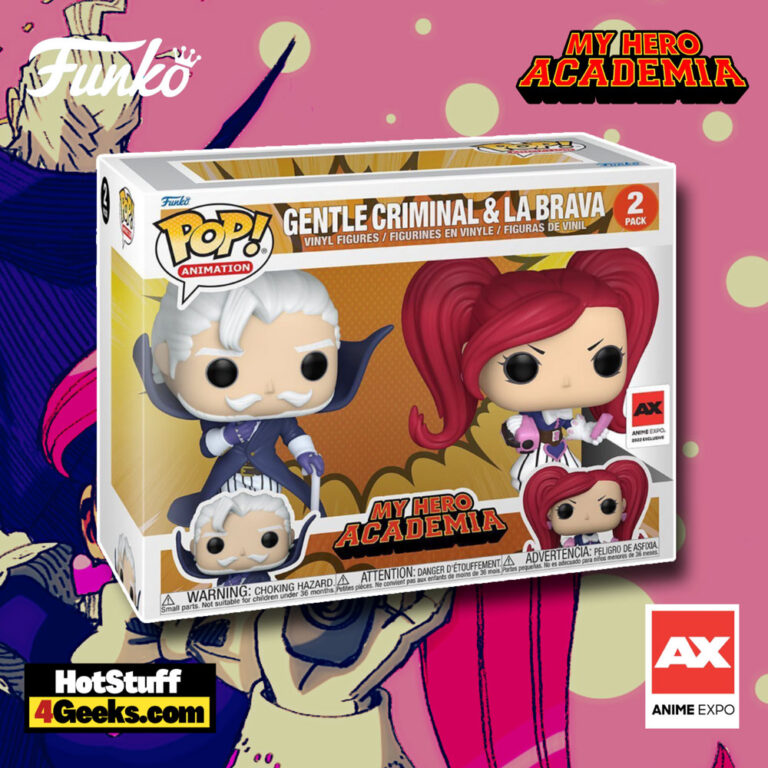 The new Funko Pop! Animation: My Hero Academia – Gentle Criminal and La Brava 2-pack Funko Pop! Vinyl Figure – AX Anime Expo 2022 and Hot Topic Shared Exclusive portrays MHA's most notable partners in crime.
You can find this pop figure below (click to jump!)
While the official description portrays Gentle as a criminal who does not care about material possessions but rather achieves fame by recording his criminal acts, La Brava was presented as his faithful companion.
Although Gentle Criminal overshadowed La Brava at first glance, it did not take long for the audience to become enchanted by the character.
As soon as La Brava appeared in the anime episodes, fans were mesmerized. Gentle Criminal may have its qualities, but his squire stole all the spotlight.
Although the new duo is not as menacing as Overhaul and All For One, they already have a massive fan base.
Gentle Criminal & La Brava 2-pack Funko Pop! is now available for order at the links below (click to jump!)

What comes to your mind when you hear the word "villain"? Come on, think about it.
I'm afraid that 99% of you probably imagine a dark figure with an intimidating appearance, a manic personality, and significant goals and ideologies in mind, don't you?
However, some villains break out of that stereotype. Examples of this are Gentle Criminal and his partner, La Brava.
Danjuro Tobita, better known as Gentle Criminal, is a man who has a highly refined appearance, with notorious features that we can only notice in this villain. Such as his clothes, the cane he uses when walking, and his mustache.
From the start, we notice that Gentle is a well-educated man who always meticulously organizes his crimes to have them recorded and posted on the internet.
Although he is a villain, he shows that he does not like violence at all. On the contrary, he avoids it as much as possible and does it all for fame.
Manami Aiba, or rather La Brava, is Gentle's partner. Despite her appearance, she is a 21-year-old young adult. Her most striking features are her large eyes, hair, small stature, and clothing resembling that of her partner in crime.
Manami is a passionate girl, a loyal fan of Gentle, and she is always around to support him.
Check out more MHS Funko pops (2022) from this wave here.
Starting now, you can receive 10% off in-stock items with my special link at Entertainment Earth!
 Enjoy!
As an Amazon Associate I earn from qualifying purchases
Want more stuff like this?
Get the best viral stories straight into your inbox!
Don't worry, we don't spam