2022 CCXP: Black Adam – Hawkman Funko Soda Exclusive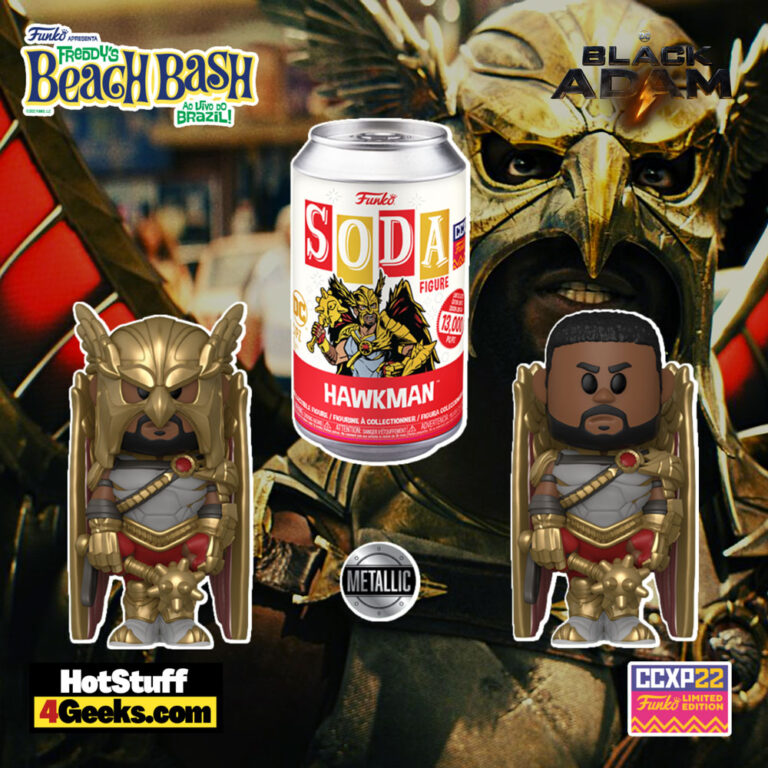 The new Funko Soda! Black Adam – Hawkman with Metallic CHASE Funko Vinyl Soda Figure – 2022 Comic Con Experience CCXP, 2022 Winter Convention, and Entertainment Earth Exclusive will be available online starting at 6 AM PT on Wednesday, November 30, at the links below (click to jump!)
The newest Funko Soda character is inspired by the Hawkman character in the "Black Adam" movie.
The figure is decked out in the superhero's signature Winged Justice costume, complete with a flowing cape and golden hawk emblem.
But that's not all! This Soda also comes with a special bonus: the metallic chase featuring an unmasked  Hawkman!
The perfect addition to any Black Adam fan's collection, this Soda is sure to fly off shelves when it hits stores.
So don't miss your chance to add Hawkman to your ever-growing Funko family. He's the perfect figure for any superhero fan!
The CCXP 2022 exclusive Hawkman Funko Soda! can be found at the links below as soon as the online sale begins (click to jump!)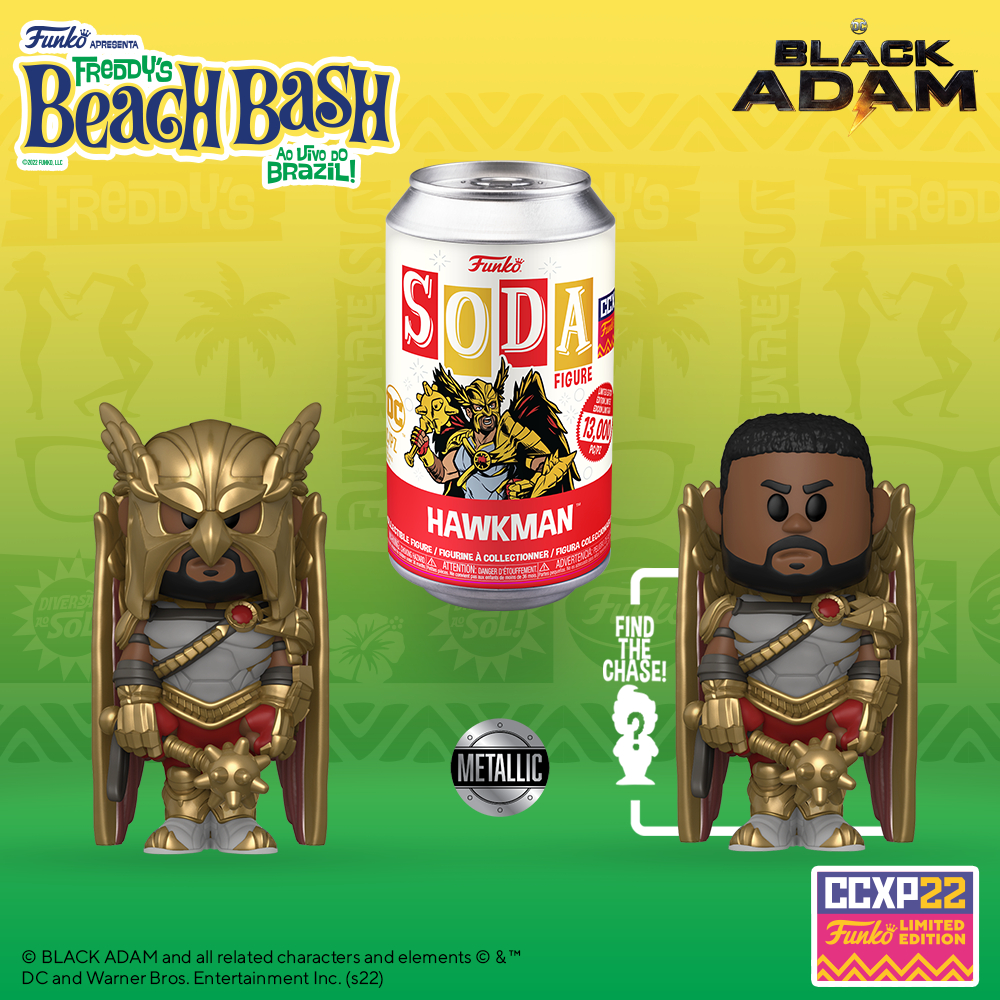 He could have already appeared on screens as early as 2019 in the debut film of "Shazam!" but only three years later does "Black Adam" jump onto the giant screens of the seventh art.
"Black Adam" is the doorway to the Justice Society, the group that precedes the Justice League, and in this film, several heroes will make their presence felt.
An archaeologist and museum curator, Carter Hall is the reincarnation of an ancient Egyptian prince, Khufu.
Having first appeared in comics in the 1940s, his alter ego, Hawkman, fought criminals and Nazis after discovering "Nth metal," which let him defy gravity.
Hawkman is considered an immortal being, always linked to the story of Prince Khufu.
Good-hearted, he is ruthless when enraged. His range of intriguing and supernatural abilities is the ability to breathe underwater, the experience of millennia, and the ability to communicate with various species of animals.
He has high skill in using weapons, and the Nth allows him to improve his strength, vision, body temperature, and ability to fly higher with less protection.
He is a warrior, tactical and intelligent, and a born leader.
Funko Soda! Black Adam – Hawkman with Metallic CHASE Funko Vinyl Soda Figure – 2022 Comic Con Experience CCXP, 2022 Winter Convention, and Entertainment Earth Exclusive
Available at:
Starting now, you can receive 10% off in-stock items with my special link at Entertainment Earth!
 Enjoy!
As an Amazon Associate I earn from qualifying purchases
Want more stuff like this?
Get the best viral stories straight into your inbox!
Don't worry, we don't spam