2022 D23 Expo: Lab Kronk with GITD CHASE Funko Soda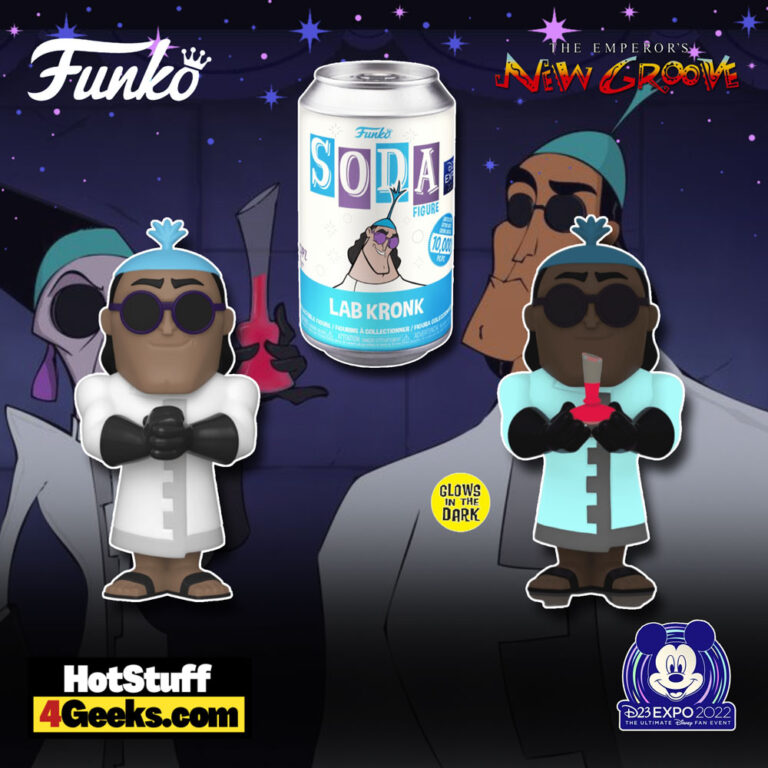 The new Funko Soda! Emperor's New Groove – Lab Kronk with Glow-In-The-Dark CHASE Funko Soda Figure – 2022 D23 Expo and Funko Shop Exclusive will be available online starting 6 AM on Friday, September 9th at the links below (click to jump!)
Kronk is one of the most iconic sidekicks in Disney history. He first appears in The Emperor's New Groove, where he works as an overweight henchman for the evil Yzma.
However, Kronk is not really evil himself, and he often tries to help Yzma in her secret lab, even though she usually gets angry with him.
This Kronk Funko soda depicts Kronk, ready to help Yzma once again. It's limited to only 10000 pieces, and if you're lucky, you might be able to grab Kronk with the Potion glow chase.
This is a great collectible for fans of Emperor's New Groove.
The D23 Expo 2022 exclusive, Lab Kronk with GITD Chase Funko Vinyl SODA,  can be found at the links below as soon as the online sale begins (click to jump!)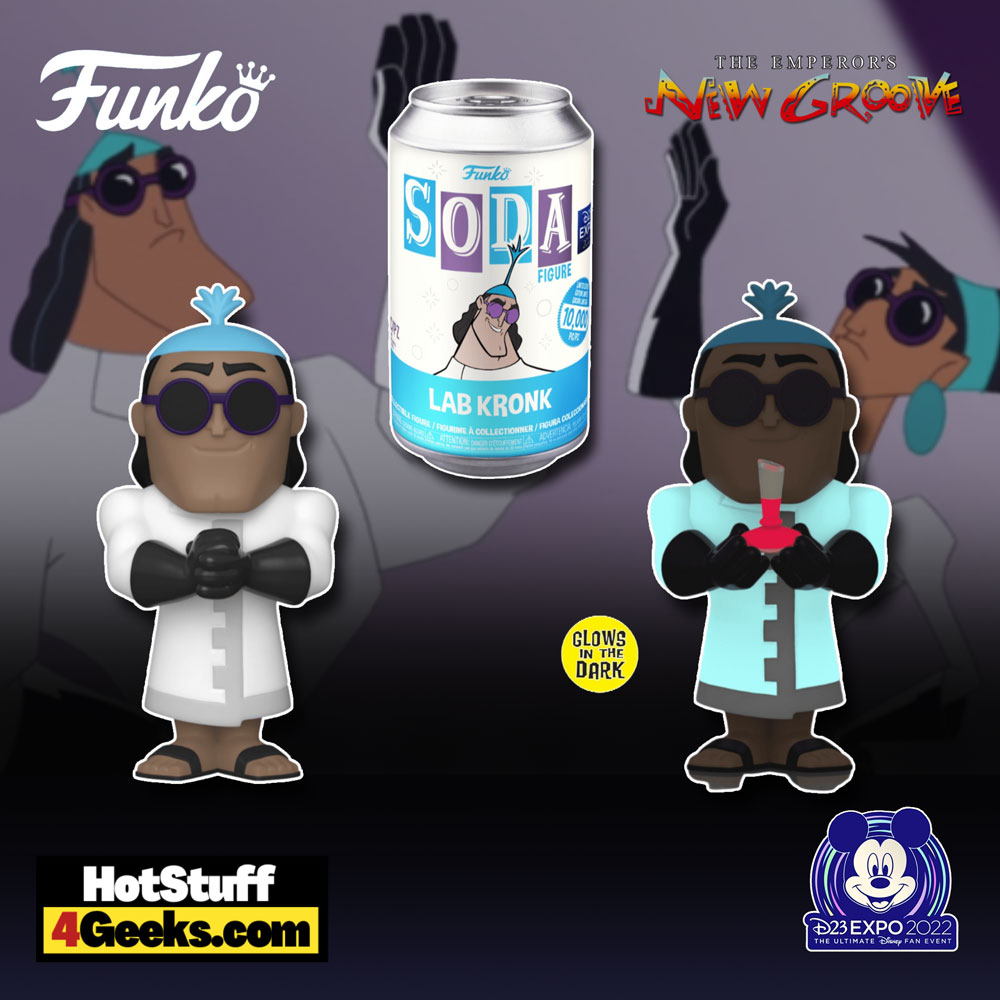 Yzma's Secret Lab is a mystery, intriguing, and dangerous place. It is hidden underground in The Royal Palace and Kuzco Academy and only accessible by a roller-coaster ride.
Inside the lab are dozens of cabinets filled with potions, elixirs, and antidotes. Yzma spends her time experimenting with these concoctions, often with disastrous results. So it is clear that in this place, anything can happen.
Yzma herself is usually accompanied by her loyal minion Kronk, who helps her carry out her evil plans.
The comic relief for the terrible actions she wants to do turns out to be Kronk. He's such a beloved character that he even got a movie to call his own.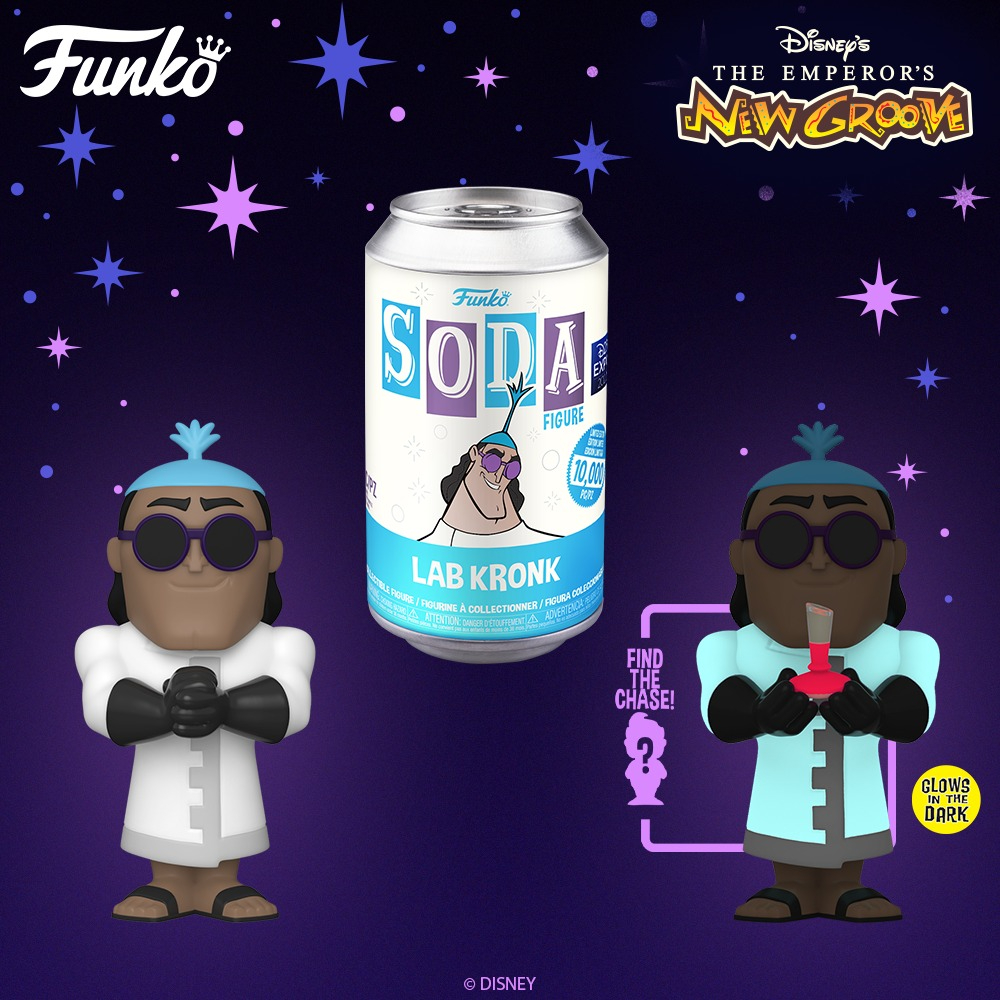 Kronk may not be the brightest crayon in the box, but he's certainly the most lovable.
As Yzma's right-hand man, he's often tasked with carrying out her evil schemes. But more often than not, his well-intentioned efforts end up foiling her plans.
He is clumsy, easily confused, and often forgets what he is supposed to be doing.
However, Kronk's bumbling nature is precisely what makes him so endearing. He is always enthusiastic, even if things don't always go as planned.
Kronk is truly a diamond in the rough – or, as he would say, "a pearl among onions."
With his positive attitude and love for all things cheesy, he's impossible not to adore.
Funko Soda! Emperor's New Groove – Lab Kronk with Glow-In-The-Dark CHASE Funko Soda Figure – 2022 D23 Expo and Funko Shop Exclusive
Available at:
Starting now, you can receive 10% off in-stock items with my special link at Entertainment Earth!
 Enjoy!
As an Amazon Associate I earn from qualifying purchases
Want more stuff like this?
Get the best viral stories straight into your inbox!
Don't worry, we don't spam