2022 D23 Expo: Mickey & Minnie How to Fly 2-pack Funko Pop!
The new Funko POP! Disney: Mickey and Minnie How to Fly Funko 2-pack Pop! Vinyl Figure – 2022 D23 Expo and Amazon Exclusive will be available online starting 6 AM on Friday, September 9 at the links below (click to jump!) NOW AVAILABLE AT AMAZON!
In the world of Funko pops, few characters are more iconic than Mickey and Minnie Mouse.
The two lovebirds have been a staple of pop culture for generations, and their enduring popularity shows no signs of slowing down.
The latest release from Funko for the D23 Expo is a 2-pack of Mickey and Minnie pops that depicts the two mice in black and white coloring trying to learn how to fly.
Just like in Plane Crazy, the two mice are determined to take to the skies, even if they don't quite know how.
This fun and quirky take on the classic characters will surely be a hit with Funko fans.
The D23 Expo 2022 exclusive, Mickey and Minnie How to Fly 2-pack Funko Pop! Vinyl Figure can be found at the links below as soon as the online sale begins (click to jump!)
Plane Crazy is a short film from 1928 that was the first ever to feature the iconic characters. The plot follows Mickey as he attempts to build a plane so he can take Minnie for a ride.
However, his inexperience leads to a series of disastrous mishaps, much to Minnie's consternation.
Ultimately, they finally manage to get airborne, but their joy is short-lived when they crash into a tree.
Despite its primitive animation and simplistic story, Plane Crazy is an essential piece of history that helped to establish Mickey and Minnie as two of the most beloved characters in the world.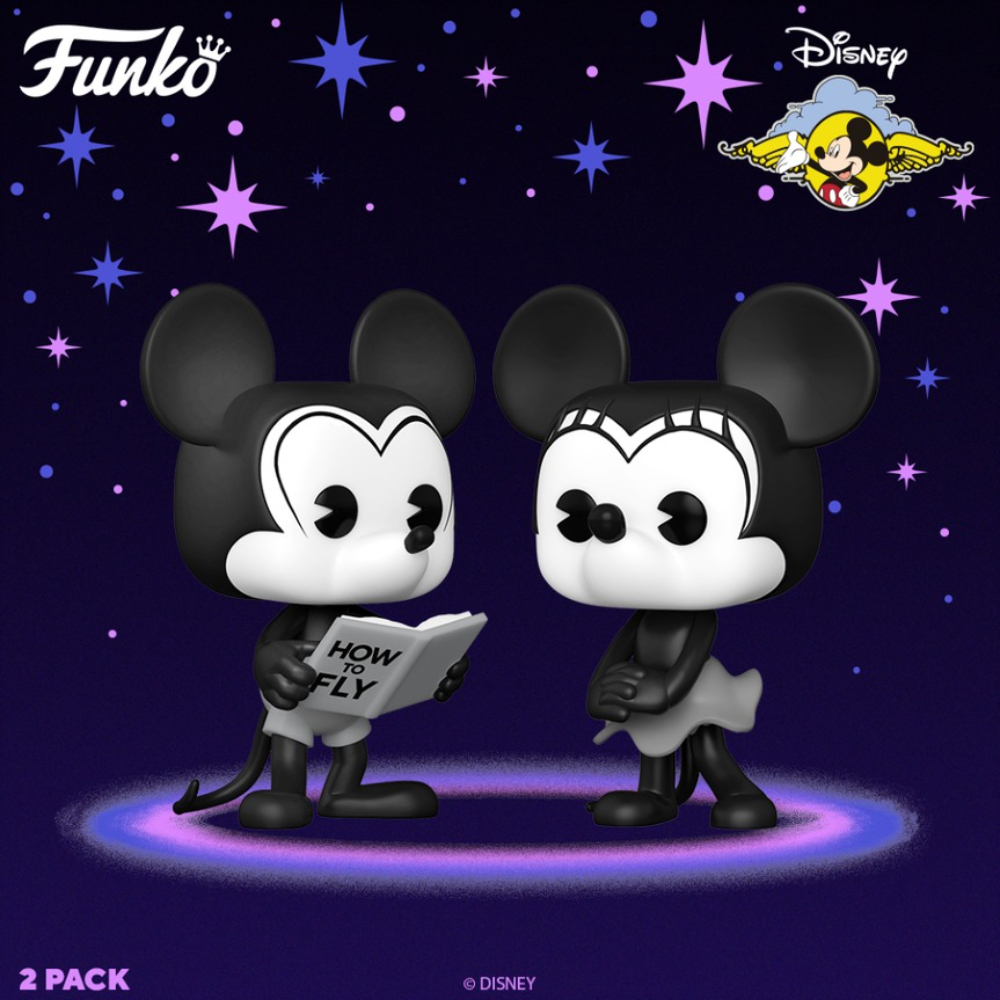 On May 15, 1928, a movie theater in Los Angeles showed the animated film Plane Crazy to a small audience. A 6-minute silent black and white film showing Mickey trying to build an airplane.
The inspiration was Charles Lindbergh's historic flight across the Atlantic Ocean from Paris to New York the year before.
Minnie, who also appeared for the first time in the short, agrees to fly with Mickey as he tries to impress her.
Directed by Walt Disney and Ub Iwerks, the animation only ran for a single day. It was an experiment: Walt sat in the back of the theater and observed the reaction of the spectators.
He realized that it was almost unanimous: everyone loved the black mouse.
And so, without almost anyone noticing, the greatest icon of the modern cultural industry was born.
Funko POP! Disney: Mickey and Minnie How to Fly 2-pack Funko Pop! Vinyl Figure – 2022 D23 Expo and Amazon Exclusive
Available at:
Starting now, you can receive 10% off in-stock items with my special link at Entertainment Earth!
 Enjoy!
As an Amazon Associate I earn from qualifying purchases
Want more stuff like this?
Get the best viral stories straight into your inbox!
Don't worry, we don't spam