2022 NEW Beth Harmon (Finale) Diamond Glitter Funko Pop!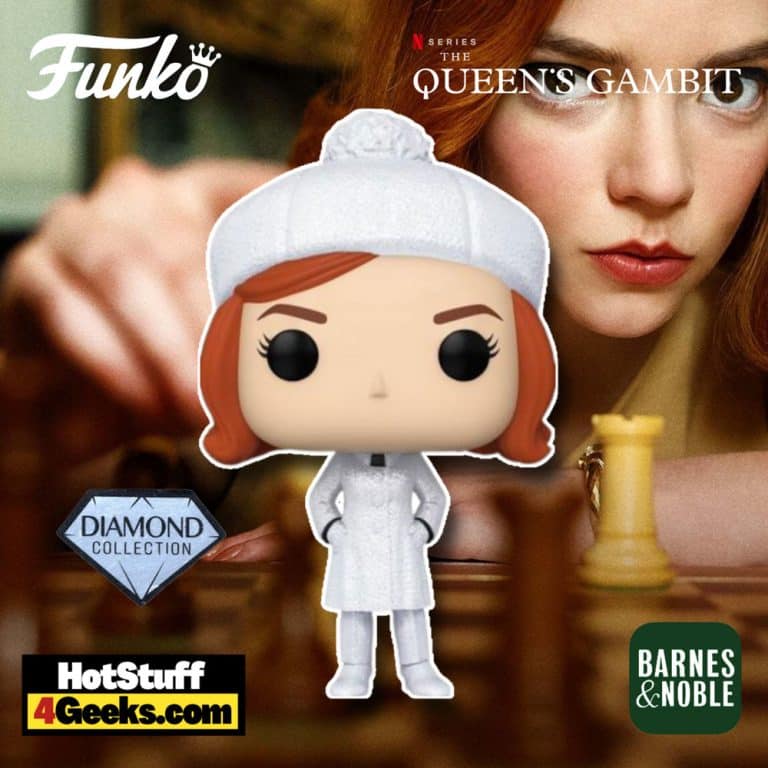 Celebrate your favorite royal lead with this new Funko Pop! Television: The Queen's Gambit – Beth Harmon (Finale) Diamond Glitter Funko Pop! Vinyl Figure – Barnes and Noble (B&N) Exclusive, modeled in Beth's white chess piece-inspired outfit.
In The Queen's Gambit's final scene, Beth Harmon wears a memorable all-white outfit representing the end of her narrative arc, transforming her into a queen. The Netflix miniseries is a character-driven drama that follows the rise of chess prodigy Beth Harmon.
The series is critically acclaimed, receiving praise for its compact narrative, fully developed characters, and rich symbolic content – such as its ability to communicate Beth's inner world through her clothing choices.
Beth Harmon in an all-white outfit (Finale) Diamond Glitter Funko Pop! is now available for order at the links below (click to jump!)
The Queen's Gambit follows Beth Harmon's rivalry with Russian chess Grandmaster Vasily Borgov.
The show begins with her humble – and tragic – beginnings as an orphan who learns to play chess from the orphanage janitor, Mr. Shaibel.
When Shaibel observes her natural talents, he promotes her skills and encourages her to continue playing competitively, even though it is a male-dominated sport.
When Beth is a child, she is played by Isla Johnston (and in the early flashback sequences, Annabeth Kelly). However, for most of the series, Beth is played by Anya Taylor-Joy. Beth's transformation represents the passage of time from an awkward teenager into a sophisticated, polished woman.
Although Taylor-Joy's subtle gestures partly represent her growth, the evolution is most obviously characterized by the change in Beth's outward appearance – especially her plaid-inspired closet.
As a young teenager, Beth shows an interest in fashion, using her plaid earnings to buy clothes for herself. Her black and white dresses (and shoes) are a clear reflection of Beth's love of the black and white pattern of the chessboard. In fact, one of her favorite dresses seems to be the plaid she wears to compete.
Other times, she wears ensembles with two distinct colors. When not in two-tone, she usually wears items with geometric prints.
Yet in The Queen's Gambit's final scene, her outfit takes on a whole new meaning: the white hat (with its distinctive shape), jacket, pants, and boots represent not the chessboard, but one particular piece, the queen.
Beth's silhouette in her final scene is similar to that of the queen's chess piece to symbolize her achievements.
Having just defeated the current Grandmaster Borgov in her native Russia, Beth has achieved the highest rating for a player, similar to how the queen is the most powerful piece in the game, and her capture is worth the most points (besides the king, of course, which ends the game).
Beth's all-white look also reflects how she has matured as a player. Her narrative arc in The Queen's Gambit ends with her victory – not only over the game but also over her own addictions and doubts.
Funko Pop! Television: The Queen's Gambit – Beth Harmon Finale Diamond Glitter Funko Pop! Vinyl Figure – Barnes and Noble (B&N) Exclusive
Available at:
Starting now, you can receive 10% off in-stock items and free shipping on $39+ orders with my special link at Entertainment Earth!
You can also use CODE: 4geeks anytime. Enjoy!
As an Amazon Associate I earn from qualifying purchases
Want more stuff like this?
Get the best viral stories straight into your inbox!
Don't worry, we don't spam