2022 NEW Cuphead Funko Pops: Devil, Chalice & Chef Saltbaker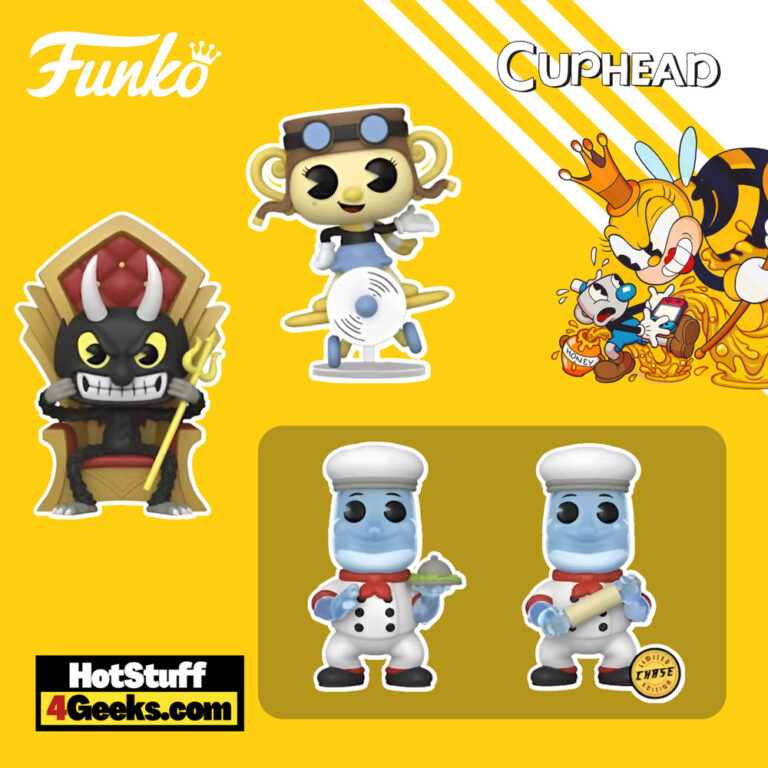 Fans of the hit video game Cuphead can now show their love for the game with a new line of Funko pops. These little toys are the perfect way to show your love for the hit video game and make great gifts for pretty much any occasion.
The best part about these Cuphead Funko pops (2022) is that they perfectly capture the unique style of the game with their 1930s cartoon artwork. The pop figures are now available for pre-order at the links below – click to jump or scroll to continue reading!
Cuphead is a run-and-gun video game developed and published by StudioMDHR. The game was released on Microsoft Windows and Xbox One on September 29, 2017.
Cuphead received positive reviews upon release, with particular praise for its art style, precise controls, and challenging but rewarding gameplay.
Critics also praised the game's use of vintage cartoon visuals and audio.
So if you're a Cuphead fan, grab a few of these Funko pops:
Cuphead Pop! Deluxe Devil's Throne Funko Pop! Vinyl Figure
Cuphead Pop! Games Aeroplane Ms. Chalice Funko Pop! Vinyl Figure
Cuphead Pop! Games Chef Saltbaker with chase variant of Chef Saltbaker with Rolling Pin Funko Pop! Vinyl Figures
Funko Pop! Games: Cuphead: Devil's Throne, Aeroplane Ms. Chalice Chef Saltbaker with Chase Funko Pop! Vinyl Figures are now available for pre-order at the links below (click to jump!) They are expected to be released between December 2022 and January 2023.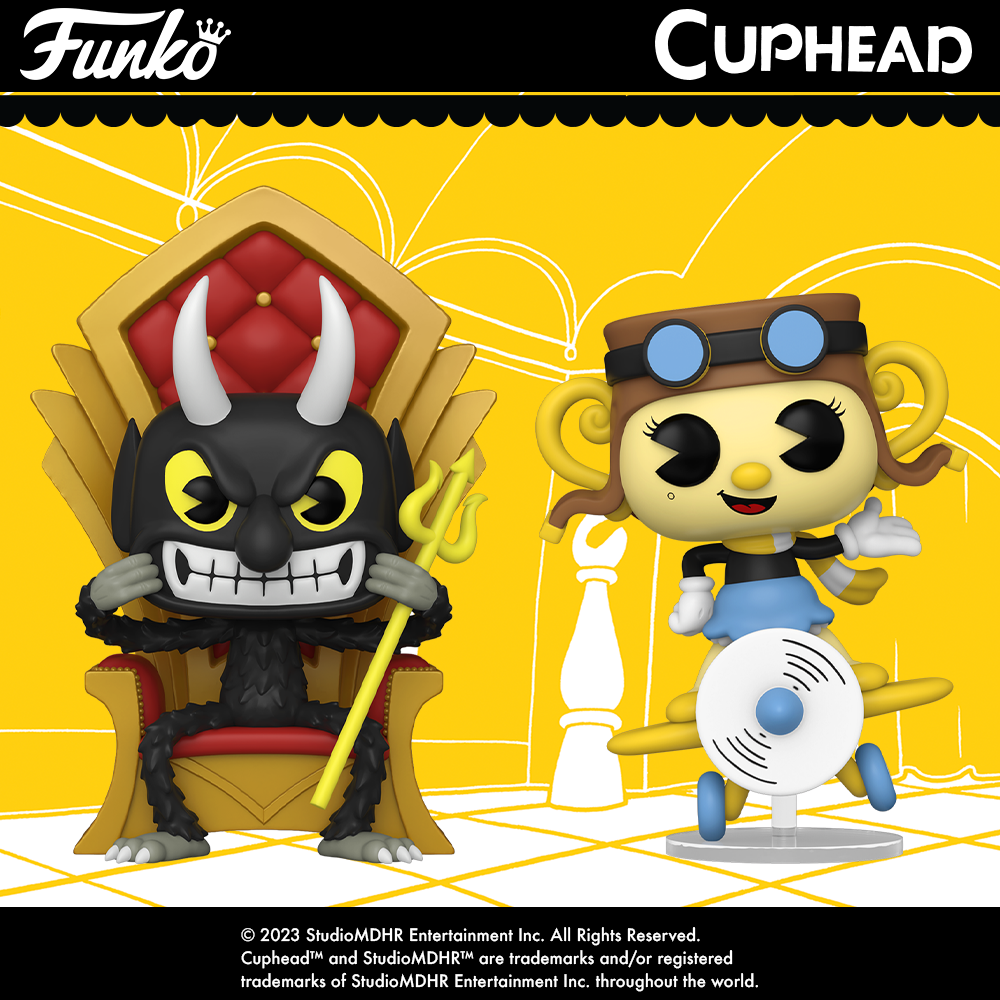 The protagonists of Cuphead are siblings Cuphead and Mugman. The titular characters must collect "soul contracts" from various bosses to save their own souls from the devil.
Upon losing all of their health, the player is given the option to continue from a checkpoint; if they lose all their health again or die during the boss battle, they must start from the beginning of the fight.
Along with soul contracts, players can also find bonus coins that can be spent at casinos run by "The Devil" himself; these rewards include useful items such as extra lives.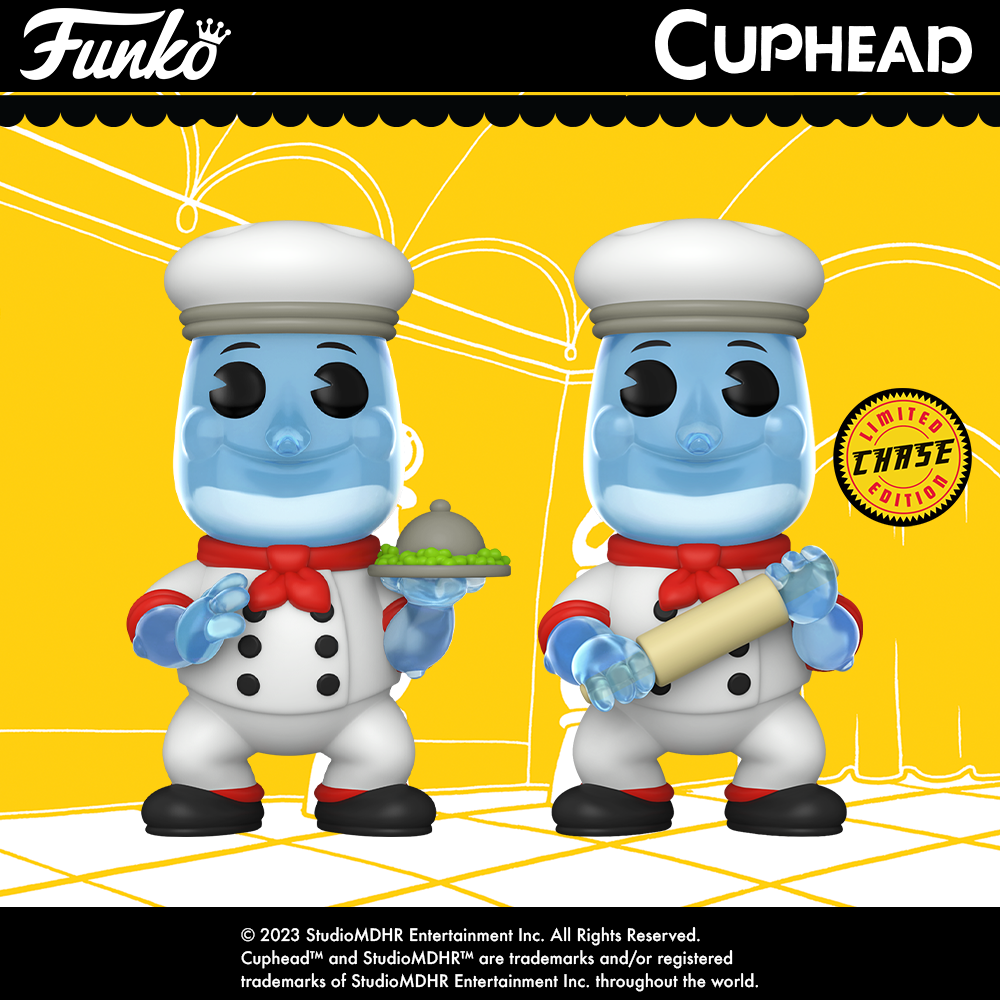 Cuphead was developed by brothers Chad and Jared Moldenhauer on their home computer.
The game's visuals are heavily inspired by 1930s cartoons, particularly those produced by Fleischer Studios and Walt Disney Animation Studios; Fleischer's Betty Boop character served as one of the primary inspirations for Cuphead's design.
The Molderhauers spent significant time studying animated films from this era to replicate the look and feel of traditional hand-drawn animation.
In addition to featuring hand-drawn animations created using traditional techniques such as ink rubs and paint-on-glass, the game also uses rotoscoping, a process in which animators trace over live-action footage frame by frame to create realistic animations.
This process was used extensively throughout development to achieve the desired look for the game's characters and environments.
While most video games focus on letting the player win through fighting skill alone, Cuphead is designed to be difficult, with simple enemies becoming much more dangerous later.
Inspired by early 20th-century "rubber hose" animation to games known for their high degrees of challenge, the Moldenhauers wanted players to feel a sense of accomplishment after defeating one of Cuphead's difficult bosses.
While some criticized Cuphead for its high difficulty level, others saw it as part of the game's charm and a callback to earlier times when video games were known for being challenging.
Whatever people's opinion on its difficulty may be, there's no denying that Cuphead is a unique video game experience unlike any other titles currently on the market.
Starting now, you can receive 10% off in-stock items with my special link at Entertainment Earth!
 Enjoy!
As an Amazon Associate I earn from qualifying purchases
Want more stuff like this?
Get the best viral stories straight into your inbox!
Don't worry, we don't spam