2022 NEW Gandalf the White GITD Funko Pop! Earth Day Exclusive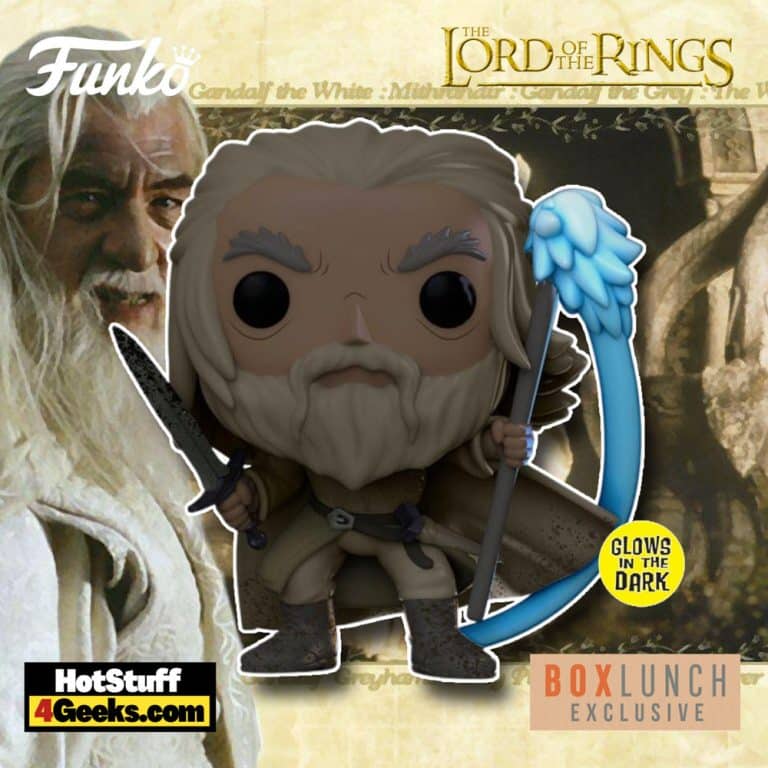 You Shall Not Pass … without admiring this new Funko Pop! Movies: Lord of the Rings – Gandalf the White Glow-In-The-Dark (GITD) Funko Pop! Vinyl Figure – Earth Day and BoxLunch Exclusive. Because let's face it, there's no one quite as practical and clever as Gandalf the White.
The pop figure can be found below (click to jump!)
When it comes to The Lord of the Rings, Gandalf is often one of the fans' favorite characters in the movies and books. In addition, the wizard has become a reference in role-playing games and stories inspired by J.R.R. Tolkien's novels.
Powerful, funny, and wise, Gandalf shows throughout the narrative that he is not perfect and can make mistakes like any other person, especially when it comes to trust.
In the movies, the character was lived by Sir Ian McKellan, who eternalized the gray (and white) wizard for good.
Gandalf the White Glow-In-The-Dark Earth Day Exclusive is available starting 22 April 2022 at the links below (click to jump!)
Gandalf is one of the essential charismatic characters in The Lord of the Rings, as he is the wizard responsible for guiding Frodo on his journey to Mount Doom.
Gandalf was initially named Olórin, and he was one of the Maiar spirits created before the world itself.
Gandalf was a sage and powerful wizard, and he quickly became one of the most important members of the White Council.
So Valar sent him to Middle-earth to help the people there.
Sauron, the Dark Lord, was growing more powerful, and Gandalf knew that he had to be stopped.
So he led the Fellowship of the Ring on a quest to destroy Sauron's One Ring.
The Fellowship was eventually successful, but Gandalf was killed in a confrontation with the Balrog.
Gandalf was resurrected as Gandalf the white and returned to Middle-earth just in time to help the people of Rohan fight Saruman, another evil wizard.
He also helped lead the charge against Sauron's forces in the final battle of the War of the Ring.
In the end, Sauron was defeated, and Gandalf returned to Valinor, where he would be reunited with his old friends, the other Maiar.
Check out more Lord of the Rings pops here.
Starting now, you can receive 10% off in-stock items with my special link at Entertainment Earth!
 Enjoy!
As an Amazon Associate I earn from qualifying purchases
Want more stuff like this?
Get the best viral stories straight into your inbox!
Don't worry, we don't spam