2022 NEW Infinite Deku With Eri GITD Funko Pop! Exclusive
Funko Pop! Animation: My Hero Academia- Infinite Deku With Eri Glow-In-the-Dark (GITD) Funko Pop! Vinyl Figure – Funko Shop Exclusive
Available at:
Inspired by My Hero Academia episode 76, the new Funko Pop! Animation: My Hero Academia- Infinite Deku With Eri Glow-In-the-Dark (GITD) Funko Pop! Vinyl Figure – Funko Shop Exclusive is bringing the big climax of the fourth season of the anime series, with the long-awaited outcome of Midoriya's fight against Overhaul.
Our young hero only ended up victorious thanks to Overhaul himself, who revealed his main weakness. With Eri on his back, he is able to use 100% of One-for-All without destroying his body finally (she reversed all of the damage his body takes, what a sweet kid.)
The Infinite Deku GITD is a Funko Shop exclusive and available today at 9:30 AM PT at the links below (click to jump!)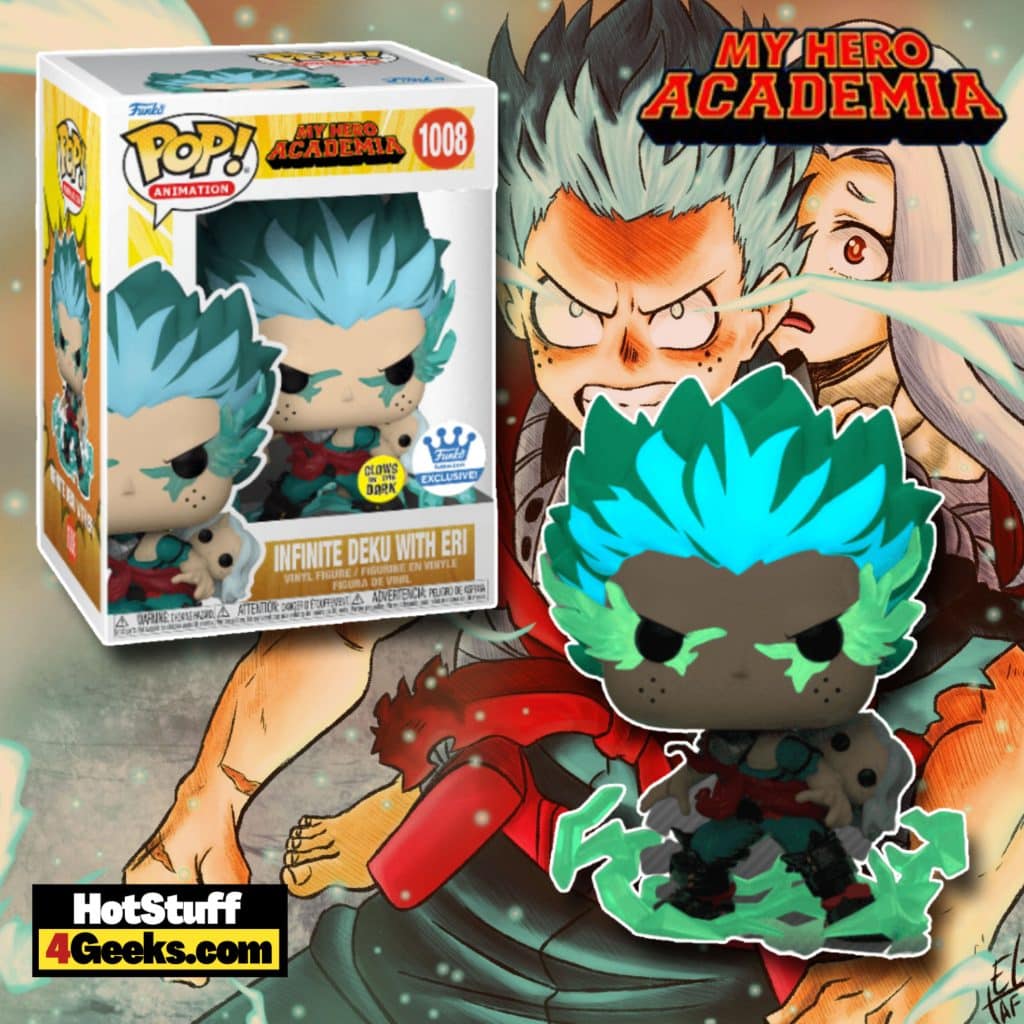 My hero Academia is considered by many to be one of the best shonen anime of the current generation. Much of this recognition among fans is due to the exciting and well-animated fights.
Episode 76 brought revelations and introduced us to an unprecedented level of Izuku "Deku" Midoriya's power.
Deku continues his fight against the powerful and mysterious villain Overhaul. After the villain Rikiya Katsukame and the heroines Ryukyu, Nejire, Ochaco, and Tsuyu break the street floor and fall to the level where Midoriya fights Overhaul, the mayhem begins.
Then, concrete pillars rise, and Shie Hassaikai's leader tries to escape with Eri. At this instant, the girl realizes the heroes' sacrifice and decides to surrender herself into Midoriya's arms. She undoes the fusion he had made with Shin Nemoto by letting go of Overhaul. Here, we discover Eri's quirk: rewind events.
When Deku receives her in his arms, he vows never to let her go. The hero begins to dodge the obstacles created by Overhaul and activates 100% of One-for-All. Then, he's thrown at incredible speed into the sky. Still in the air, Midoriya already displays a different greenish aura around him.
When he touches the ground, Deku has his maximum power activated, and even his hair is raised in the best Goku Super Saiyajin style. Then it is explained that he can reach 100% without getting injured because Eri's power counteracts the effect of injuries by rewinding them.
Soon, Overhaul, now fused with Rikiya Katsukame, goes after the hero to get the girl back. Here we see that the villain boasts a colossal and even grotesque physique. Despite this, the speed Deku achieves at One For All Full Cowling 100% is enough for him to dodge his opponent.
The fight continues, and, Overhaul takes himself apart and rebuilds twice. Midoriya, with his high speed, then unleashes a punch sequence.
After this, Midoriya applies a single, powerful punch to Overhaul, winning the fight and thus changing the future that Sir Nighteye had seen.
As an Amazon Associate I earn from qualifying purchases
Funko Pop! Animation: My Hero Academia- Infinite Deku With Eri Glow-In-the-Dark (GITD) Funko Pop! Vinyl Figure – Funko Shop Exclusive
Available at:
Want more stuff like this?
Get the best viral stories straight into your inbox!
Don't worry, we don't spam