2022 NEW J. Jonah Jameson Funko Pop! Entertainment Earth Exclusive
Nobody knows exclusives like the editor of the Daily Bugle, and no Spider-Man collection is complete without the new Funko Pop! Marvel: Spider-Man – J. Jonah Jameson Funko Pop! Vinyl Figure – Entertainment Earth Exclusive.
J. Jonah Jameson, editor-in-chief of The Daily Bugle, has an unhealthy obsession with Marvel's web-slinging crime fighter Spiderman.
His pose features him holding up one arm triumphantly while brandishing his fist under it reads " Spider-Man: Threat or Menace?"
The pop figure can be found below (click to jump!)
J. Jonah Jameson is one of Spider-Man's oldest characters and easily one of the most recognizable of the hero's supporting cast.
A staunch opponent of Spidey, Jameson hates the wall climber and publishes untruths about him for his own reasons, but still, we can't help but like this guy.
The Entertainment Earth exclusive, J. Jonah Jameson Funko Pop! is now available for pre-order at the links below (click to jump!) It's expected to be released in June 2022.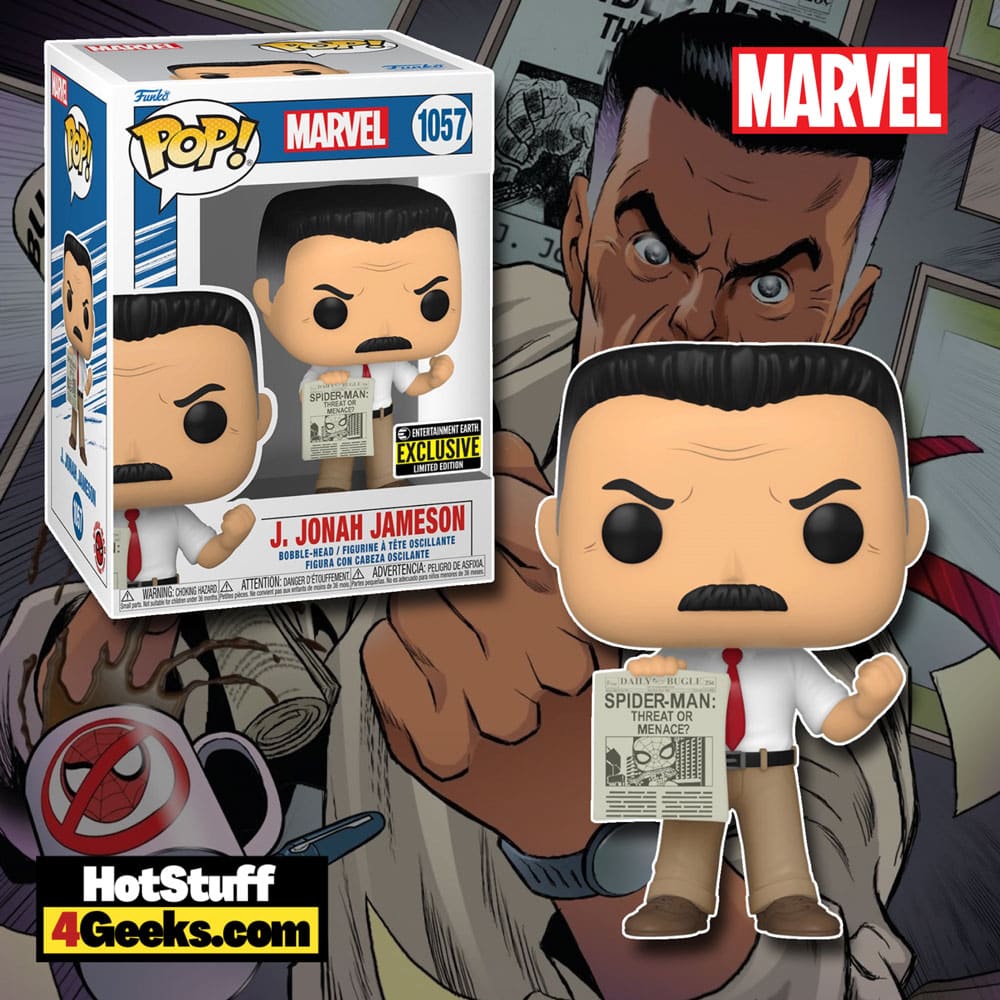 Jameson is convinced that Spider-Man is nothing more than a dangerous vigilante who should be brought to justice.
He's always quick to print negative stories about Spider-Man in the Bugle, and he's even gone so far as to hire various villains to take him down.
Ultimately, Jameson's hatred of Spider-Man stems from a place of fear and insecurity. He's afraid of what he doesn't understand, and he feels powerless in the face of someone who seems to defy the rules at every turn.
Unfortunately for Jameson, his hatred only makes Spider-Man more determined to protect the city – even if it means facing off against The Daily Bugle's publisher on a regular basis.
In his first appearances (1963), J. Jonah Jameson was seen as an evil character, but as the magazine progressed, comic elements were added, making the character a reader favorite.
His distaste for Spider-Man, revealed in the 1960s, was due to his envy of the famous wall climber's courage.
Decades later, Marvel changed this story by revealing to readers that his aversion to the arachnid superhero is due to the fact that a masked man killed his first wife.
So, he had an aversion to anyone who hid his true identity from that day on.
Funko Pop! Marvel: Spider-Man – J. Jonah Jameson Funko Pop! Vinyl Figure – Entertainment Earth Exclusive
Available at:
Starting now, you can receive 10% off in-stock items and free shipping on $39+ orders with my special link at Entertainment Earth!
You can also use CODE: 4geeks anytime. Enjoy!
As an Amazon Associate I earn from qualifying purchases
Want more stuff like this?
Get the best viral stories straight into your inbox!
Don't worry, we don't spam