2022 NEW Marvel – 3 Liter Hulk Funko Soda Exclusive
Join your Marvel set and the exploding SODA craze with the new Funko Pop! Soda: Marvel – Hulk 3 Liter Funko Soda Figure with Chase Variant – Funko Shop Exclusive, released today at Funko Shop!
The 3 Liter Soda is now available for order at the links below – click to jump or scroll to continue reading!
If you want to add a powerhouse of strength and energy to your Marvel set, look no further than the newest 3-liter Funko exclusive Hulk SODA collector's item!
Not only will this powerful hero give you an edge over any superhero, but it packs quite the thirst-quenching punch.
You never know what sort of hidden surprises await in your next can – there's even a 1 in 6 chance of finding the rare Red Hulk within these limited edition cans (of which only 5,000 were made).
Take it from us; this revolutionary addition to your Marvel collection will surely be all the rage.
3 Liter Hulk Soda is now available for order at the links below (click to jump!)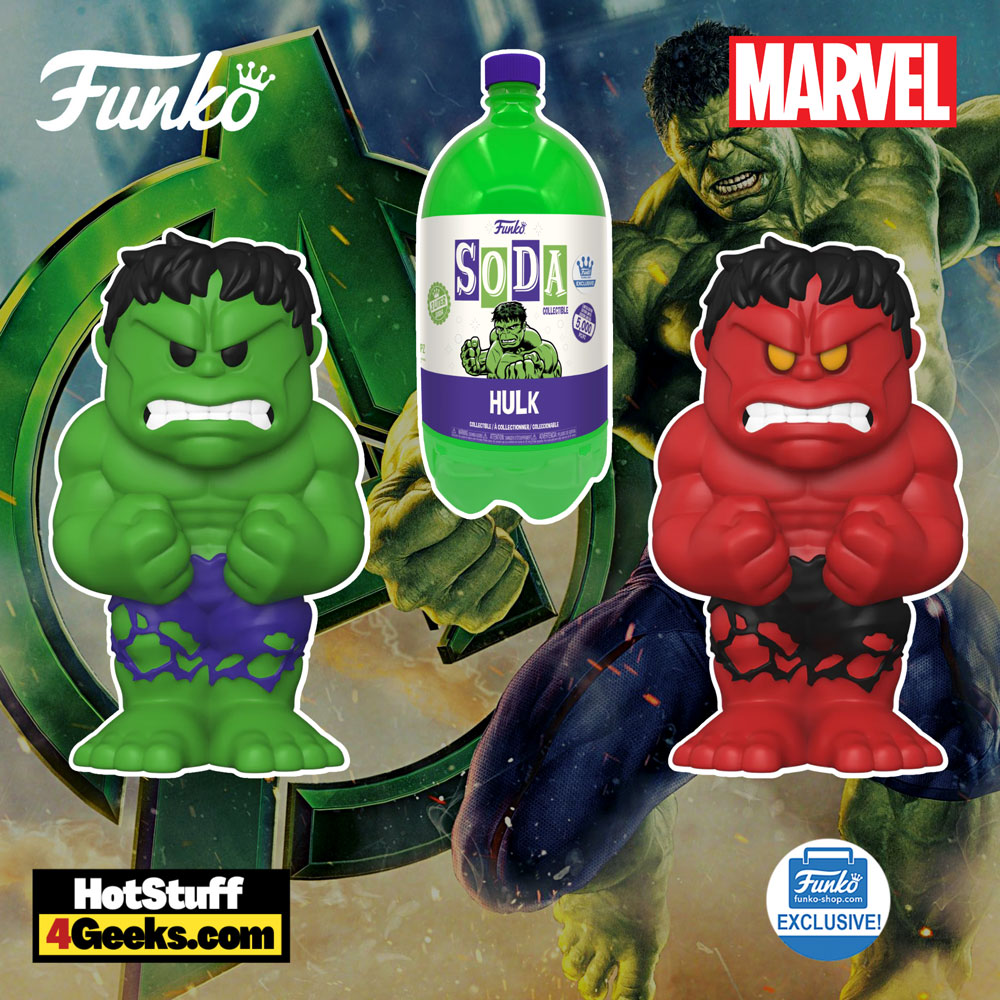 The Hulk is one of the most powerful characters in the Marvel universe, so strong that some fans joke he could singlehandedly kick the Avengers' collective butt – but don't tell the other heroes that!
Of course, up until then, we would have to deal with his never-ending problems with rage management.
In any case, there's no denying that the Hulk brings brawns and looks to every battle he takes a part in – like it or not, smashing things just won't ever go out of style.
While other superheroes rely on flashy gadgets and super serum-induced strength, Hulk relies solely on his monstrously huge biceps to get the job done!
He's usually seen punching first and asking questions later, if at all – a great message for when you are facing with any problem… just Smash it!
Thankfully he can only really cause destruction voluntarily and occasionally smashes things accidentally (though it rarely ends well for anyone).
His gamma-irradiated roar has carried through the decades as one of Marvel's most recognizable characters.
His appearance in almost every Marvel movie proves that even though you don't need gadgets to save the day, sometimes green is good.
Funko Pop! Soda: Marvel – Hulk 3 Liter Funko Soda Figure – Funko Shop Exclusive
Available at:
Starting now, you can receive 10% off in-stock items with my special link at Entertainment Earth!
 Enjoy!
As an Amazon Associate I earn from qualifying purchases
Want more stuff like this?
Get the best viral stories straight into your inbox!
Don't worry, we don't spam