2022 NEW Marvel – Moon Knight Funko Pop! Comic Cover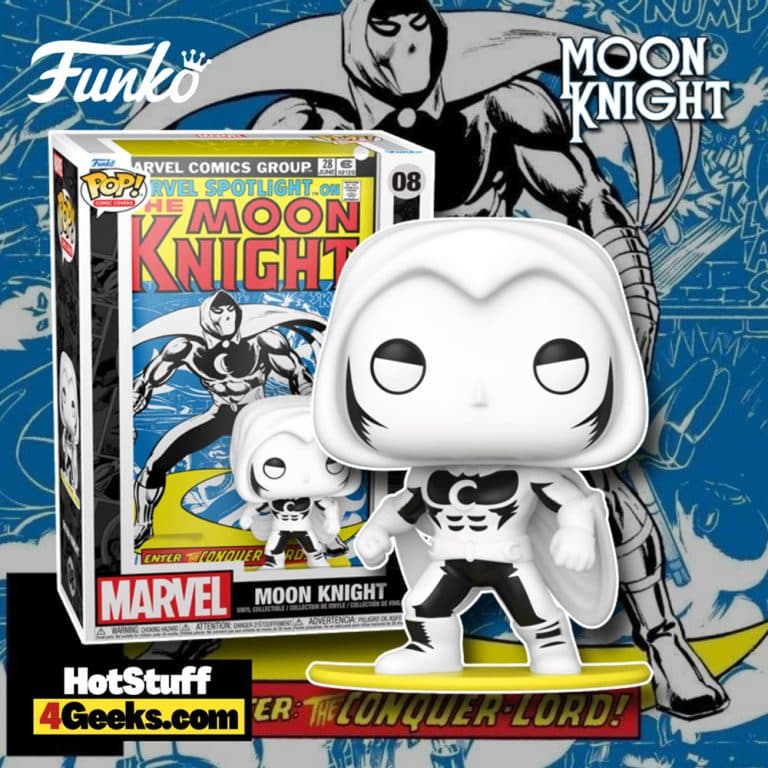 The new Funko Pop! Comic Cover: Marvel – Moon Knight Funko Pop! Cover Vinyl Figure depicts the lunar legionnaire and the living avatar of a god. This special collectible features the cover art for the Marvel Spotlight on the Moon Knight: Enter the Conqueror-Lord Vol. 1 No. 28 June edition and a Pop! of the Moon Knight
The pop figure is now available at the links below (click to jump!)
Created by Doug Moench and Don Perlin, the Moon Knight first appeared in August 1975 in Werewolf by Night #32. He received his first ongoing series in 1980 at the hands of Doug Moench and Bill Sienkiewicz.
When betrayed by his partner and left for dead in the desert, mercenary Marc Spector is saved by the Egyptian moon god, Khonshu.
In exchange for his life, Spector becomes the deity's avatar on Earth and vows to protect "those who travel by night," thus creating the night avenger known as the Moon Knight. There is only one problem!
Few people believe that he was actually visited and rescued by a god. Marc Specter suffers from dissociative identity disorder, periodically falling into other personalities such as cab driver Jake Lockley and millionaire playboy Steven Grant.
Impaired by a whirlwind of dysfunctional thoughts, Spectre always wonders whether he has visions with Khonshu or is simply bordering on insanity.
The Moon Knight Funko Pop! Comic Cover is now available for pre-order at the links below (click to jump!) It's set to be released in August 2022.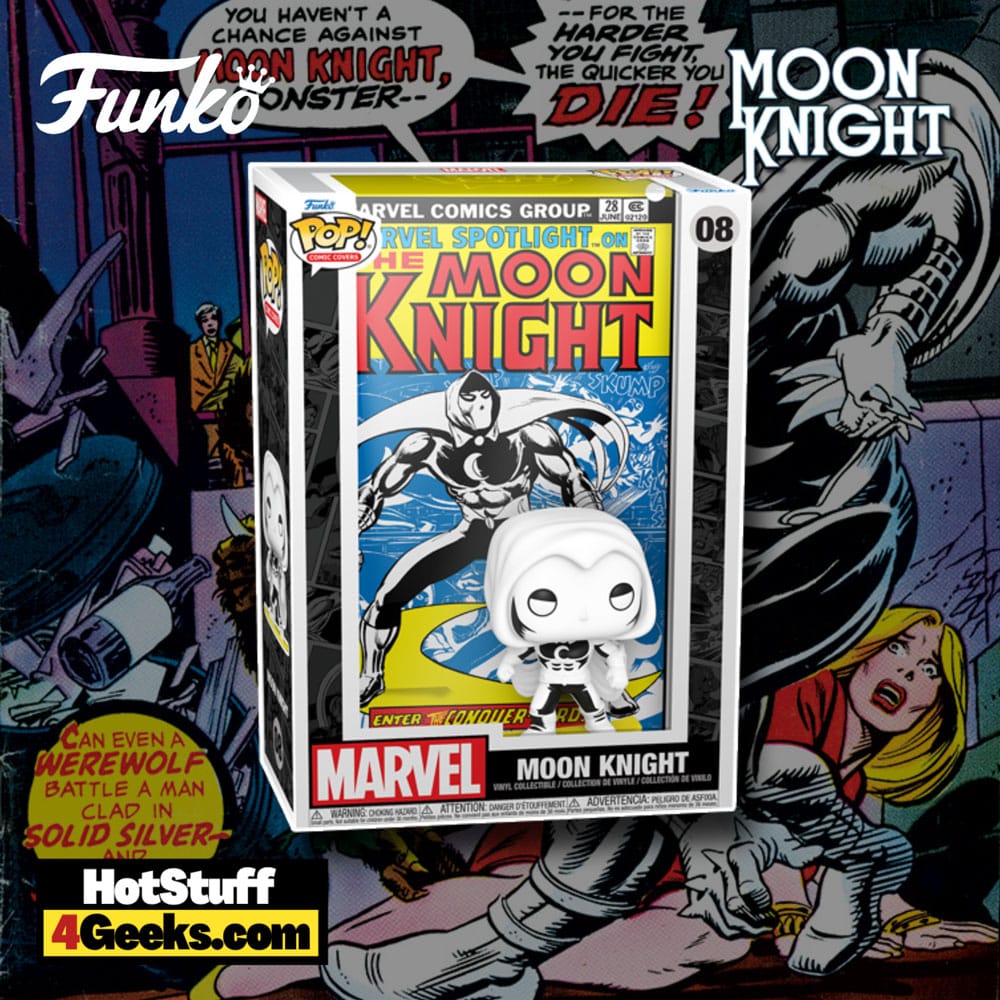 In the comics, Marc Spector is a former military man, son of a rabbi, who decides to use his skills to become a mercenary.
However, his life changes completely when, on a mission in Egypt, he is visited by the god Khonshu, who transforms him into the Moon Knight, an avatar of the Egyptian deity.
He returns to the U.S., determined to fight crime. So, Spector invests the money he received as a mercenary and develops a small fortune.
To distance himself from his past, he creates the identity of the millionaire Steven Grant and produces technological armor for his heroic side. At the same time, to maintain his contact with the streets, he also circulates as the taxi driver Jake Lockley.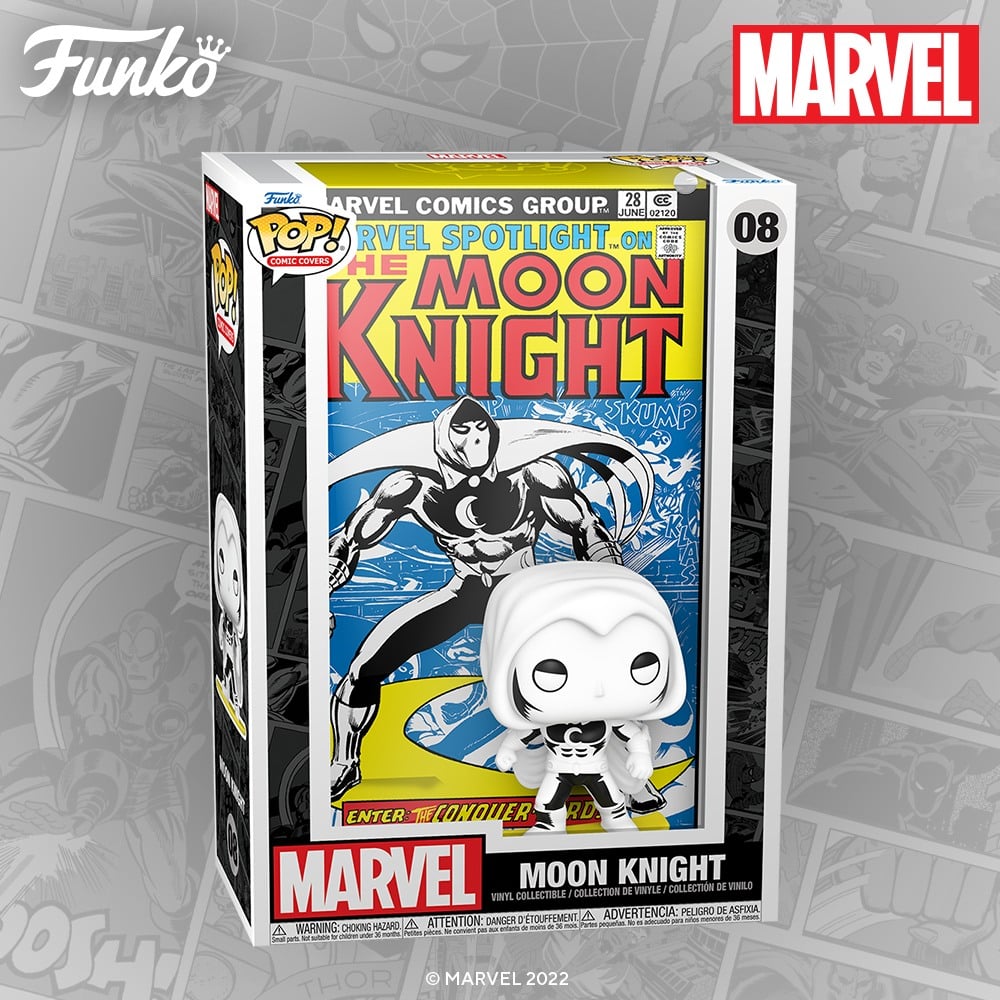 In the arc published between 2011 and 2012, Spector works on a TV series called "Legends of Khonshu," based on his origin as a hero, and develops three new personalities based on Spider-Man, Wolverine, and Captain America, which begin to guide him.
This switching of personalities is a constant in the character's story, who is also known for his mental instability. In the 2016 All-New, All-Different Marvel phase arc written by Jeff Lemire and drawn by Greg Smallwood, Marc Specter wakes up in a psychiatric hospital with no memory of his past or how he got there.
Khonshu has given Spector super strength, stamina, and reflexes enhanced according to the moon's phases. He reaches his maximum potential during the Full Moon, but he can lift hundreds of pounds even during the New Moon.
Still, it is unknown how much of his powers come from Khonshu and how much are the result of self-hypnosis and his psychological instability.
Moon Knight has been compared numerous times to Batman as a resourceful and technology-savvy character. However, as Charlie Huston, screenwriter of the character's 2006 relaunch, explains, the similarities stop there.
The presence of multiple personalities and his superhuman abilities are enough to differentiate Moon Knight from the Dark Knight.
Starting now, you can receive 10% off in-stock items with my special link at Entertainment Earth!
 Enjoy!
As an Amazon Associate I earn from qualifying purchases
Want more stuff like this?
Get the best viral stories straight into your inbox!
Don't worry, we don't spam