2022 NEW Marvel: Star-Lord With Groot Funko Pop! Exclusive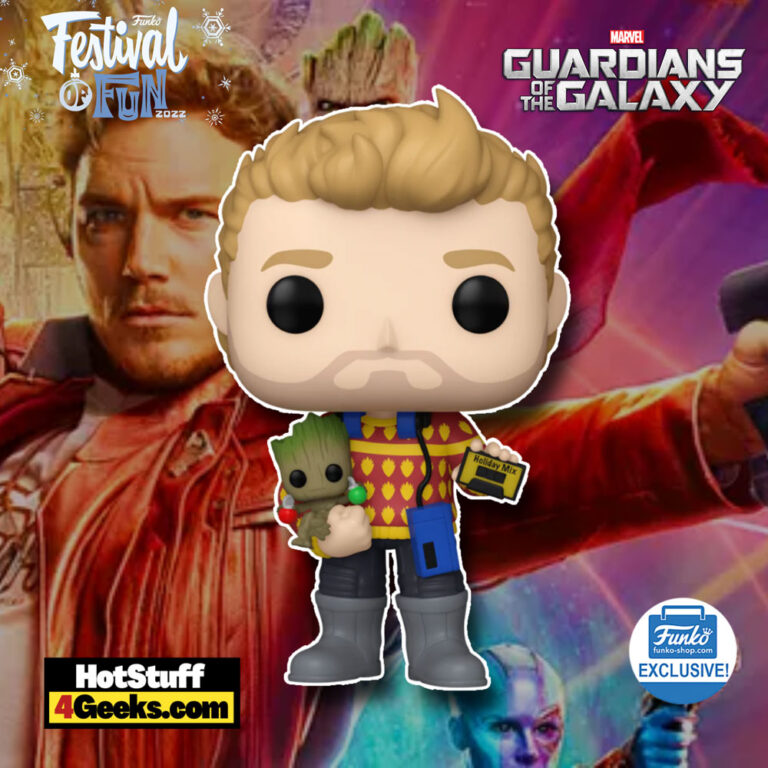 The new Funko Pop! Marvel: Star-Lord With Groot Funko Pop! Vinyl Figure – Funko Shop Exclusive (Festival of Fun 2022) features everyone's favorite space-faring mercenaries, Star-Lord and Groot.  Star-Lord holds Groot in one hand and an awesome Holiday Mix tape in the other hand.
Pop! Star-Lord with Groot – Marvel is dropping on Funko.com today at 9:30 AM PT at the links below – click to jump or scroll to continue reading!
If you are like me, you are also anxiously anticipating the release of Guardians of the Galaxy for this year's holiday season. What could be more jolly than watching our favorite ragtag group of heroes saving the galaxy again in festive outfits?
Peter Quill, also known as Star-Lord, is a human pilot who was abducted by aliens as a child and raised in the space-faring civilization of the Nova Corps.
He later became the leader of the Guardians of the Galaxy, a team of superheroes who protect the universe from evil.
One of his most trusted allies is Groot, a tree-like creature who can regenerate his limbs and speak only a few words. Groot was killed in battle but was reborn as a young sapling.
Despite his new form, he remains loyal to his friends and continues to fight for good throughout the cosmos. Together, Star-Lord and Groot are a powerful force for good in the universe and will continue to defend it against all odds.
The Funko Shop exclusive, Star-Lord With Groot Holiday Special Funko Pop! can be found at the links below (click to jump!)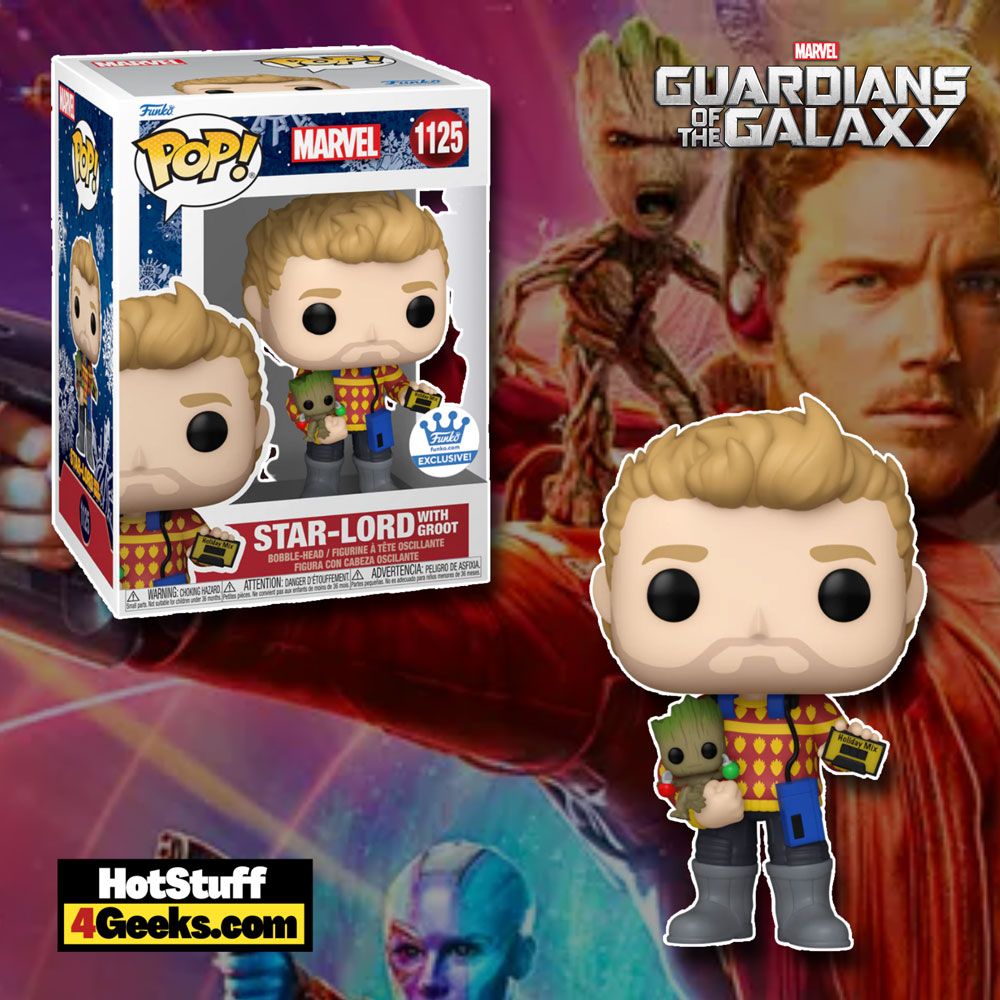 James Gunn has treated Groot as an innocent and naive cuddly monster, but in the comics, Groot has already given the inhabitants of planet Earth a lot of headaches!
Groot first appeared in Tales to Astonish #13 in 1960.
In the story, scientist Leslie Evans and his girlfriend witness a strange object falling from the sky. Later, Evans discovers that the thing was an alien that grew larger and larger as it consumed the wood of the forest.
The alien identified himself as Groot, the Monarch of Planet X, who had come to Earth to study humans. For this, he took an entire city into space.
Weapons could not penetrate Groot's ultra-resistant body, so Evans tried to defeat him with science, attacking him with a modified race of ants that devoured the Monarch of Planet X.
We later discovered that Groot was still alive and part of the Collector's private zoo.
Due to a security system failure, all the creatures escaped but were soon captured and imprisoned in SHIELD Area 13.
Groot joined Nick Fury's Second Wild Command and found his place defending the good and seeking peace.
When the Kree imprisoned him, Groot met Peter Quill and joined the Guardians of the Galaxy.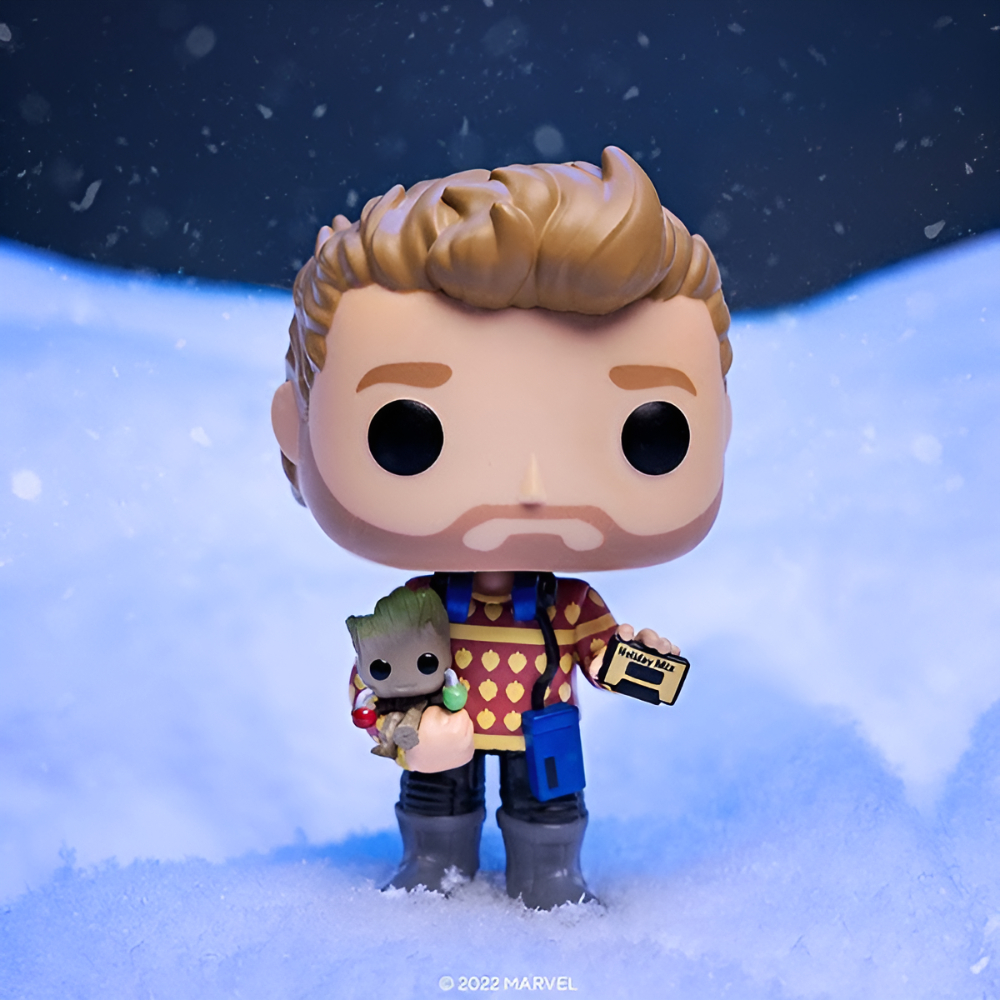 During a mission, his body was nearly destroyed, but Rocket Raccoon was able to retrieve a small branch that he planted and nursed back to health until Groot was fully reborn.
As an alien of the Floral Colossus race, Groot possesses super-strength and super-tough "skin" and has even faced the Incredible Hulk in a colossal battle (despite being a replica).
In addition, his power of regeneration allows him to recover cut branches or even regenerate himself completely. All it takes is a simple sprout.
He can communicate with plants, but not only that, he can give them life, create an army of trees, and absorb organic matter to become even bigger and stronger!
Groot is very smart and knows several languages of the galaxy, but his physiology prevents him from speaking normally since his vocal cords are lignified. He has exceptional engineering knowledge.
Check out more The Guardians of the Galaxy Holiday Season pops here.
Funko Pop! Marvel: Star-Lord With Groot Funko Pop! Vinyl Figure – Funko Shop Exclusive
Available at:
Starting now, you can receive 10% off in-stock items with my special link at Entertainment Earth!
 Enjoy!
As an Amazon Associate I earn from qualifying purchases
Want more stuff like this?
Get the best viral stories straight into your inbox!
Don't worry, we don't spam