2022 NEW Marvel: Thor Love & Thunder – Zeus Funko Pop!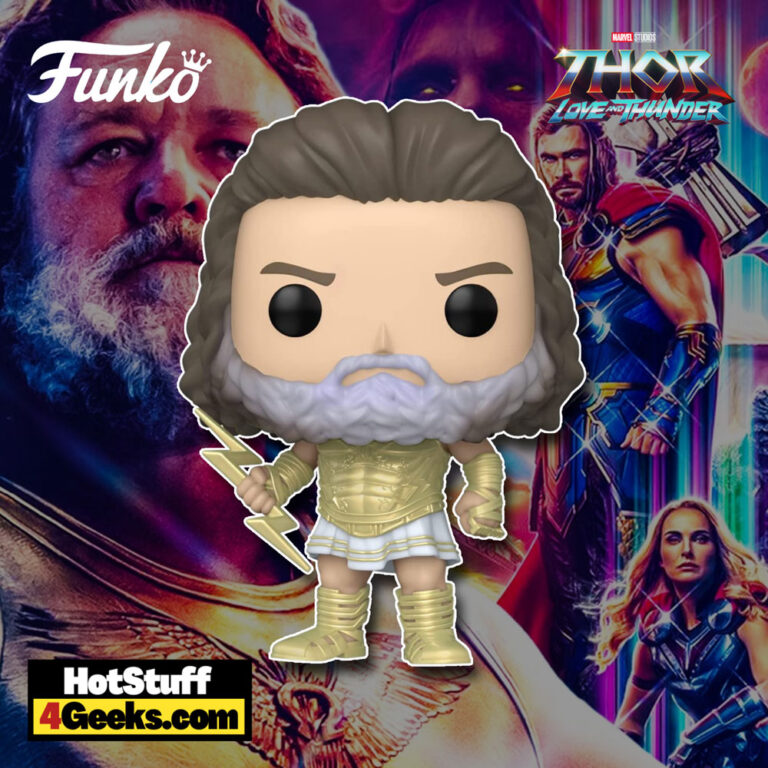 Yes, one of mythology's best-known deities has crossed over from Marvel Comics into MCU and now to Funko.
The new Funko Pop! Marvel Studios: Thor Love & Thunder – Zeus Funko Pop! Vinyl Figure is everything you could ever want in a deity-themed pop figure.
You can find the pop figure below (click to jump!)
Dressed in golden armor and equipped with his weapon of choice, a lightning bolt, Zeus is ready to take on all comers.
But he's not just a one-dimensional brawler; this figure also comes with boots, wrist guards, and a pretty massive set of brass knuckles.
Whether you're looking for a god of war or a god of style, the Zeus Funko Pop has you covered.
Zeus Funko Pop! from Marvel Studios: Thor Love & Thunder is now available for pre-order at the links below (click to jump!)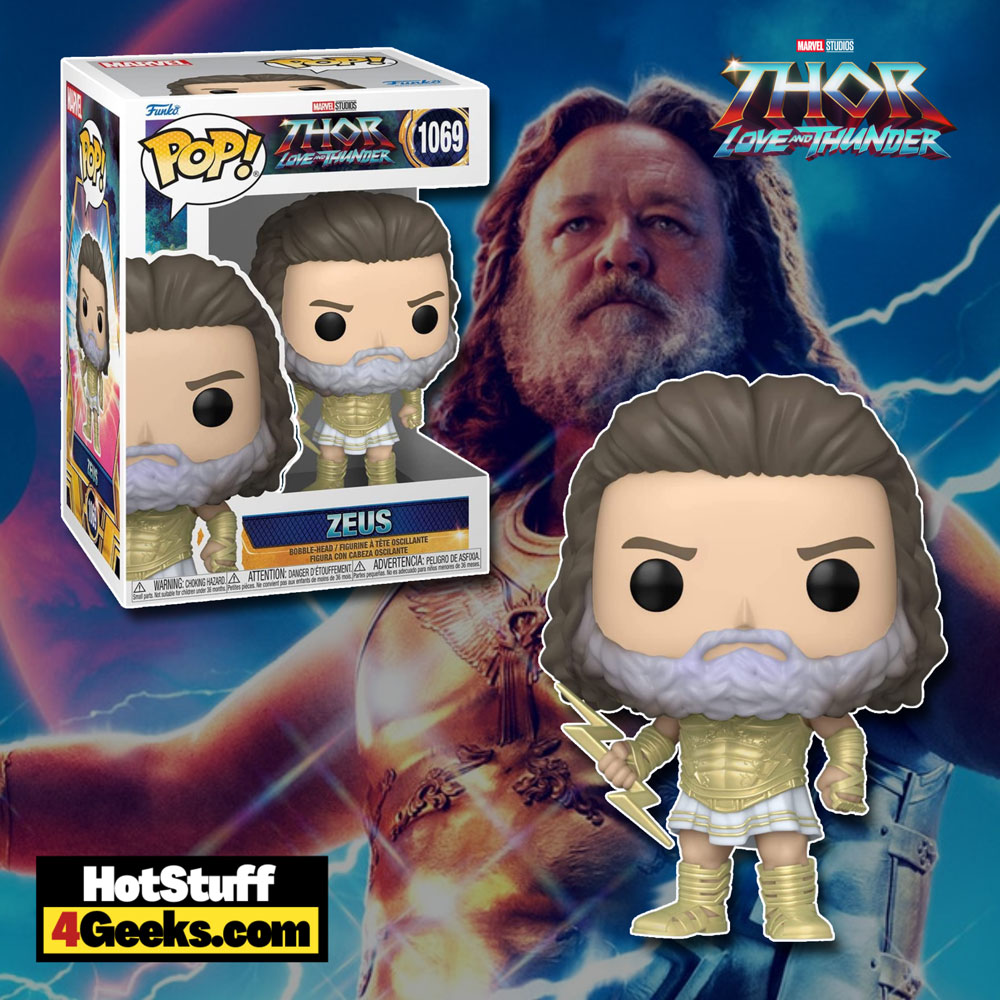 Thor: Love and Thunder is now in theaters, showcasing a host of new characters to the world. Russell Crowe is Zeus, the mighty king of the gods.
The supreme deity spends his days between pleasures and excesses, so it is difficult for him to accept the help requested by the superhero to wipe out Gorr.
Zeus is a character who is too focused on his own interests to notice how the number of empty seats in the pantheon of gods has grown, as several have fallen victim to the villain.
Everything points to the fact that it will be difficult to convince him to join the fight against God's Butcher.
The first of Thor: Love and Thunder's bombastic post-credits scenes has come to light, with fans already commenting on how it relates to the encounter between our hero (Chris Hemsworth) and ruler Zeus (Russell Crowe), the ruler of the Greek gods.
In the story, our hero travels to Mount Olympus seeking Zeus' help in defeating Gorr the God's Butcher (Christian Bale) after the villain has threatened New Asgard…
However, Zeus doesn't give a damn about Thor's request, so the two end up facing each other, and the Greek God is defeated.
In the post-credits scene, we see a humiliated and angry Zeus.
Accompanied by a harem of women, the villain plans to take revenge on Thor in an attempt to make the people of Earth fear the Gods of Olympus again.
To this end, Zeus sends his son, Hercules (Brett Goldstein), on a mission to defeat the Norse God.
In the comics, Hercules is usually portrayed as a hero. Yet, he was introduced as Thor's rival, and it looks like he will start as an enemy of the God of Thunder in the MCU.
Still, the character may eventually defy his father and become a hero, but only the future will tell.
Thor: Love and Thunder is an adventurous film that features the God of Thunder on a journey to find himself.
After retirement, he's interrupted by Gorr, the God's Butcher, who wants nothing less than extinction amongst all divine beings, including himself!
Thor enlists help from his friends, King Valkyrie, Korg, and Jane Foster. They must journey through space to stop the evil before it's too late!
Check more Thor: Love and Thunder pops here.
Funko Pop! Marvel Studios: Thor Love & Thunder – Zeus Funko Pop! Vinyl Figure
Available at:
Starting now, you can receive 10% off in-stock items with my special link at Entertainment Earth!
 Enjoy!
As an Amazon Associate I earn from qualifying purchases
Want more stuff like this?
Get the best viral stories straight into your inbox!
Don't worry, we don't spam