2022 NEW Mighty Thor GITD Funko Pop! PIAB Exclusive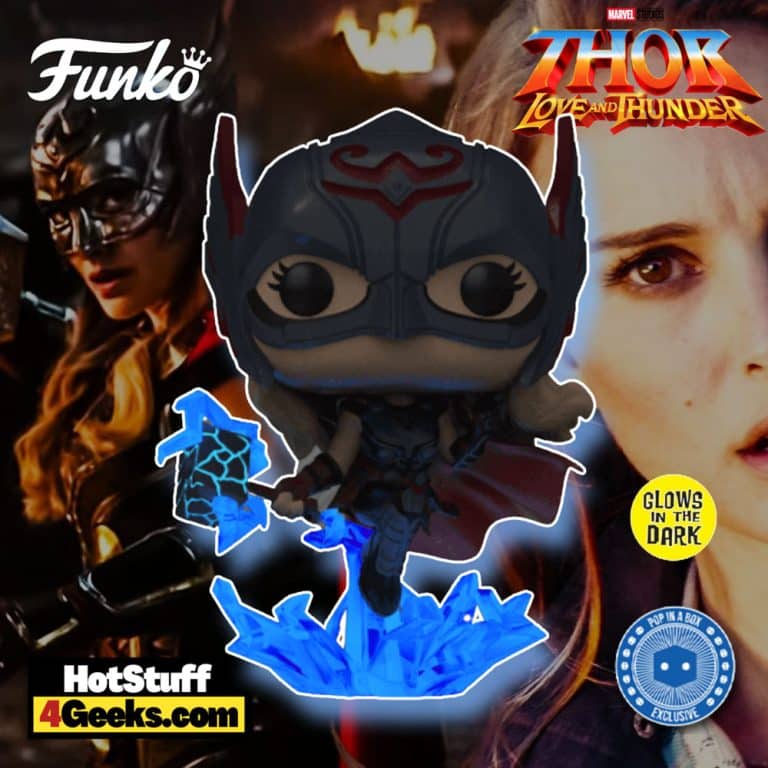 Inspired by Thor: Love and Thunder and featuring movie-inspired design, the new Funko Pop! Movies: Thor Love and Thunder – Mighty Thor Glow-In-The-Dark (GITD) Funko Pop Vinyl Figure – PIAB Exclusive shows how Jane Foster's life changed forever when she mysteriously came to possess the hammer Mjölnir.
The pop figure is now available at the links below (click to jump!)
This year will see the release of Thor: Love and Thunder, the newest film from the thunderous hero of Marvel's Cinematic Universe.
However, we will also have the debut of a heroine much beloved by fans… or rather, her transformation into a heroine, since she has already appeared in previous franchise films.
I'm talking about Jane Foster, who will finally become the Mighty Thor, just as she did in the comic. She becomes the new user of the Mjölnir, the God of Thunder's hammer destroyed by Hela in Thor: Ragnarok.
The Pop-In-a-Box exclusive Mighty Thor Glow In the Dark can be found at the links below (click to jump!)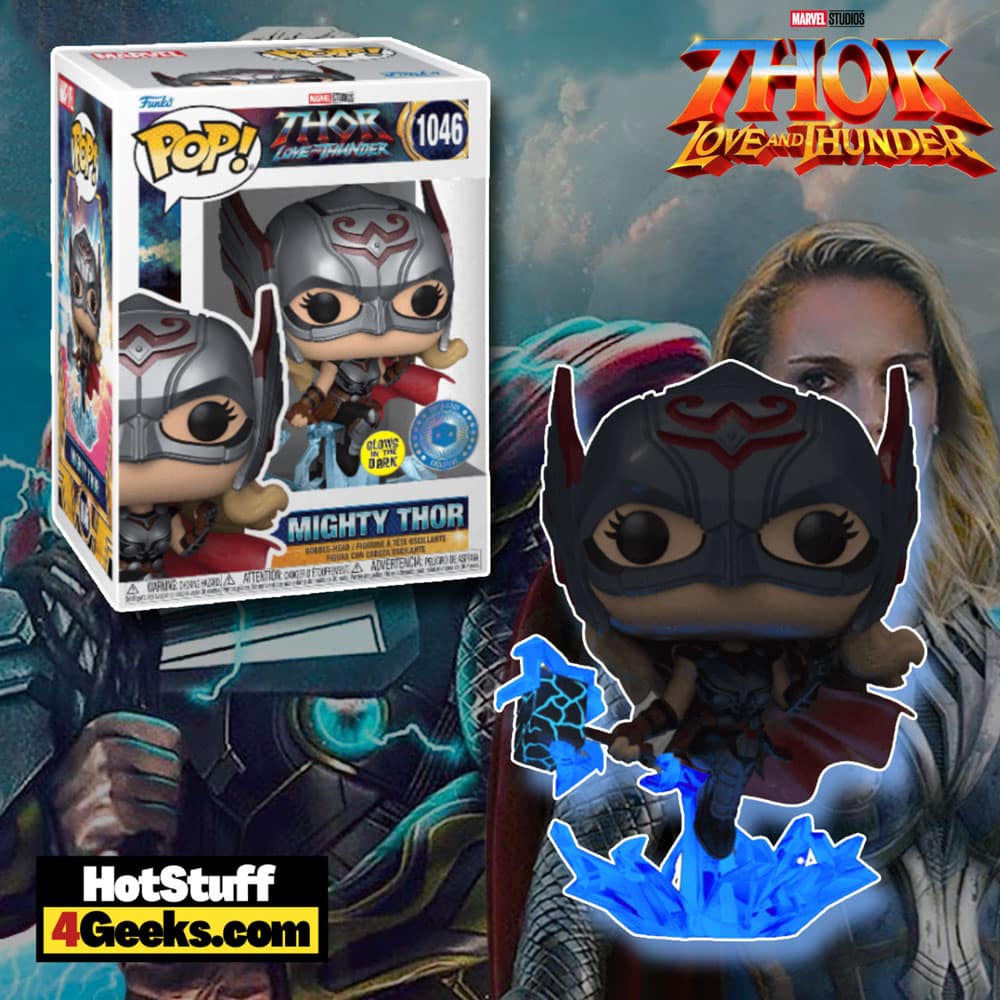 Jane Foster has gone through many changes over the years. But it was in 2014 that came what was probably the biggest change of all.
It was then that Jane Foster was diagnosed with cancer and began her battle with the disease. Again, Thor fulfilled an essential role, supporting Jane throughout her treatments, never abandoning her for a minute.
Also, during this time, Thor was no longer worthy of wielding Mjölnir after everything that happened during the Original Sin arc. However, after Jane Foster met with the Asgardian Gods, she discovered the whereabouts of Mjölnir and was able to wield it.
After successfully lifting the Mjölnir, Jane Foster instantly became the Mighty Thor but decided to hide her new powers from everyone.
Her journey as the Mighty Thor was not an easy one. The adjustment period to the superpowers was complicated and required a lot of training.
However, the only real downside to transforming into Mighty Thor was that whenever she assumed this form, all the chemicals from the chemotherapy were flushed out of her body, causing Jane to get sicker and sicker.
As Mighty Thor, her body showed no sign of the disease, yet her health deteriorated more and more whenever she returned to her normal state.
Like all those who have used the Mjölnir, Jane Foster is also left with a wide range of powers. However, her abilities that are not exclusively connected to the legendary hammer have remained unknown!
When transformed into the Mighty Thor, Jane Foster can easily lift objects weighing over 100 tons in gross weight. She can also move at superhuman speeds and has a physical endurance that keeps up with that same speed.
Despite having a highly evolved regeneration factor, this does not seem to be able to cure her cancer. When transformed, the disease is only momentarily suppressed.
With the Mjölnir, she can also fly, speak any language, control the weather, and teleport to extremely distant places.
More Thor Love and Thunder pops can be found here.
Funko Pop! Movies: Thor Love and Thunder – Mighty Thor Glow In The Dark (GITD) Funko Pop! Vinyl Figure – PIAB Exclusive
Available at:
Starting now, you can receive 10% off in-stock items and free shipping on $39+ orders with my special link at Entertainment Earth!
You can also use CODE: 4geeks anytime. Enjoy!
As an Amazon Associate I earn from qualifying purchases
Want more stuff like this?
Get the best viral stories straight into your inbox!
Don't worry, we don't spam