2022 NEW Moon Knight – Khonshu GITD Funko Pop! BoxLunch Exclusive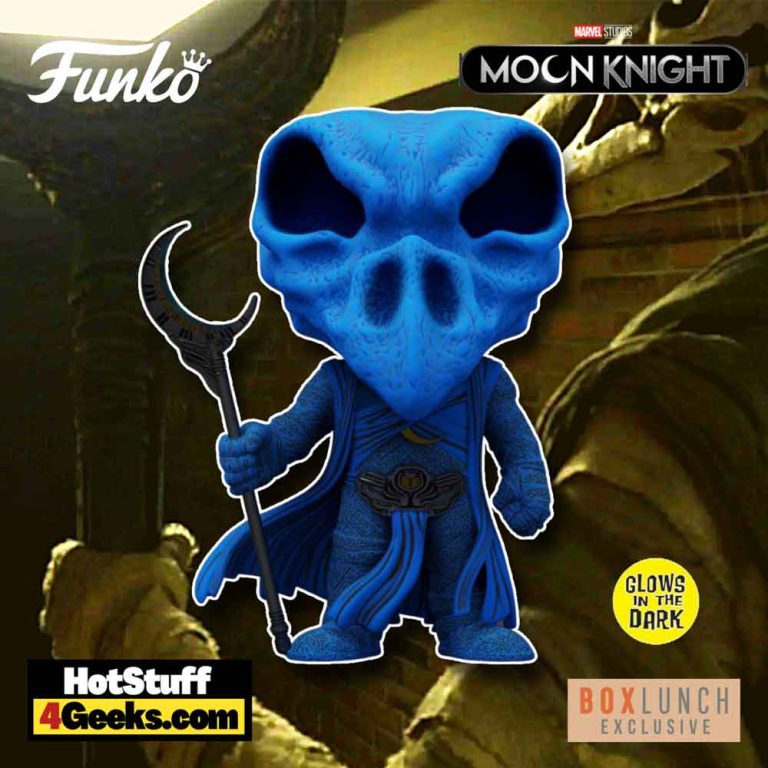 The new Funko Pop! Marvel Moon Knight – Khonshu Glow-in-the-Dark (GITD) Funko Pop! Vinyl Figure – BoxLunch Exclusive depicts the Egyptian God of the Moon and Vengeance.
Based on his appearance in Marvel's Moon Knight series on Disney +, Khonshu receives a glow-in-the-dark Pop! makeover, posing with his crescent moon staff in hand.
The pop figure is now available below (click to jump!)
Moon Knight follows the story of a man with multiple personalities who is slowly discovering that he is also a superhero. The character has a complex history in the comics and is directly linked to a deity from Egyptian mythology.
Khonshu is the name of this deity who granted powers and a purpose in life to Marc Spector, and this ends up bringing many important consequences to the character's life. However, Khonshu also seeks an avatar to walk again in the world of the living – and so he is not so much the goody-goody god that many imagine.
The BoxLunch exclusive, Khonshu Glow-in-the-Dark Funko Pop! is now available for pre-order at the links below (click to jump!)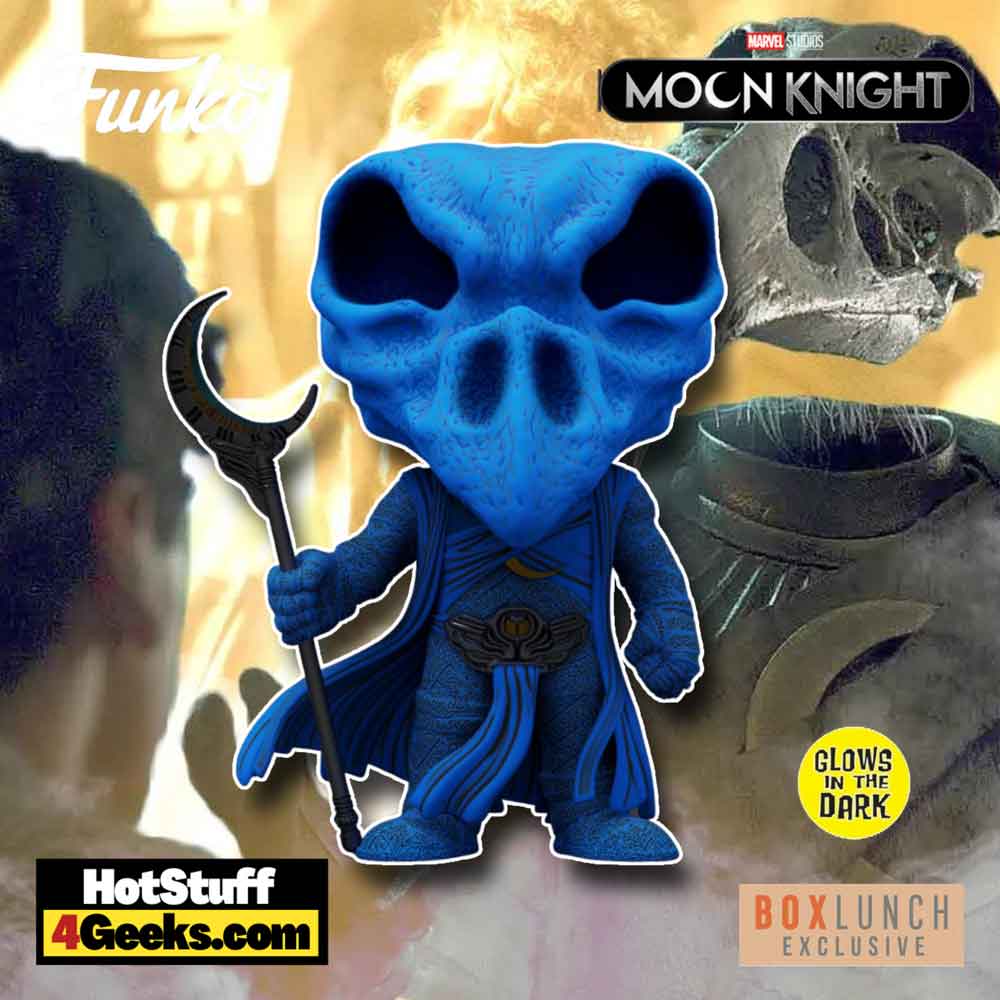 Khonshu was created by Bill Sienkiewicz and Doug Moench and first appeared in Moon Knight Vol. 1 #1.
Originally, Khonshu had a secondary presence, representing an occult deity to whom Marc prayed. However, he gradually gained more prominence within the hero's comics.
Those who think Marc Spector was his only avatar over the years are mistaken. Being unable to enter the earthly plane, Khonshu, since the times of Ancient Egypt, always summoned a champion to become his "representative" among the mortals.
This is how the legend of the Moon Knight was born until Marc Spector took that position in the contemporary age.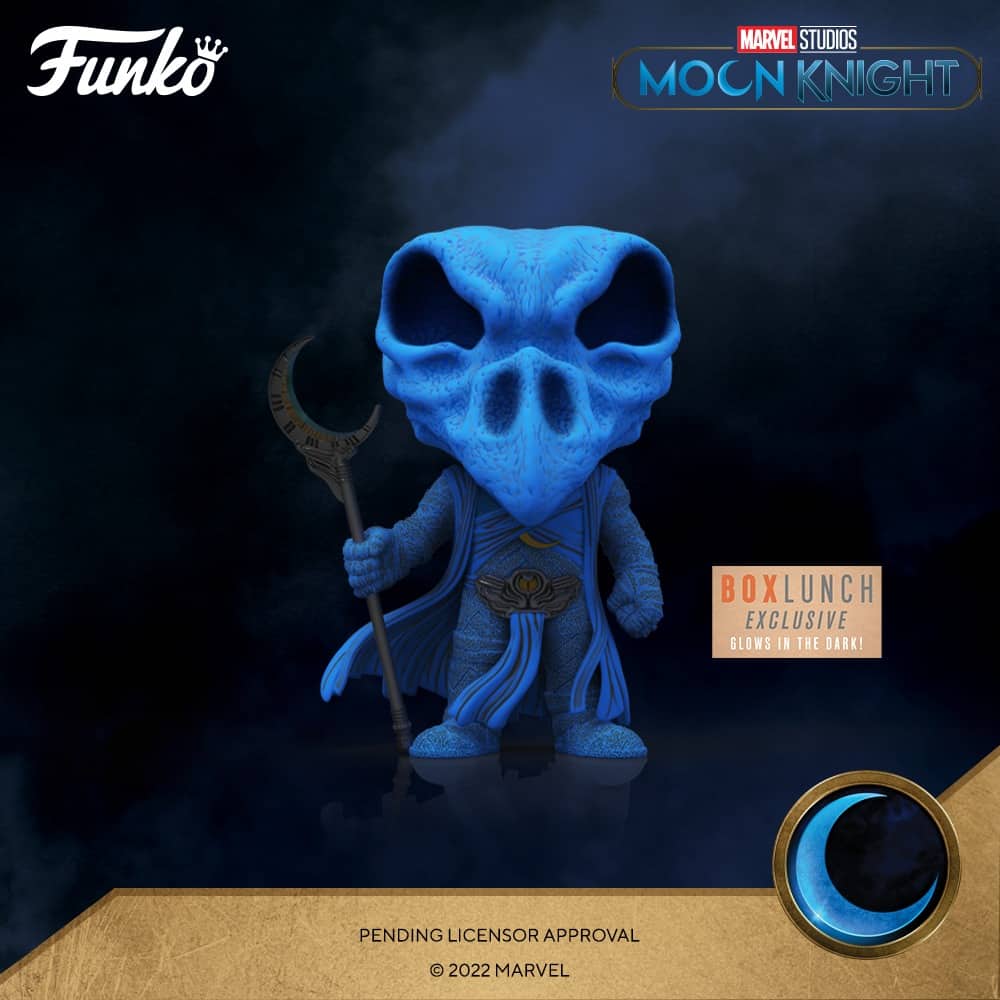 While many know that Marc met Khonshu during his time as a mercenary, their story begins long before that, when Spector was still a child.
One day, Khonshu saw him, still small, and decided that he would be his next avatar. Frightened by the monstrous form of the deity, little Marc was constantly tormented. He was also committed to a psychiatric hospital by his parents to deal with his multiple personalities.
Eventually, he became a mercenary and traveled to Egypt for an expedition, where he was betrayed by one of his allies, Raul Bushman.
Left for dead at the base of a statue of Khonshu, Marc encountered the god in the afterlife and promised to serve as his avatar if he had the chance to return to life and take revenge on the one who betrayed him.
So said and done, and the new Moon Knight was born.
Funko Pop! Marvel Moon Knight – Khonshu Glow-in-the-Dark (GITD) Funko Pop! Vinyl Figure – BoxLunch Exclusive
Available at:
Starting now, you can receive 10% off in-stock items with my special link at Entertainment Earth!
 Enjoy!
As an Amazon Associate I earn from qualifying purchases
Want more stuff like this?
Get the best viral stories straight into your inbox!
Don't worry, we don't spam