2022 NEW Pop! Hamilton- Schuyler Sisters 3-pack Funko Pop!
The new Funko POP! Broadway: Hamilton- Schuyler Sisters 3-pack Funko Pop! Vinyl Figure – Barnes & Noble (B&N) Exclusive will surely inspire us to become part of the narrative!
With the popularity of the Broadway musical "Hamilton," there has been a revived interest in Alexander Hamilton himself and the lives of his wife, Elizabeth Schuyler, and his sisters, Angelica and Peggy. These three women, often overlooked by historians, left their own mark on the American Revolution.
Connecting to a man like Hamilton would be a considerable challenge. But despite all the complications, the Schuyler Sisters don't let it stop them from living their life!
The Schuyler Sisters (Elizabeth, Angelica, and Peggy) 3-pack Funko Pop! is now available for order at the links below (click to jump!)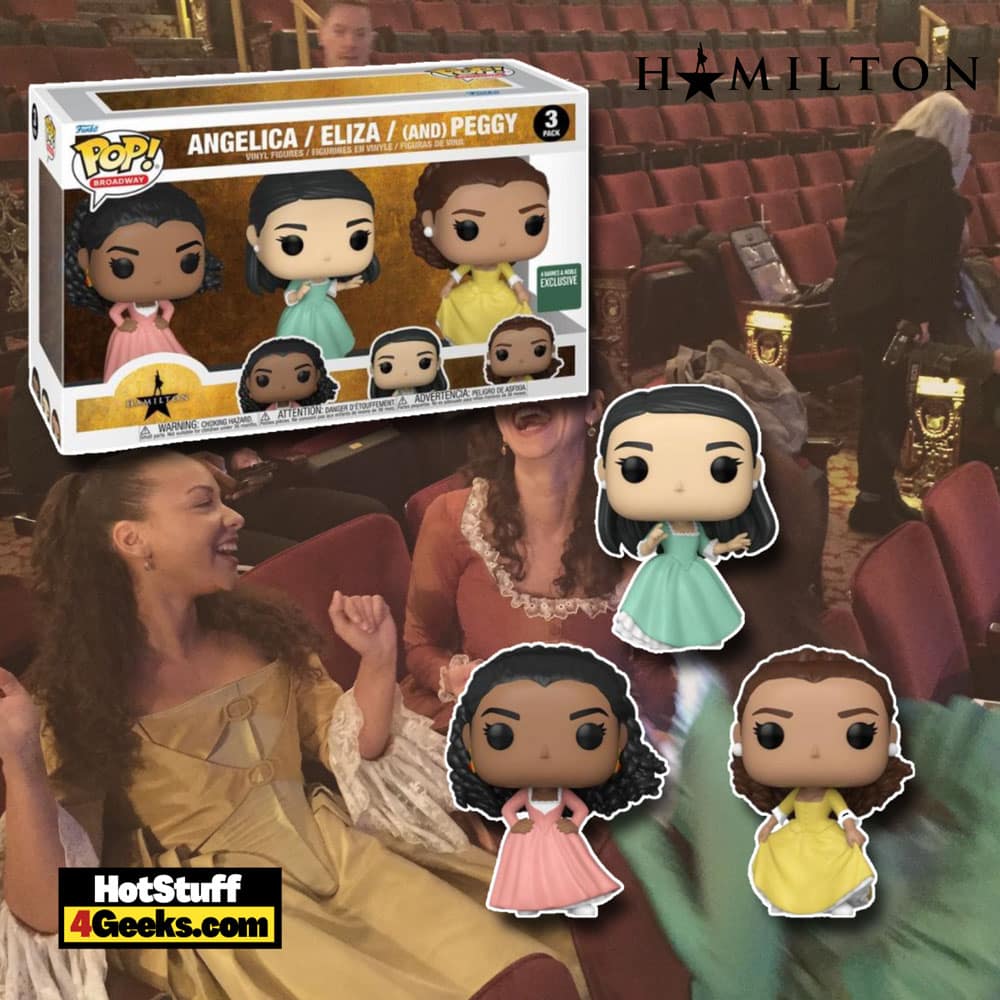 The world would not know the glory of George Washington, Alexander Hamilton, and their companions without all of Elizabeth Schuyler Hamilton's efforts. She was described as determined and impulsive, a strong woman who lived to be 97 to tell her husband's story and those who died in the war.
Eliza was one of the first American philanthropists. No wonder some say the musical is more about her than Hamilton himself. Before they were married, Elisa and Alexander exchanged countless letters, between state secrets and vows of love that Hamiton sent to his beloved; there was born a passion that lasted a lifetime.
Also, Angelica Schuyler's influence was so significant that she constantly exchanged letters with Benjamin Franklin, Thomas Jefferson (she even wrote him to include women in the phrase "all men are created equal" in the American Declaration of Independence), and Alexander Hamilton, her brother-in-law.
Angelica was a woman ahead of her time. Born in 1756 and the daughter of a Continental Army general, she grew up among meetings and councils of war that preceded the American Revolution. Hence, she acquired vast political knowledge.
Described as intelligent and charming, Angelica participated in the United States' creation by exchanging correspondence with influential figures. In addition, she provided guidance and advice on building the American nation in her letters.
The third sister is Peggy Schuyler, but with little depth in the play.
Funko POP! Broadway: Hamilton-  Schuyler Sisters 3-pack Funko Pop! Vinyl Figure – Barnes & Noble (B&N) Exclusive
Available at:
Starting now, you can receive 10% off in-stock items and free shipping on $39+ orders with my special link at Entertainment Earth!
You can also use CODE: 4geeks anytime. Enjoy!
As an Amazon Associate I earn from qualifying purchases
Want more stuff like this?
Get the best viral stories straight into your inbox!
Don't worry, we don't spam