2022 NEW Rocks: U2 – Zoo TV Tour (Achtung Baby) Funko Pops!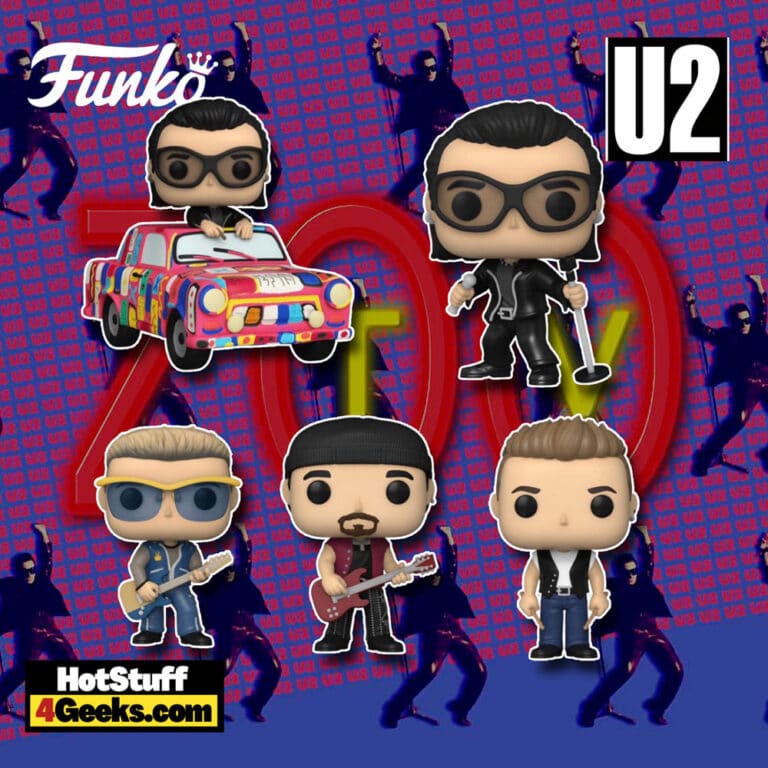 Inspired by one of the most incredible tours of all time comes the new U2 Funko Pops (2022)!
In 1992, the Irish rock band U2 embarked on the Zoo TV tour supporting their album Achtung Baby, and now they have their own pops!
You can find the pop figures below (click to jump!)
The tour was a highly experimental production featuring giant video screens, multimedia presentations, and various other cutting-edge technologies.
It was also a huge commercial success, selling out stadiums across the globe.
Now, nearly 30 years later, the tour's unique aesthetic has inspired a new line of Funko pops.
These collectible figures capture the spirit of the Zoo TV tour with their oversized heads and brightly-colored fatigues. Here's the U2 Zoo TV Tour (Achtung Baby) Funko Pops list released in 2022:
Pop! Rocks: U2 – Zoo TV – Bono Funko Pop! Vinyl Figure
Pop! Rocks: U2 – Zoo TV – Edge Funko Pop! Vinyl Figure
Pop! Rocks: U2 – Zoo TV – Adam Funko Pop! Vinyl Figure
Pop! Rocks: U2 – Zoo TV – Larry Funko Pop! Vinyl Figure
Pop! Rocks: U2 – Zoo TV – Bono, Edge, Adam and Larry 4 – pack Funko Pop! Vinyl Figures – Walmart Exclusive
Pop! Super Deluxe: U2 – Achtung Baby Car With Bono Funko Pop! Vinyl Figure
They're sure to be a hit with U2 fans, old and new.
So whether you're a diehard fan or just looking for something different, check out the new Zoo TV tour Funko pops.
Funko Pop! Rocks: U2 Funko Pop! Vinyl Figures (2022) are now available for pre-order at the links below (click to jump!)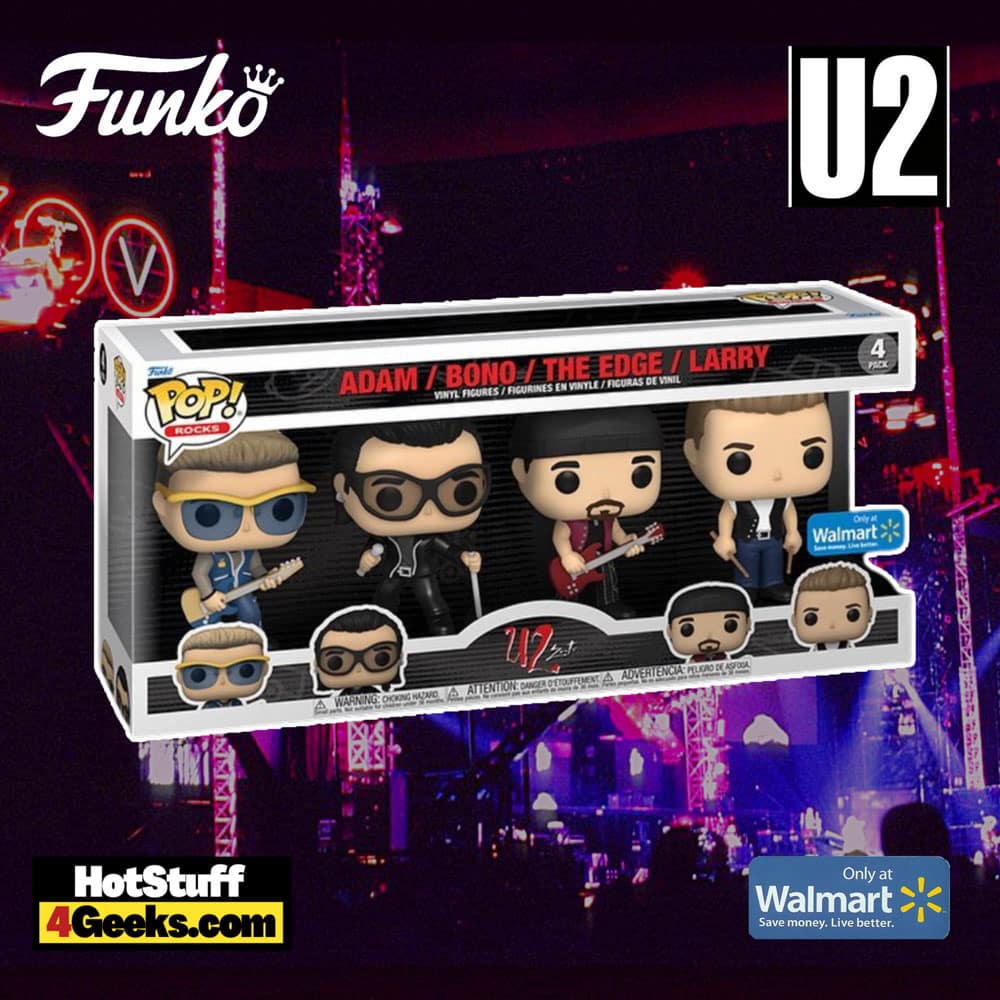 Zoo TV from U2 was a multimedia concert tour that took place from 1992 to 1993.
The tour was designed to bring the music of U2 to a broader audience, and it featured an elaborate stage show that included video screens, special effects, and props.
The tour was a critical and commercial success and is considered one of the most innovative and influential concert tours of all time.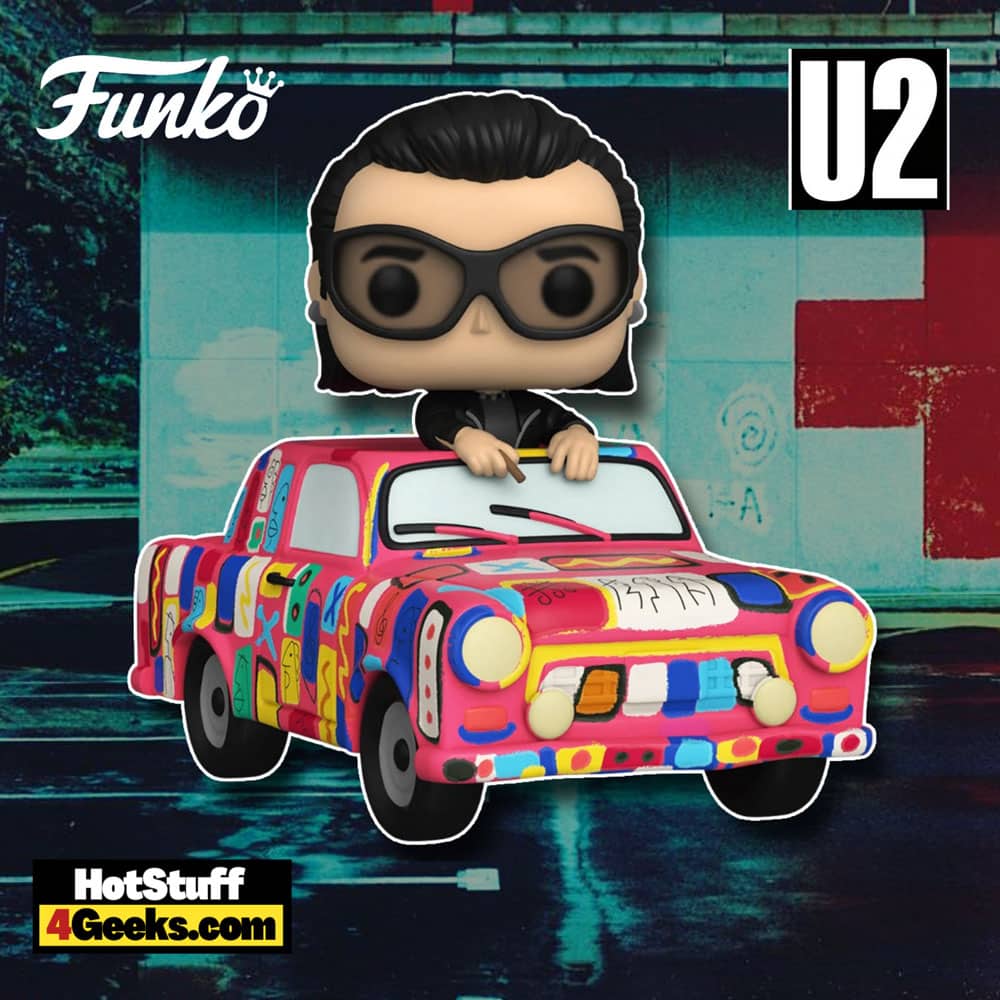 The tour is notable for its ambitious stage design, which featured an extensive array of video screens and other visual effects.
It is also remembered for its atypical setlist, which included many songs from Achtung Baby and older tracks rarely performed live.
In addition, Zoo TV was notable for its use of satellite link-ups and other cutting-edge technology, which allowed the band to interact with fans in different parts of the world.
U2 is a rock band that was formed in Dublin, Ireland, in 1976. The band consists of four members: Bono, The Edge, Adam Clayton, and Larry Mullen Jr.
U2's early sound was influenced by post-punk but eventually grew to incorporate influences from a wide range of genres, including electronica, experimental rock, and gospel.
U2 has released 14 studio albums and won 22 Grammy Awards. In addition, they are one of the bestselling bands of all time and have sold more than 170 million records worldwide.
In 2005, they were inducted into the Rock and Roll Hall of Fame.
Bono is known for his activism and music and has been involved in campaigns to end poverty and hunger. He has also been an outspoken advocate for human rights.
The Edge is known for his distinctive guitar style and has been ranked as one of the greatest guitarists of all time.
Adam Clayton is the bass player for the band, and Larry Mullen Jr. is the drummer.
But what makes U2 so great? Is it their unrivaled musicianship? Their catchy melodies? Or their ability to constantly reinvent themselves?
Whatever the reason, there's no denying that U2 is one of the greatest rock bands of all time. And if you're lucky enough to see them live, you'll understand why.
They are a band that has left a lasting impression on the world and continues to be one of the most popular bands today.
Starting now, you can receive 10% off in-stock items with my special link at Entertainment Earth!
 Enjoy!
As an Amazon Associate I earn from qualifying purchases
Want more stuff like this?
Get the best viral stories straight into your inbox!
Don't worry, we don't spam