2022 NEW The Amazing Fantasy Spider-Man Funko Pop! Cover – Walmart Collector Con 2022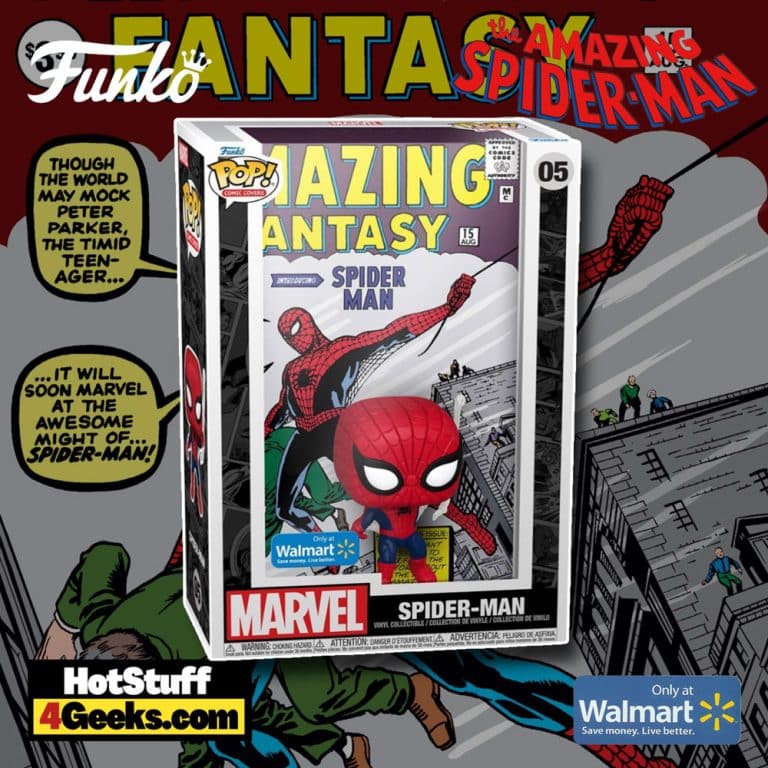 Inspired by Amazing Fantasy #15, in the new Funko POP Cover Art: The Amazing Fantasy Spider-Man Funko Pop! Cover Art Vinyl Figure – Walmart Collector Con 2022 Exclusive, Spider-Man swings into his very first appearance, signed by Marvel Comics legend Stan Lee and Steve Ditko.
The pop figure is available starting March 24 at 7 am PST at the links below (click to jump!)
The shy teenager, a victim of bullying by bullies in his school and who gains magnificent powers from the bite of a radioactive spider, would forever mark the "Marvel way."
Even with super strength and the ability to climb walls, the character would still have to deal with mundane, everyday problems: taking care of elderly relatives, tests, school schedules, working to earn some money, paying bills, and so on.
Spider-Man is a kind of superhero with whom comic book readers can most easily identify was born.
From the Walmart Collector Con 2022, The Amazing Spider-Man Funko Pop! Cover Art is now available at the links below (click to jump!)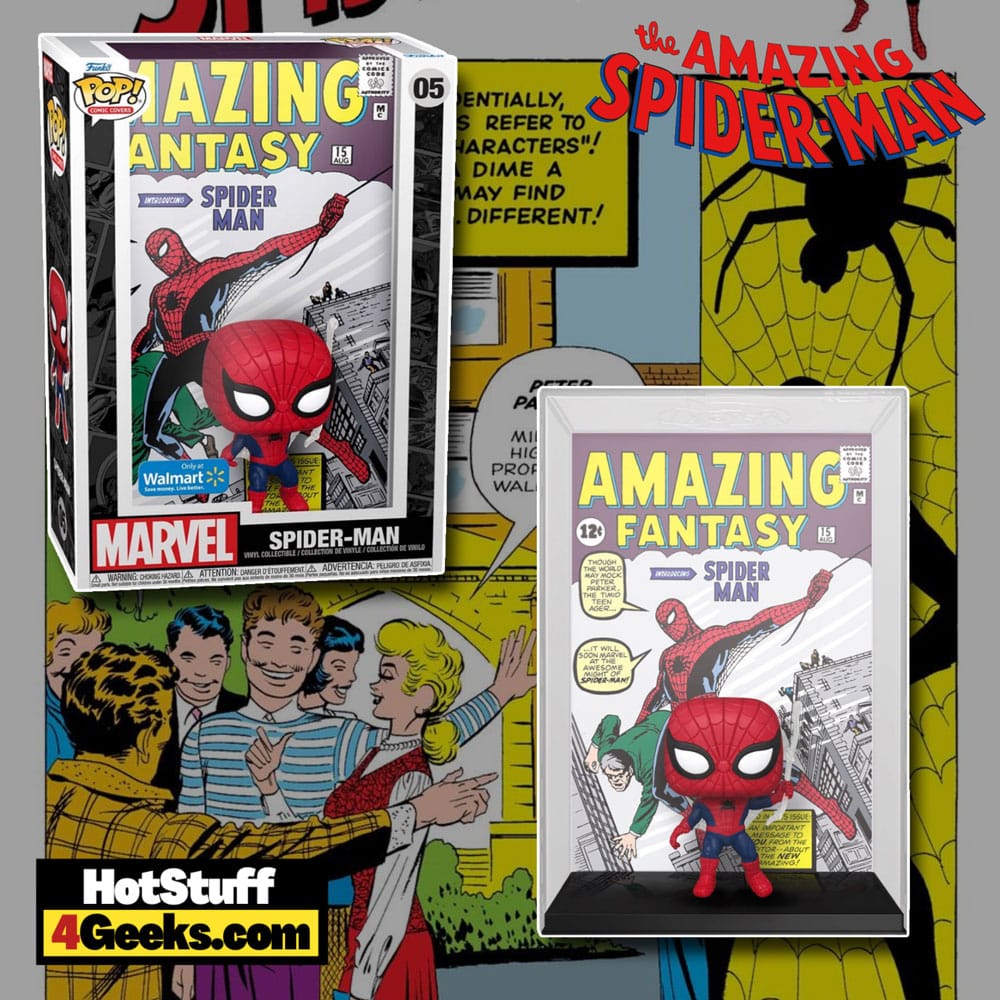 Spider-Man is not only one of the most popular Marvel characters today but also one of the greatest superheroes that history has ever seen. For decades, this arachnid being has accompanied dozens of generations with his adventures.
However, his origin was not as fancy as it might seem. I tell you how Stan Lee brought Peter Parker to life to prove it.
By the early 1960s, Stan Lee and Jack Kirby had already created iconic superhero teams such as the Fantastic Four and the X-Men, whose titles had revitalized Marvel Comics.
In 1962, Martin Goodman, Lee's editor and cousin-in-law asked the writer to create a new superhero, as good and impactful among readers as the ones he had already shaped.
According to a lecture Stan Lee gave at the University of California, after Goodman's request, Lee remembers that he "couldn't think of any new superpowers." Luckily, Lee was about to hit a stroke of genius when he "saw a fly crawling on a wall. And I said, 'Boy, it would be great if I could get a superhero who could stick on walls like an insect.'"
Quickly, Lee discarded the Fly-Man idea and instead thought of a more "dramatic" creature: a spider. Thus the name of the superhero was established: Spider-Man. Although he still had to devise the personality of this one.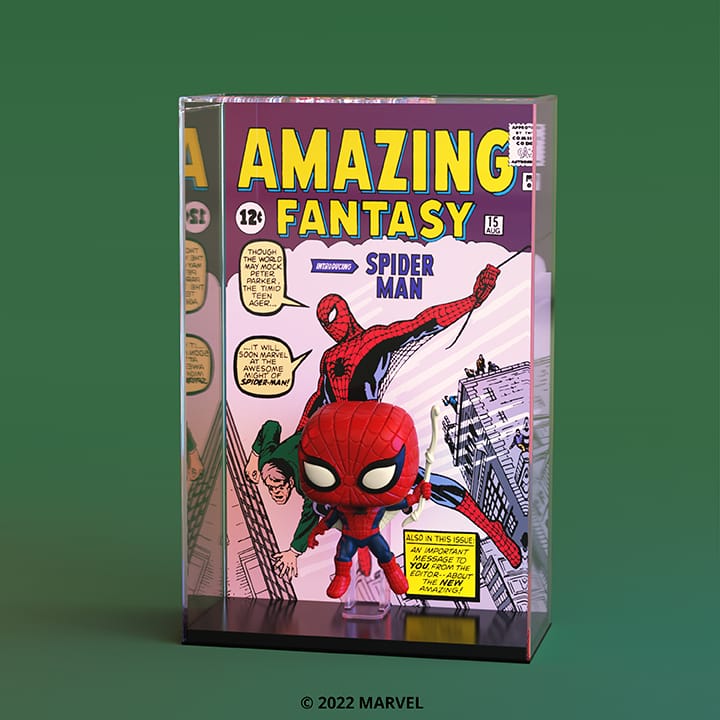 It was then that the scriptwriter did something revolutionary because he believed that the protagonist of his story should be a teenager.
At that time, teenagers only acted as supporting characters for adult protagonists. It was unthinkable to see a 16-year-old beardless boy have his own story, but according to Stan Lee, a teenager's life could be full of melodrama, and his readers could identify with him.
Stan Lee's editor thought this story was garbage and forced his writer to scrap it. But, instead of listening to Goodman, Lee and Ditko decided to have Spider-Man appear on the cover of the 15th and final issue of a series called "Amazing Fantasy" that was about to be canceled.
A month later, all the sales figures came in. My editor came running into my office and said, Stan, Stan do you remember that character we both loved so much…that…Spider-Man? I want us to make him have a series!"
Months after the release of Spider-Man, Martin Goodman reviewed its sale figures only to realize that Marvel had a new bestseller. Fans wrote in wanting more Spider-Man stories and wondering when the next issue would be released.
Thus, after seeing the light in the legendary Amazing Fantasy # 15, Spider-Man managed to have his own masthead, which was titled in honor of the magazine that saw his birth: The Amazing Spider-Man.
Today, this dream that was about to go to waste has become the most iconic figure in the world of superheroes and the companion that many comic book readers, gamers, and movie and television fans have had for many years.
Starting now, you can receive 10% off in-stock items with my special link at Entertainment Earth!
 Enjoy!
As an Amazon Associate I earn from qualifying purchases
Want more stuff like this?
Get the best viral stories straight into your inbox!
Don't worry, we don't spam