2022 NEW The Lion King – Scar with Meat Funko Pop! Exclusive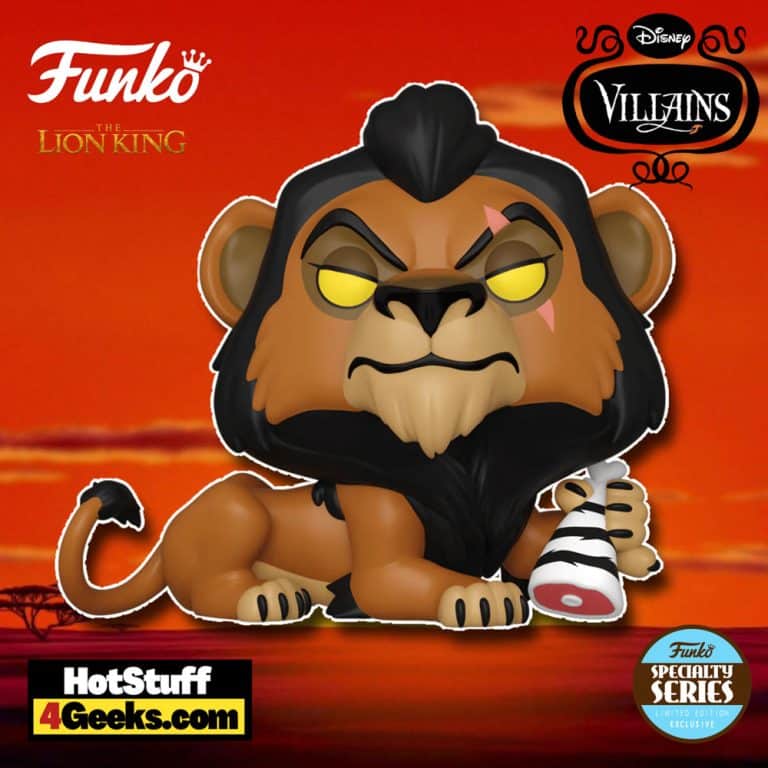 The Lion King's resident bad guy is coming with this new Funko Pop! Disney Villains: The Lion King – Scar with Meat Funko Pop! Vinyl Figure – Specialty Series Exclusive.
The pop figure can be found below (click to jump!)
Scar is one of the most iconic villains in Disney history. The mean-spirited lion first appears in The Lion King, where he hatched a plan to kill his brother Mufasa and take over the Pride Lands.
While Scar is undoubtedly evil, he also has a charm and charisma that makes him one of the most entertaining villains.
Unlike other villains motivated by power or greed, Scar is driven by envy and insecurity. He was born second to Mufasa and always felt like he was living in his brother's shadow.
In addition, Scar is a master of deception, using his wit and charm to manipulate those around him. He is also fiercely intelligent, making him a formidable opponent for Simba.
In addition, Scar has some of the best songs in The Lion King, including "Be Prepared" and "Shadowland." Whether you love him or hate him, there's no denying that Scar is a great villain.
The Specialty Series exclusive, Scar with Meat Funko Pop! is now available for pre-order at the links below (click to jump!)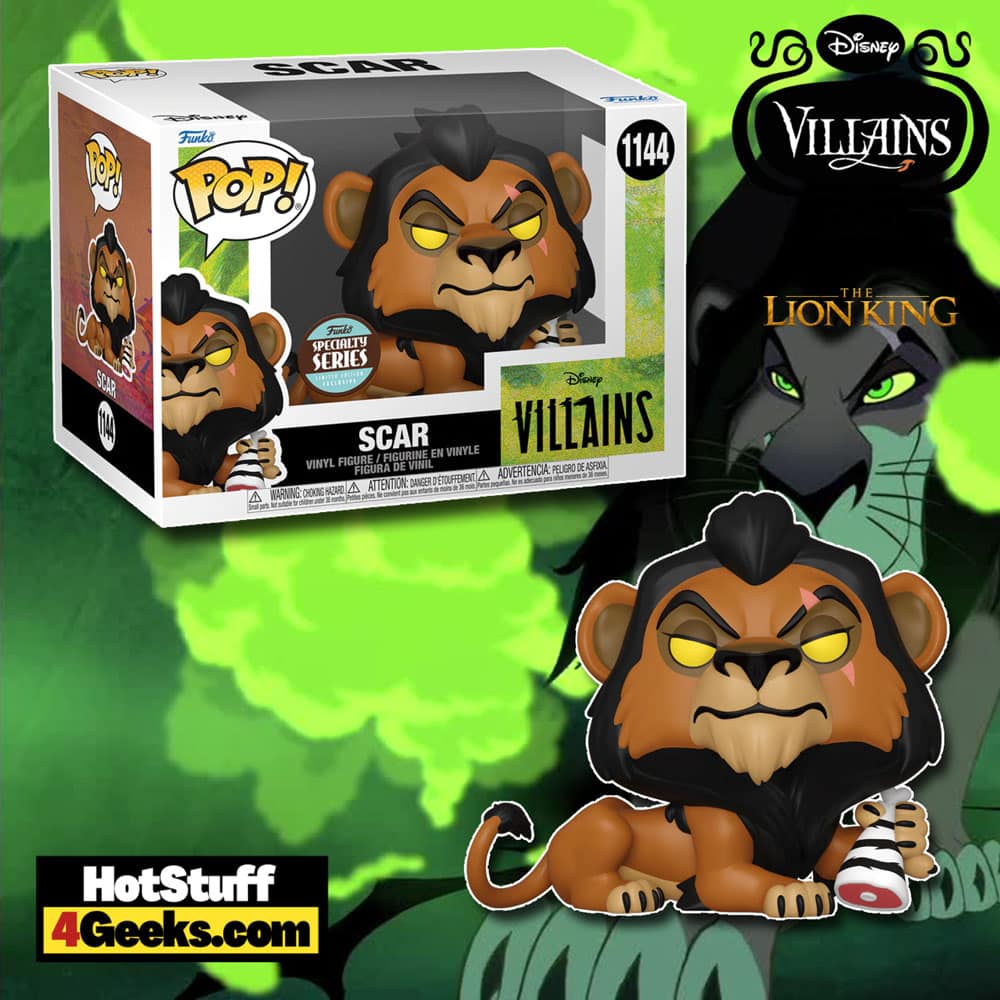 The Lion King is widely considered one of Disney's greatest films and has been entertaining audiences for over 25 years.
The story is timeless, the animation is truly groundbreaking, and the songs are unforgettable. The Lion King also features an incredible cast of characters, each of whom brings something unique to the film.
While the movie is full of action, adventure, and humor, it contains some important life lessons. One such lesson is the importance of family.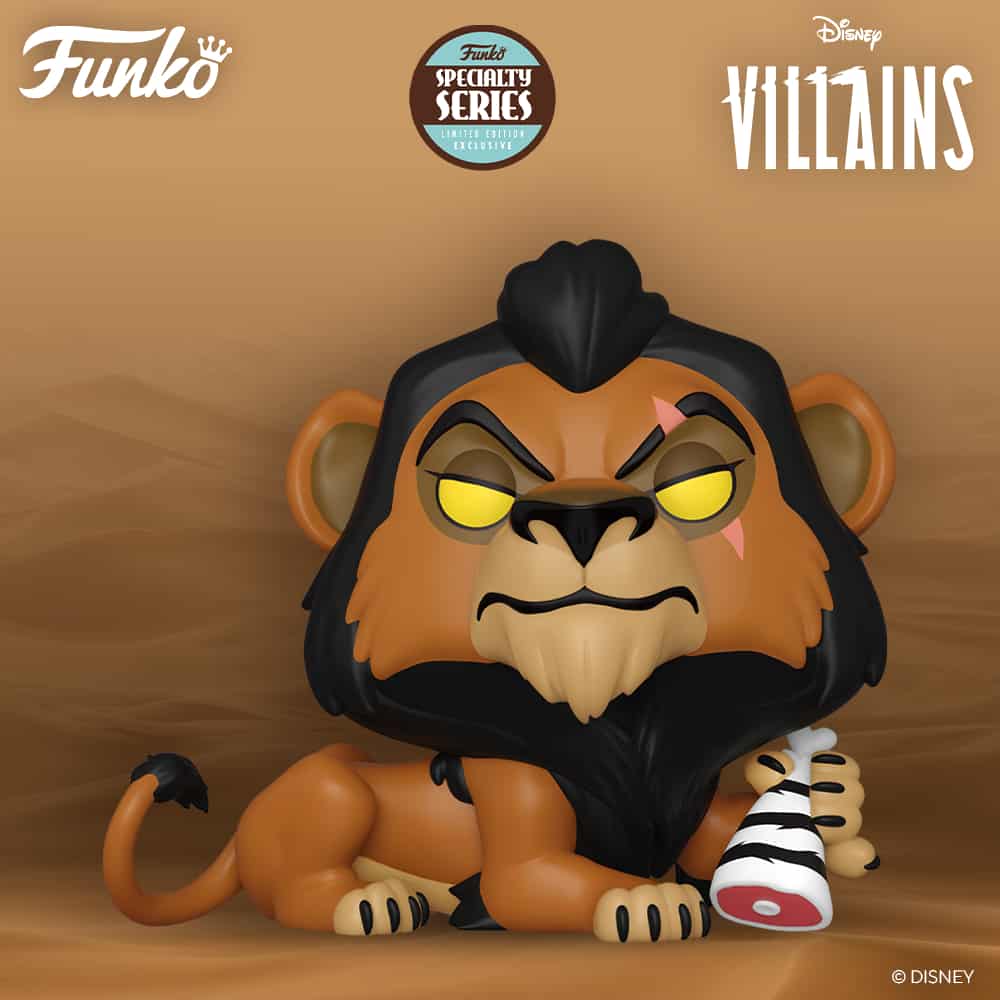 The bond between Simba and his father, Mufasa, is central to the story, and their relationship is tested by jealousy, betrayal, and tragedy. In the end, however, Simba learns that family is essential and that he must protect those who are closest to him.
Another lesson conveyed in The Lion King is the importance of responsibility. As Simba grows into adulthood, he must accept the duties of being king.
This includes making difficult decisions and taking on the responsibilities of leading his Pride Lands. Ultimately, Simba learns that responsibility comes with great rewards and challenges.
It's no wonder that The Lion King remains one of the most popular films of all time.
Funko Pop! Disney Villains: The Lion King – Scar with Meat Funko Pop! Vinyl Figure – Specialty Series Exclusive
Available at:
Starting now, you can receive 10% off in-stock items with my special link at Entertainment Earth!
 Enjoy!
As an Amazon Associate I earn from qualifying purchases
Want more stuff like this?
Get the best viral stories straight into your inbox!
Don't worry, we don't spam