2022 NEW Thor Die-Cast Funko Pop! with Chase Exclusive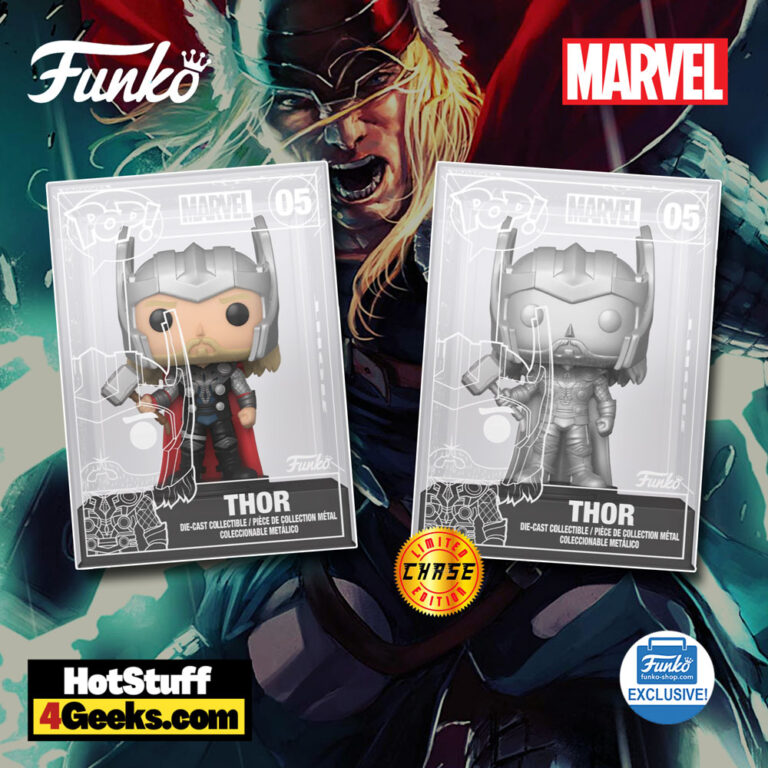 Thor is one of the most popular and powerful Avengers, and it's easy to see why. He's got the looks, the muscles, and the flowing cape. But what would make Thor even more awesome? A Funko Pop! Die-Cast: Marvel – Thor with Chase Funko Pop! Die-Cast Vinyl Figure – Funko Shop Exclusive, of course!
Pop! Thor – Marvel Die-Cast with CHANCE OF CHASE is dropping today at 9:30 AM PT at the links below (click to jump!)
This die-cast pop is made out of metal instead of plastic vinyl. It comes in a clear acrylic display case with etched box art and a base to support the top-heavy figure.
It's deeply detailed, well-made, and highly collectible due to its limited edition status. It's just begging to be collected!
As any superhero fan knows, Thor is strong, he's fast, and he can fly. Oh, and he's also the God of Thunder. With all of that power, it's no wonder that Thor has gone by many different names over the years.
He's been called the King of Asgard, the son of Odin, God of the Storm, and the blonde wonder, to name a few (okay, I made up that last one).
And those are just some of his more well-known aliases.
Thor has accrued quite a few different titles with more than a thousand years of history behind him. But Thor remains a warrior for peace and justice no matter his name.
And with the Thor Funko pop die-cast, you can see him in all his glory, wielding his Mjollnir and looking as badass as ever.
Thor Die-Cast Funko Pop! with Limited Chase can be found at the links below (click to jump!)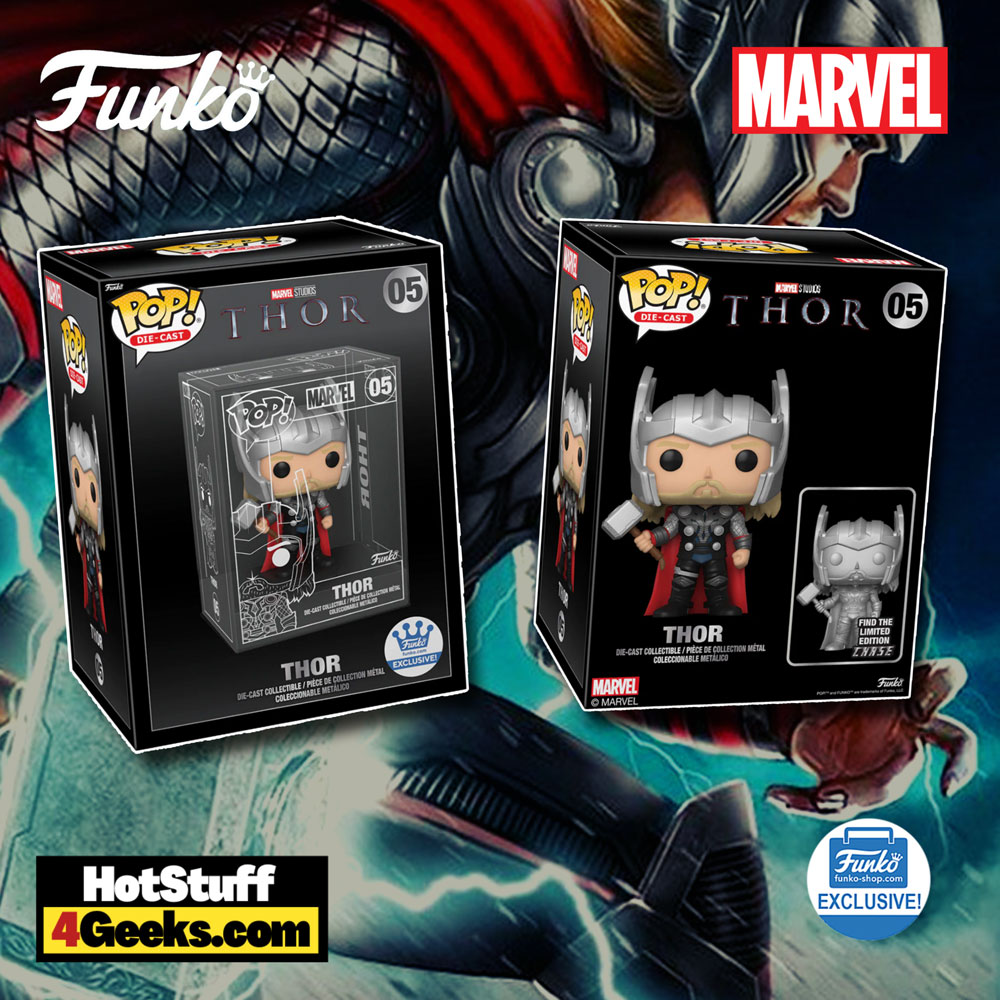 Thor is one of the most popular characters from Marvel Comics. He made his debut in the early 1960s and has been a staple of the Marvel Universe ever since.
Thor is best known for his mighty hammer, Mjolnir, which he uses to protect Asgard, his home world. He is also a member of the Avengers, Earth's Mightiest Heroes.
After decades and decades of stories and appearances in various media, Thor had a leap in popularity when he was introduced into the MCU, played by Chris Hemsworth, and established as a fan favorite after the first Avengers!
Marvel's version of the God of Thunder was created by Stan Lee, his younger brother Larry Lieber, and legendary artist Jack Kirby. His debut came in August 1962, in the Journey into Mystery #83!
Interestingly, and well before all that, Kirby made a version of Thor at… DC!
In 1957, the legendary artist created an updated version of the God of Thunder in Tales of the Unexpected #16.
Some elements of that version were reused by Kirby when it came time to bring him into the Marvel universe, resulting in his most popular version.
Long before Chris Hemsworth brought the role to life on screen, Thor made his live-action debut in The Incredible Hulk Returns, a 1988 TV movie.
The film saw Thor teaming up with the Hulk to take on a villainous Asgardian sorcerer, and while it was not exactly a critical success, it gave fans their first taste of the character.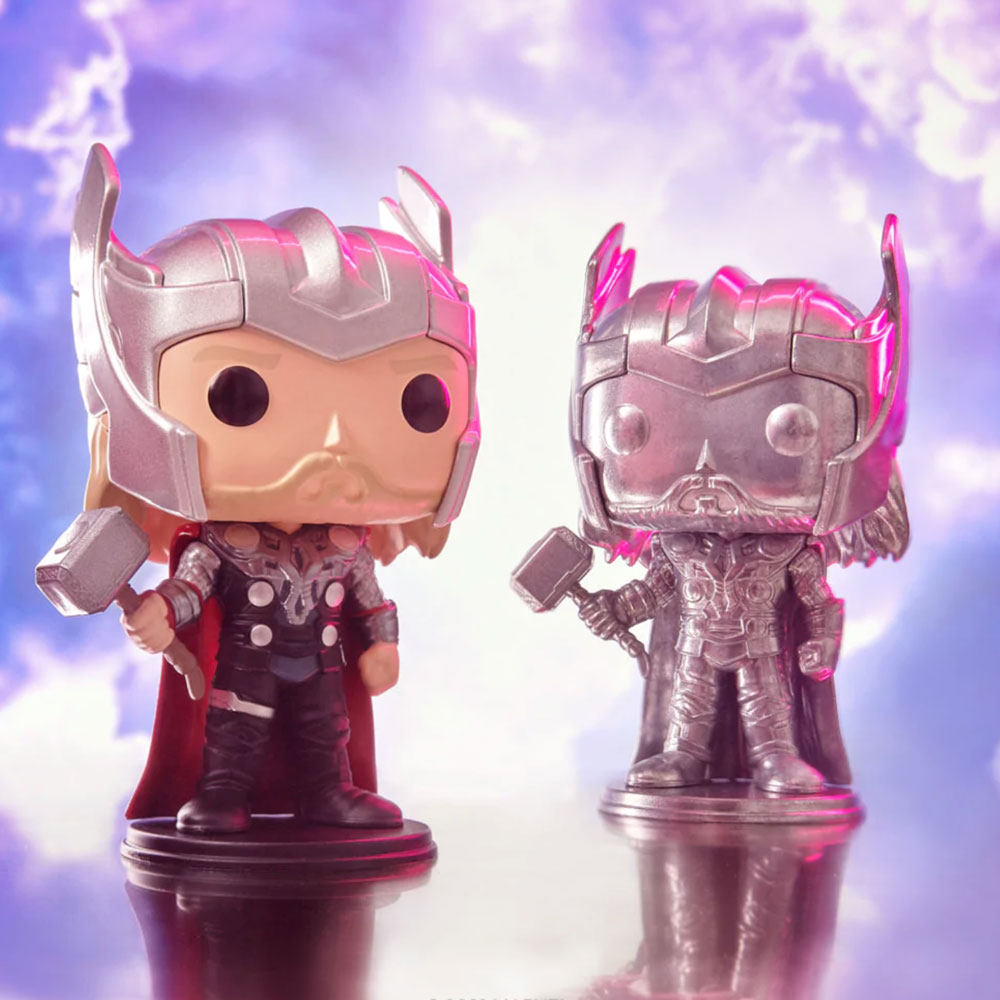 Funko Pop! Die-Cast: Marvel – Thor with Chase Funko Pop! Die-Cast Vinyl figure – Funko Shop Exclusive
Available at:
Starting now, you can receive 10% off in-stock items with my special link at Entertainment Earth!
 Enjoy!
As an Amazon Associate I earn from qualifying purchases
Want more stuff like this?
Get the best viral stories straight into your inbox!
Don't worry, we don't spam