2022 NEW Tinker Bell w/ Needle and Spool Funko Pop! Deluxe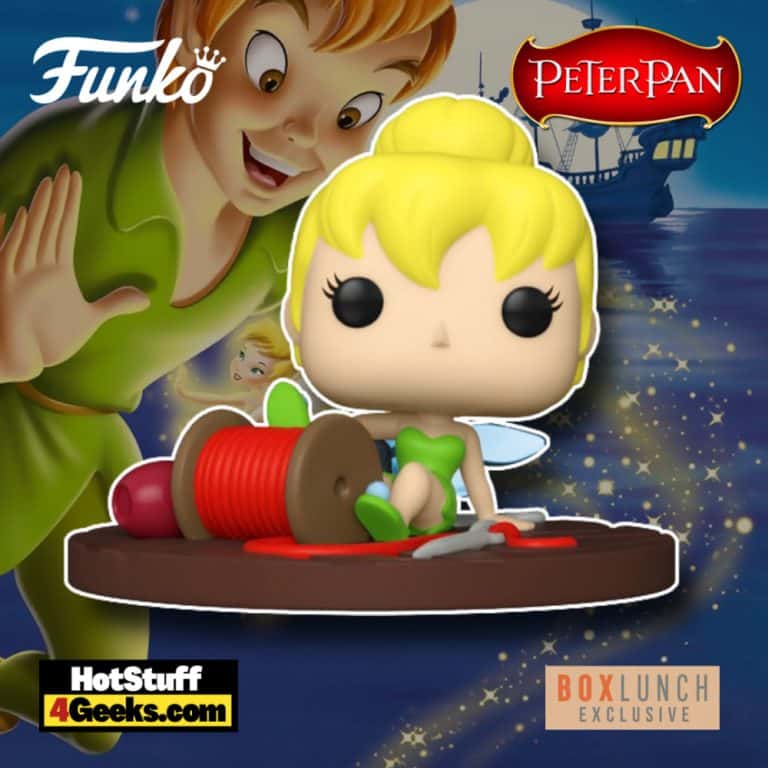 Straight from the magic of Never Land, the naughty but loyal fairy companion to Peter Pan comes in this Funko Pop! Deluxe: Disney – Tinker Bell With a Needle and Spool Funko Pop! Vinyl Figure – BoxLunch Exclusive, inspired by Disney's most famous fairy. (available for pre-order at the links below.)
After all, she is a fairy that sparkles and spreads magic not just with pixie dust but with her truly adorable look!
Tinkerbell is feisty, adventurous, a good friend (despite her character). She has always been a bit of a free spirit. Her famous bad temper is because she only has room for one feeling at a time because of her diminutive size. This can be good or not so good?
Her biggest dream is "to be the size of a normal human being so that she can hug Peter Pan." It is said that her true love is Peter, a love never reciprocated.
Like the other fairies, Tinkerbell depends on the belief and faith of others to survive. Evil tongues say that Tinkerbell ceases to exist when Peter grows up and forgets her, although I would like to think that this little fairy with so much character will always live in our hearts.
You better be prepared to make Tink your favorite POP! figure because she's known to get a little jealous!
The BoxLunch exclusive, Tinker Bell Funko Pop! Deluxe can be found for pre-order at the links below.
In the original book, Tinkerbell is described as a common fairy who fixes pots and tinkers (definition of tinker in English) and is sometimes referred to simply as "Tink."
The first time Tinkerbell appeared before an audience was on December 27, 1904, at the Duke of York's Theatre in London, and she did so amid a beam of light and a ringing of bells, Disney reports.
She was initially known by the name "Tippytoe," created by Barrie in the first sketch of the Peter Pan play, and was given the name Tinkerbell because a bell was used to represent her voice on stage.
Tinkerbell was first designed to be a brunette, and then Walt Disney turned her into a redhead after a 15-year evolutionary process. Marc Davis, one of the mythical animators, was the one who designed her final image in 1951.
Tinkerbell's television debut took place on Christmas Day 1951 when Walt Disney discovered the Neverland characters.
Tinkerbell has starred in numerous film appearances, most notably in "Peter Pan" (1953) and "Back to Neverland" (2002), but she has also appeared in many other animated movies.
Starting now, you can receive 10% off in-stock items with my special link at Entertainment Earth!
 Enjoy!
As an Amazon Associate I earn from qualifying purchases
Want more stuff like this?
Get the best viral stories straight into your inbox!
Don't worry, we don't spam