2022 NEW TMNT 6-Pack Black Light Funko Vinyl Soda w/ Cooler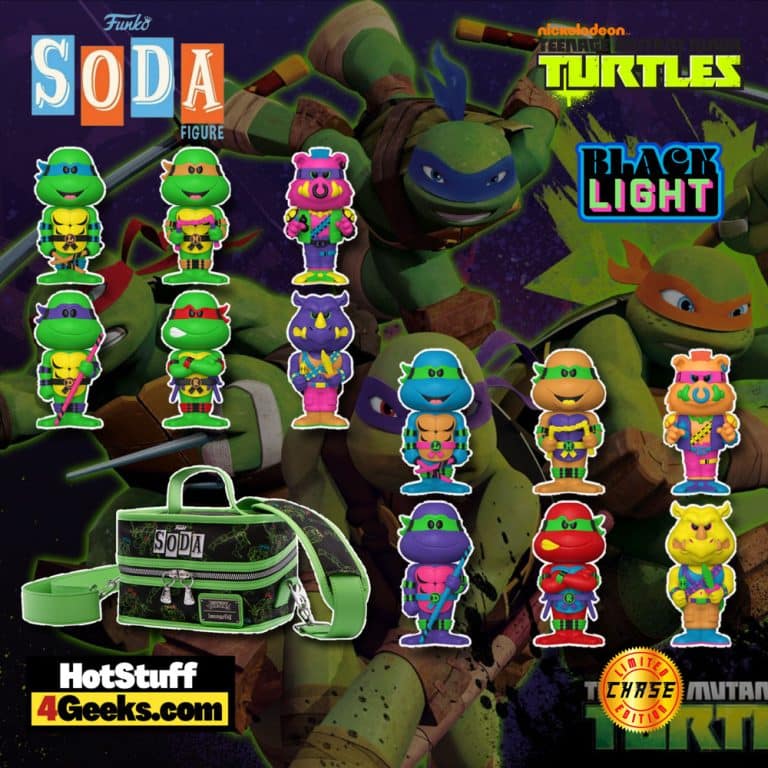 Unleash your Turtle Power with this Funko Pop! Soda: Teenage Mutant Ninja Turtles (TMNT) 6-Pack Black Light Funko Vinyl Soda With Cooler – Funko Shop Exclusive.
Inside the Funko Nickelodeon Teenage Mutant Ninja Turtles cooler, you'll find 6 Funko SODA cans containing limited edition figures of Leonardo, Michelangelo, Bebop, Donatello, Raphael, and Rocksteady.
Each purchase of a SODA 6-Pack will include one black-light chase variant per cooler. Only 10,000 of this Funko exclusive set was made!
The Black Ligh TMNT 6-Pack Funko Soda Figures are now available for order at the links below (click to jump!)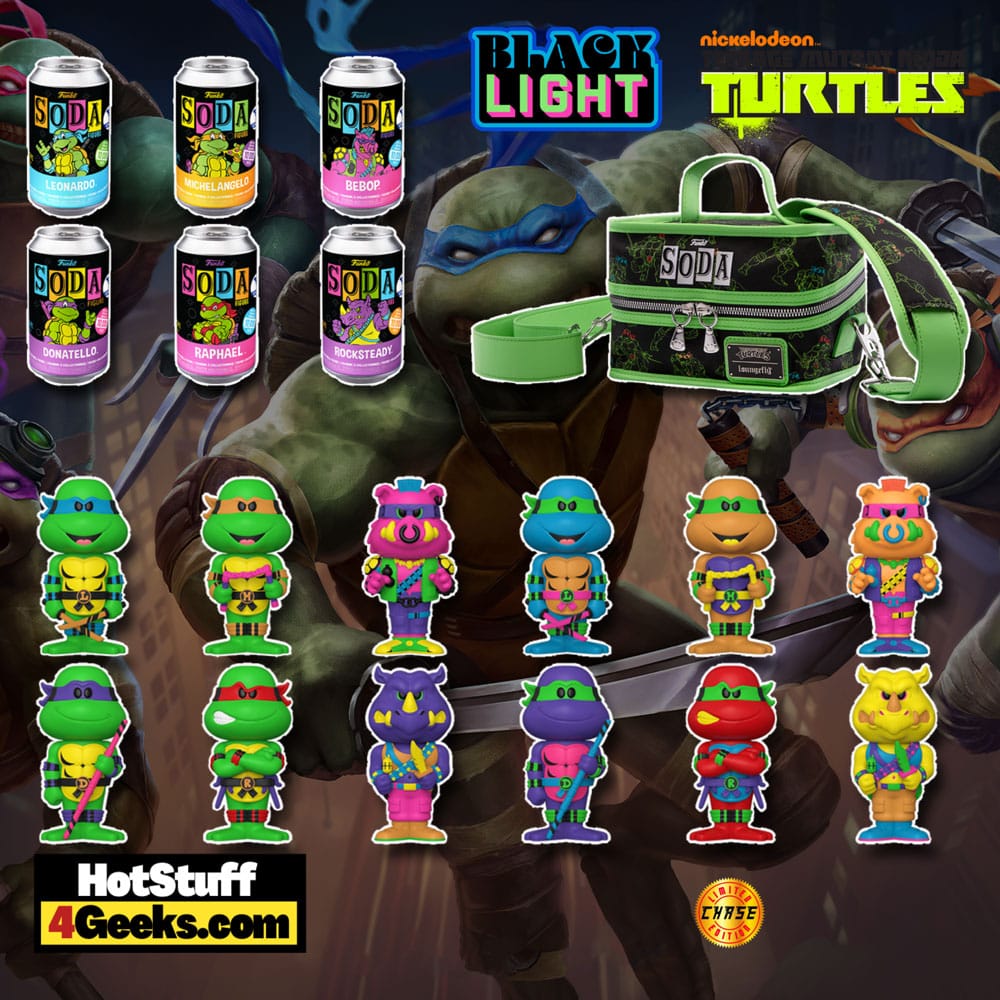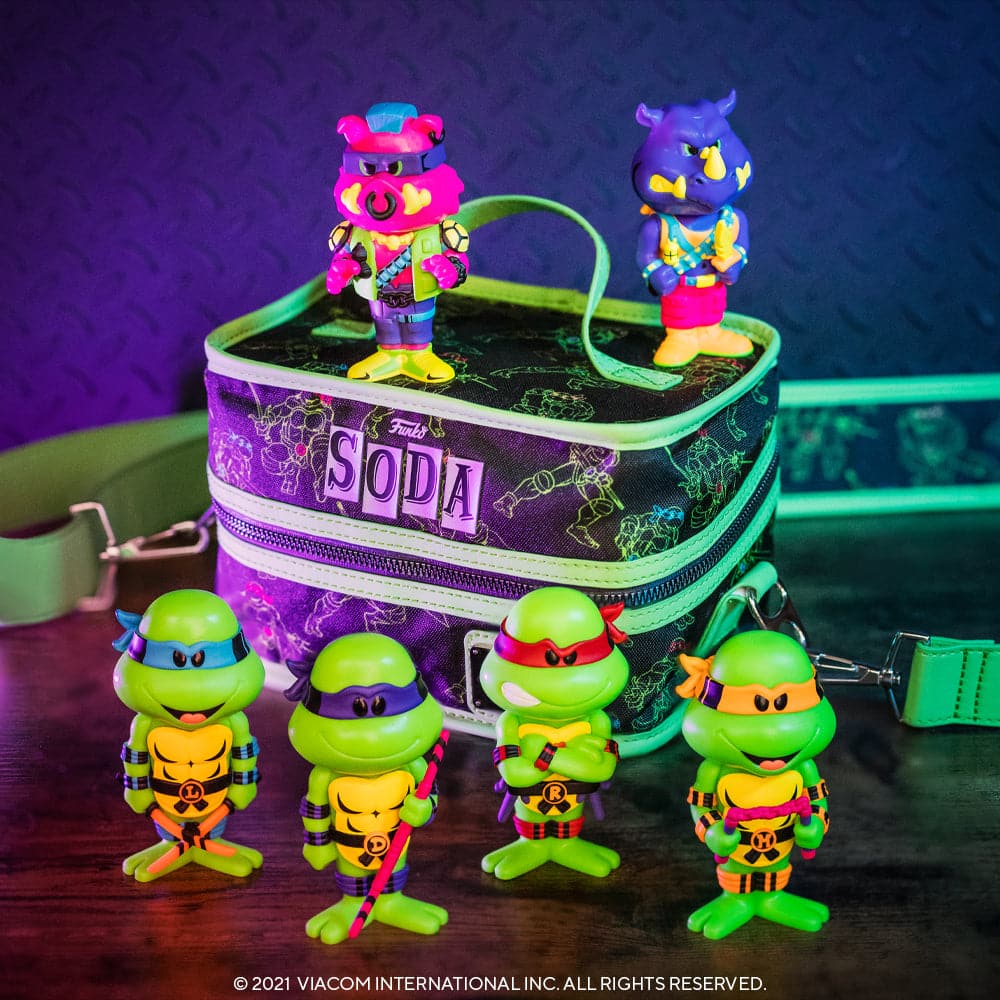 The charismatic reptilians we know today were born from a comic book created by Kevin Eastman and Peter Laird. The idea was born from Kevin's drawing of a turtle with a nunchaku strapped to one of its legs.
Peter saw the picture and thought it was funny that an animal with no agility would practice martial arts. The idea matured, and the duo created a group of four turtles, each specializing in fighting with a different weapon.
Using money from a tax refund and a loan from Kevin's uncle, the two created Mirage Studios. The story was first produced and published in 1984 to essentially be a parody of the famous comic book heroes at that time.
The comic became popular and more stories were written and published over the years. The rest is history…
A group of heroes consisting of four mutant turtles, masters of the ninja martial arts, who are going through the torments of adolescence and living in the sewers of New York City.
It may seem like a particular set of bizarre things, but that's what makes the Ninja Turtles such a unique group that fans have adored for over 38 years!
Leonardo (blue) is the group leader, Splinter's most dedicated student. He is honorable and a reference for his brothers. His weapons are two Katanas.
Donatello (purple) is a genius who loves science and technology, constantly inventing trinkets. His weapon is the Bo, a kind of stick.
Raphael (red) is the temperamental one. He is usually in a bad mood and loves a fight. His weapons are two Sai. Finally, we have
Michelangelo (orange) loves to party and never misses a pizza. The irony here is that he is the sloppiest member but master using Nunchakus.
Funko Pop! Soda: Teenage Mutant Ninja Turtles (TMNT) 6-Pack Black Light Funko Vinyl Soda With Cooler – Funko Shop Exclusive
Available at:
Starting now, you can receive 10% off in-stock items and free shipping on $39+ orders with my special link at Entertainment Earth!
You can also use CODE: 4geeks anytime. Enjoy!
As an Amazon Associate I earn from qualifying purchases
Want more stuff like this?
Get the best viral stories straight into your inbox!
Don't worry, we don't spam