Exclusive First Look: Captain Action Funko Pop Retro Edition
Funko Pop! Retro Toys: Captain Action Funko Pop! Vinyl Figure
Available at:
Navigating the vast seas of collectible nostalgia, a beacon of retro charm emerges on the horizon. Funko Pop! Retro Toys: Captain Action Funko Pop! Vinyl Figure (2023 release) is here to anchor fond memories of yesteryears, wrapped in a modern vinyl package. It's a delightful dance of the past and present, and collectors are surely in for a treat.
Captain Action Pop! is now available for pre-order! To get your hands on this Pop Vinyl Figure at its release, be sure to check out the links I've provided below – click to jump or keep scrolling for more details!
Retro Rundown: Captain Action's Bold Return with Funko Pop!
Cast your memories to the pioneering days of action figures. Captain Action stands tall as an emblem of superhero versatility.
His iconic blue uniform, accompanied by the distinct "CA" logo and an electric bolt symbol, has captured the imaginations of countless enthusiasts.
Now, in a delightful twist, Captain Action springs to life again, albeit in a compact, adorable form! The latest Funko Pop! Vinyl Figure honors Captain Action's rich legacy.
This vinyl marvel is meticulously crafted to mirror our hero's signature features. Clad in his blue jumpsuit with red and white details, the figure stands ready for action, gun in hand and an unmistakably fierce sword by his side.
His commanding cap, bearing the emblematic silver seahorse, is a testament to the meticulous attention to this pop detail. Vinyl enthusiasts and Captain Action fans are in for a genuine treat with this release.
It's the merger of vintage charm with modern vinyl artistry, celebrating a hero that once dominated toy shelves and hearts. Get ready to welcome this nostalgic tribute to your collection.
Captain Action Funko Pop! can be pre-ordered at the links below (click to jump!)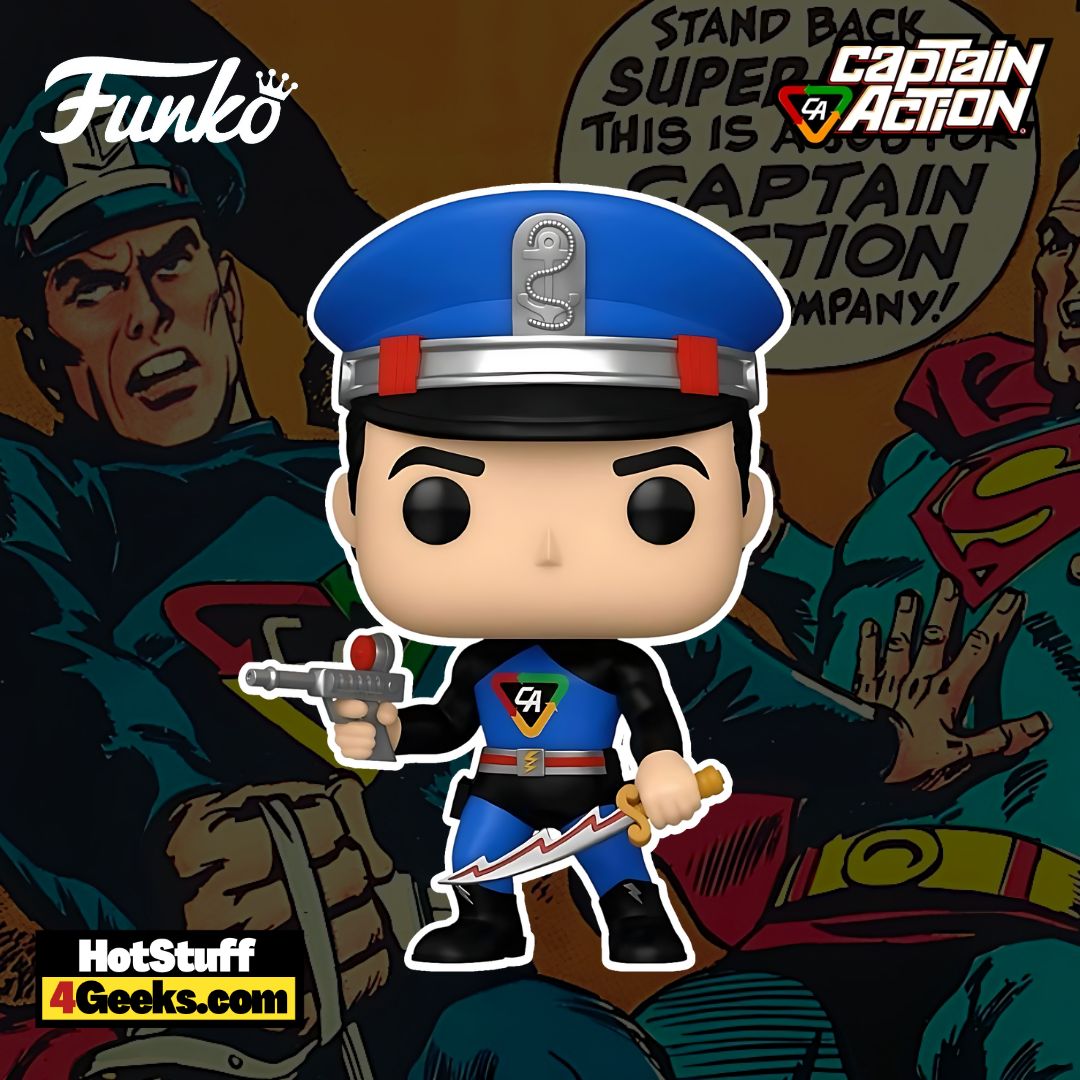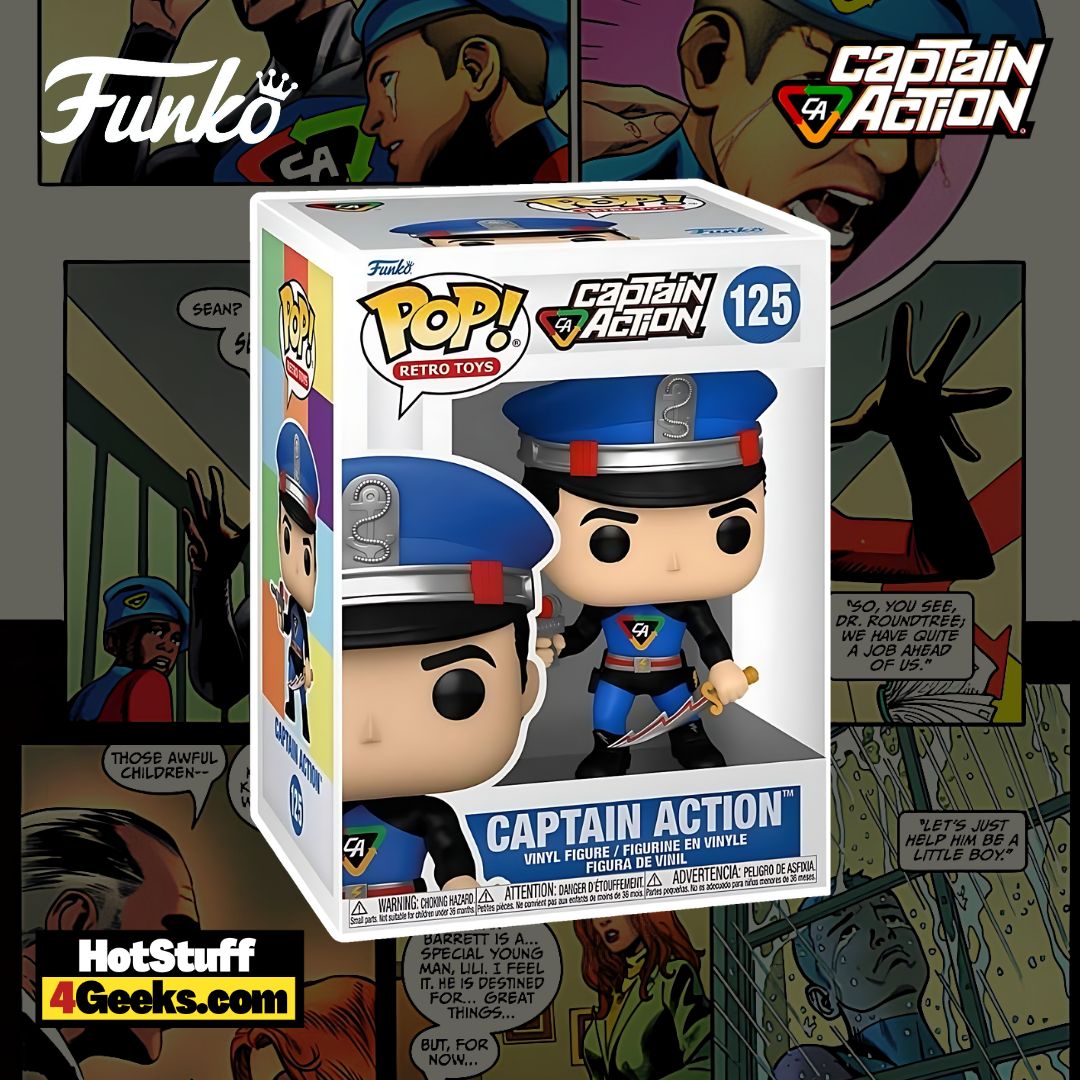 Unveiling the Legacy of Captain Action: The Dawn of Superhero Versatility in Toys
In the pantheon of toy history, a figure is a testament to innovation and the supercharged superhero craze of the '60s—Captain Action.
Before action figures had carved their niche, there was a visionary named Stanley Weston who approached Hasbro with an idea. It was simple yet groundbreaking: a doll for boys, articulated and robust, equipped for endless adventure.
Hasbro spun this gold into G.I. Joe, igniting the action figure segment. But Weston, undeterred, laid the foundations of American Leisure Concepts and became a licensing maestro, roping in titans like DC, Marvel, and King Features.
In an era where the Adam West Batman series had youngsters capering in living rooms, capes makeshift from curtains, Weston saw beyond. Captain Action emerged not as a mere figure but as a chameleon of heroism.
Ideal Toy Company bought in, and soon shelves greeted a new kind of idol—a twelve-inch hero in 1966, primed to don the mantles of Superman, Batman, and more.
It was a merchandising fiesta, with Captain Action offering kids the chance to swap the blue and black for the capes and cowls of other beloved figures.
What made Captain Action a frontier was his versatility. He wasn't just one superhero; he was an arsenal.
With costume kits sold separately, this figure could transform into a lineup of characters—each with varying capes, colors, masks, you name it. Collectible flicker rings added to the allure, making the kits not just attire but treasure.
It wasn't just the male heroes that got the Captain Action treatment. The Super Queens line saw the likes of Batgirl and Wonder Woman join the ranks, a move not commonly seen in the male-dominated action figure landscape of the time.
Vehicles and playsets expanded the world even further, giving a sense of scale to adventures that sprawled across bedrooms and backyards.
Despite the initial success and expansion with characters and accessories, Captain Action's sales dwindled by 1968. Ideal discontinued the line, and even a foray into comics couldn't rekindle the enthusiasm.
Yet, the short-lived era of Captain Action did not fade into obscurity. It became a cult classic, its rarity and nostalgia elevating it to a collector's dream.
The tale didn't end there. After a hiatus, Captain Action returned in 1998, albeit briefly, under Playing Mantis's banner. Once again, he donned new and old guises, although the revival was short-lived.
In 2005, Captain Action Enterprises took over, rekindling the legacy for new enthusiasts and ensuring that Captain Action's morphing magic continued to inspire.
For those who grew up in the swinging '60s, Captain Action was more than a toy. He was a gateway to imagination, a companion in the conquest of evil, and a tool for crafting stories.
He might have been a whisper in the annals of toy history for some. Still, for those who held a lightning sword or snapped on a miniature utility belt, Captain Action was, and always will be, a formative icon of heroism and the boundless potential of play.
As an Amazon Associate I earn from qualifying purchases
Funko Pop! Retro Toys: Captain Action Funko Pop! Vinyl Figure
Available at:
Want more stuff like this?
Get the best viral stories straight into your inbox!
Don't worry, we don't spam