New Release Alert: Clerks III Funko Pop! Figures for 2023
Funko Pop! Movies: Clerks III Funko Pop! Vinyl Figures (2023 release) 
Available  at:
New Release Alert: Inspired by the much-loved film, the Clerks III Funko Pop! Figures (2023 release) have arrived. These intricately designed collectibles capture the essence and quirks of the movie's unforgettable characters. A perfect blend of nostalgia and craftsmanship, they promise to be an irresistible addition for both film fans and Funko enthusiasts.
UPDATE: Now available for pre-order! To secure one upon release, use the links provided below – Click to jump! or keep scrolling for more details!
Introducing the 2023 Clerks III Funko Pop! Collection
The cult classic 'Clerks III' has been graced with a fresh dose of nostalgia, courtesy of the newest Funko Pop! Figures.
Transporting us right back to those unforgettable cinematic moments, these figures are like snippets from the silver screen. Dante, ever the embodiment of daily escapades, stands out even without his signature coffee.
Stylish and unique, Elias Grover reminds us of the film's unexpected twists. The dynamic duo, Jay and Silent Bob need no introduction – their figures are as quirky and iconic as their on-screen counterparts.
And Randal? It is a testament to friendship and the random hilarities of life. This collection is not just about nostalgia; it's a mini-reel of the movie's essence.
For those who cherished every scene and laughed at every joke, these figures are like a replay button.
Unveiling the Clerks III Funko Pops List for this year's release:
Jay Funko Pop! Vinyl Figure
Randal Funko Pop! Vinyl Figure
Silent Bob Funko Pop! Vinyl Figure
Elias Grover Funko Pop! Vinyl Figure
Dante Funko Pop! Vinyl Figure
Clerks III Pop Figures can be found for pre-order at the links below (click to jump!)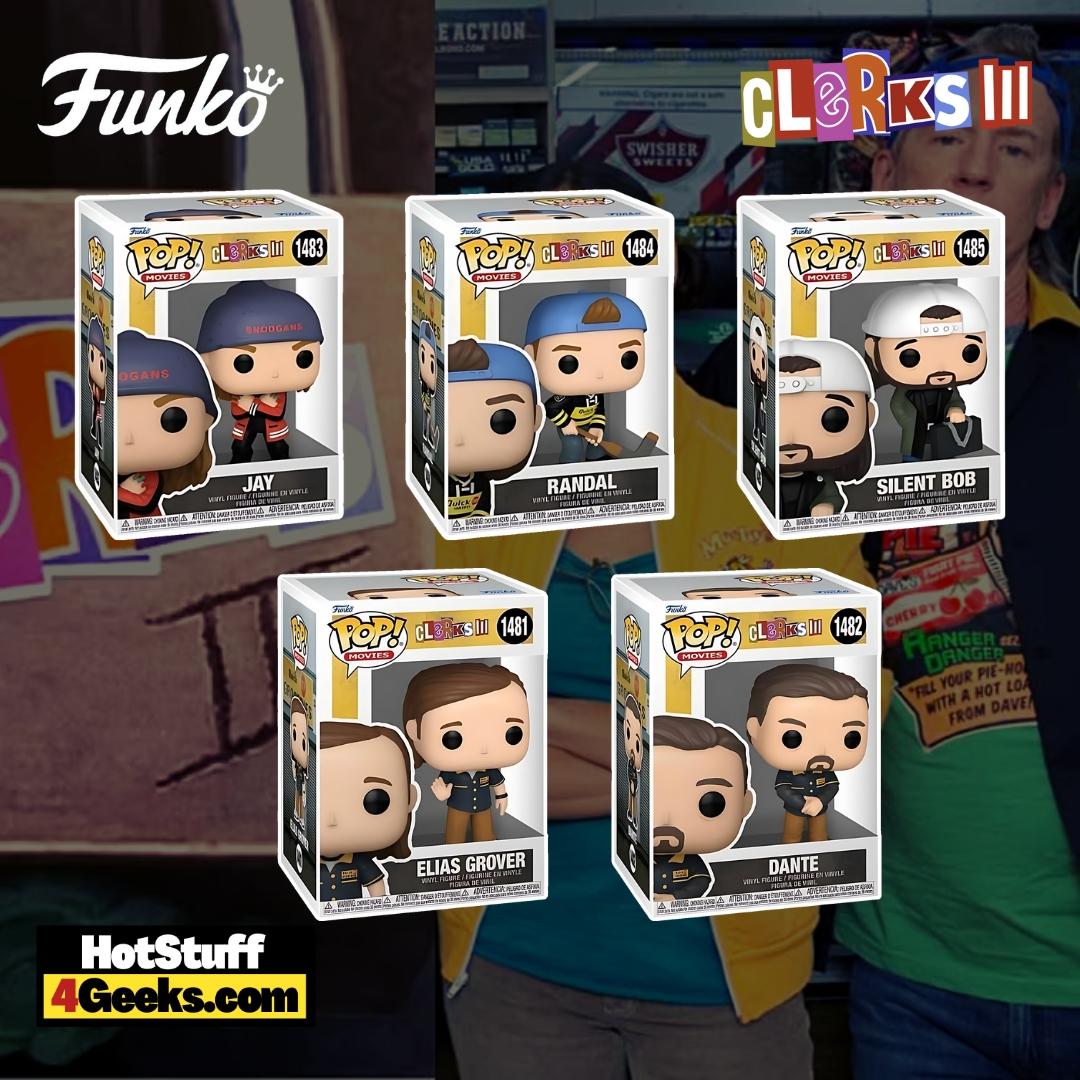 Kevin Smith's New Cinematic Foray: 'Clerks III'
With 'Clerks III,' Kevin Smith drags us back into the dingy, strangely endearing world of the Quick Stop convenience store. But this isn't your regular comedy stroll down memory lane.
It's a cocktail of nostalgia, humor, and profound reflection. Not only does it revisit iconic characters like Dante, Randal, Jay, and Silent Bob, but it also grapples with themes of mortality and the enduring impact of friendships.
It's been a decade and a half since Dante and Randal bought the Quick Stop. Yet, much of their world remains delightfully unchanged.
Playing hockey on the roof? Check. Jay and Silent Bob running their pot business? Of course.
But the waters run deep. Dante is haunted by a personal tragedy, having lost Becky and their unborn daughter in a heart-wrenching accident.
In an unexpected twist, the film throws in a plot around NFTs – and not just any NFTs. We're talking about NFT kites featuring the iconic Buddy Christ.
Sure, it may seem like a cheeky nod to current digital trends, but it fits seamlessly into the quirky world Smith has crafted over the years.
However, the heart of the film – quite literally – is a heart attack. Randal's health scare sets the stage for a poignant exploration of life's fleeting nature. Suddenly, our dynamic duo isn't just serving customers and bantering.
Randal grapples with mortality and, in a classic cinematic move, decides to make a movie about his life.
The meta approach is both a nod to Smith's real-life experiences and a commentary on the all-consuming nature of art and how we choose to remember and be remembered.
The on-screen dynamics are rife with tension and affection. When Dante's role in Randal's movie becomes secondary, we see glimpses of past resentments and the fragility of their bond.
Not to mention a cameo-loaded audition scene that would tickle any film enthusiast's fancy. Smith's penchant for bringing big names into unconventional scenes remains one of his cinematic signatures.
But it's not just about the fun and games. The film carries a weighty emotional undertone, especially when dealing with Dante's tragic past and his eventual fate.
Smith beautifully balances humor with moments that tug at the heartstrings, a testament to his growth as a filmmaker.
In a bittersweet twist, after all the filming and drama, it's a digital kite that saves the day. The success of the NFT kite offers a lucrative lifeline when Dante's half of the Quick Stop is on the line.
This juxtaposition of old-school charm with new-age technology is perhaps a testament to Smith's adaptability and relevance in the constantly evolving world of cinema.
Navigating through 'Clerks III' is like a meandering journey through the maze of life with its highs, lows, and unexpected turns.
Through his keen directorial lens, Kevin Smith captures the essence of what it means to reflect, regret, and rejoice. And for fans and newcomers alike, this film is an experience worth cherishing.
As an Amazon Associate I earn from qualifying purchases
Funko Pop! Movies: Clerks III Funko Pop! Vinyl Figures (2023 release) 
Available  at:
Want more stuff like this?
Get the best viral stories straight into your inbox!
Don't worry, we don't spam