2023 Disney 100: Woody on Luxo Ball Funko Pop! Train Excl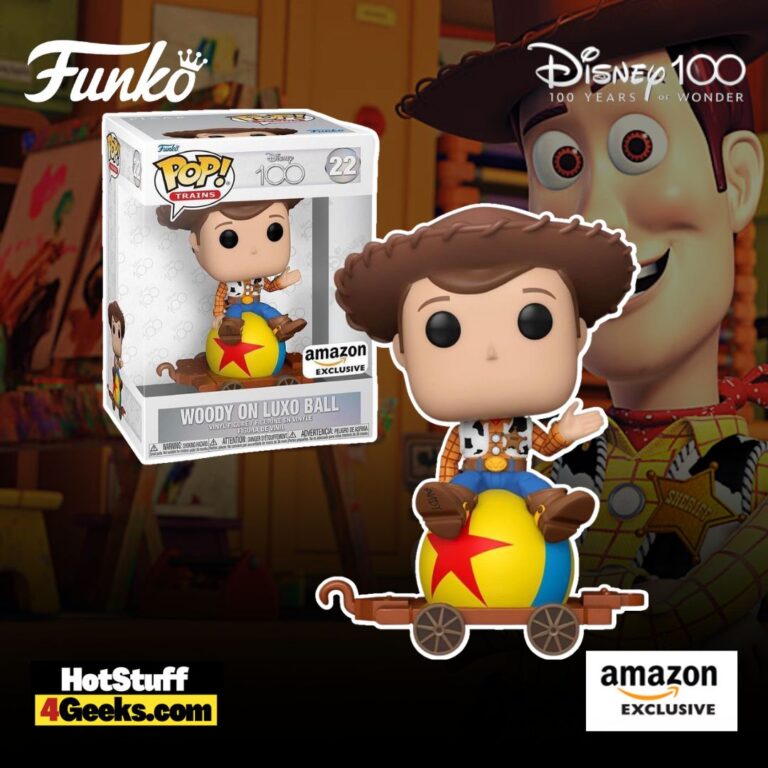 Well, howdy, partner! Let's tip our cowboy hats to Woody, the beloved character from Pixar's "Toy Story," now brought to life in a new avatar: Funko Pop! Disney 100th Anniversary: Woody on Luxo Ball Funko Pop! Train Vinyl Figure – Amazon Exclusive
The pop figure is now available for pre-order at the links below – click to jump or scroll to continue reading!
What makes Woody unforgettable is not just his signature cowboy hat or his pull-string talk box, but his golden heart and loyal spirit.
This charming, pop! tribute pays homage to the soul of this animated icon, capturing Woody's indomitable spirit as he perches atop the iconic Luxo ball.
As part of Disney's 100th-anniversary celebration, this figure is a delightful nod to Pixar's animation legacy.
But here's the real kicker – it's more than a simple figurine.
It's a snapshot of our collective childhood, a tangible representation of the nostalgia we feel for Woody and the adventures that enthralled us all.
The figure isn't just about the well-detailed craftsmanship but the sentiment it encapsulates, making us yell, "Reach for the sky!"
The Amazon Exclusive Woody on Luxo Ball Funko Pop! Train (Disney's 100 Years of Wonder) is now available for pre-order at the links below (click to jump!)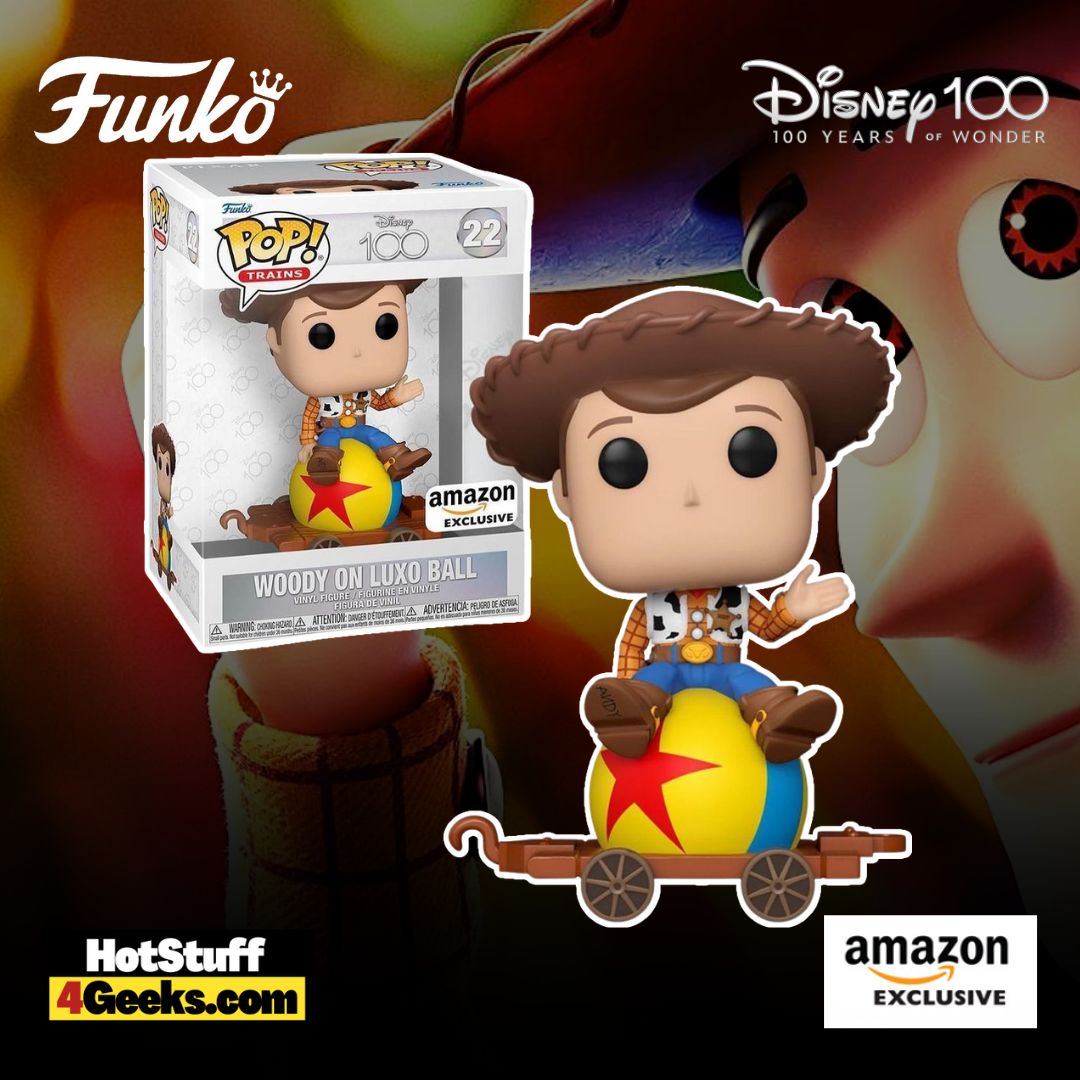 Get ready to dive headfirst into the world of Pixar's "Toy Story," a universe that forever changed the animation landscape.
Rooted in the primal curiosity of childhood, it offers an exploration into whether our favorite toys spring into action the moment we turn our backs.
First off, let's talk about the granddaddy of them all, the original "Toy Story" (1995).
A revolutionary gem, it didn't merely kickstart Pixar's incredible journey but also set the gold standard for Computer-Generated Imagery (CGI) in animation.
This remarkable tale of rival toys, Woody and Buzz Lightyear, overcoming obstacles to forming an unlikely friendship is universally appealing and downright heartwarming.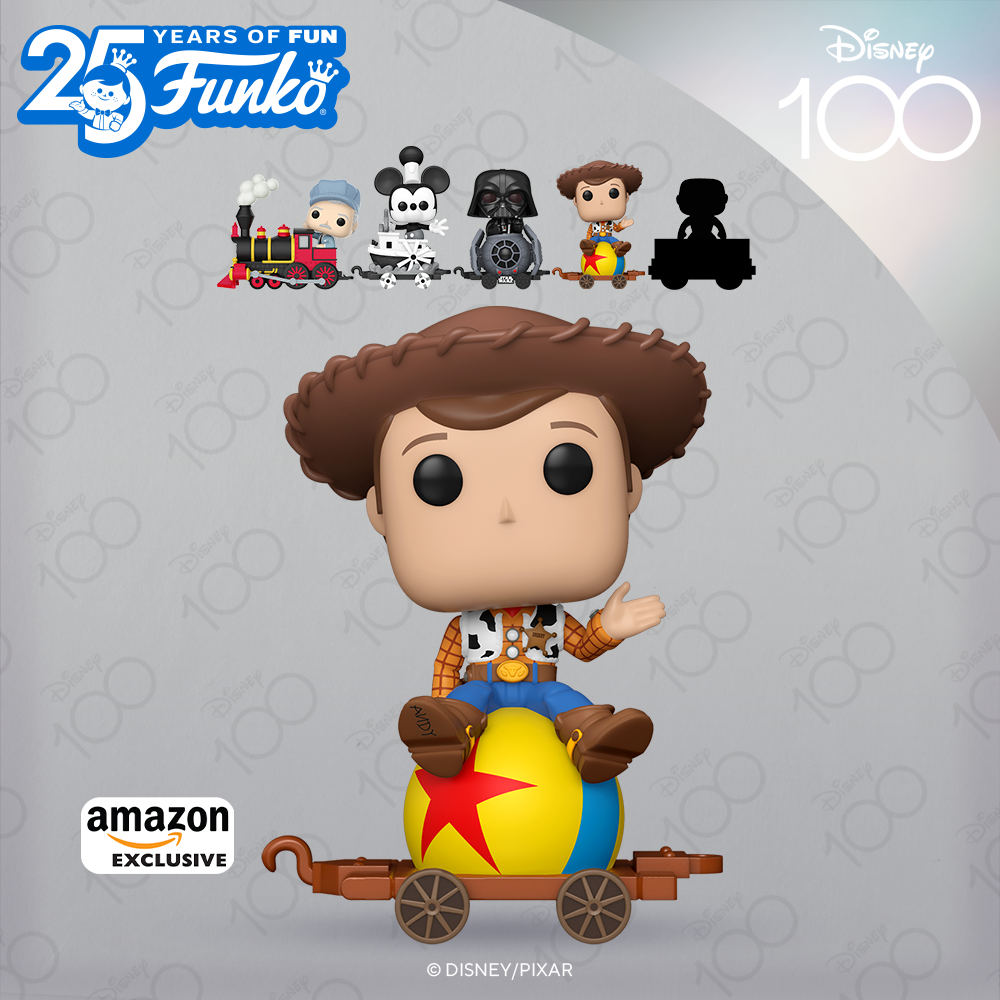 The saga continues with "Toy Story 2" (1999), and boy, does it deliver. Packed with thrilling rescue missions, surprising revelations, and poignant moments, it makes you question whether sequels could actually surpass the originals.
A hat-tip to the creators for striking the perfect balance between innovation and nostalgia.
Moving onto "Toy Story 3" (2010), this emotional roller coaster hits right in the feels.
It beautifully encapsulates the bittersweet struggle of bidding farewell to childhood, leaving even the toughest among us a tad teary-eyed.
Then came along the curveball, "Toy Story 4" (2019).
Sure, it sparked debate, questioning its necessity, but don't let that detract from its core message – finding one's purpose in the world, a relatable theme for all ages.
And last but certainly not least, we have the recent addition, "Lightyear" (2022), a prequel spin-off that gives us a fresh perspective on Buzz Lightyear's backstory.
A delightful blend of homage to classic sci-fi and Pixar charm, it keeps the "Toy Story" flame burning brightly.
Each movie in the "Toy Story" series brings something unique to the table, offering a fantastic mix of humor, drama, and valuable life lessons.
So, let's celebrate the magic of "Toy Story" and its enduring legacy in animation. Let the nostalgia wash over you!
Look for more Disney 100 Years of Wonder Funko Pops! here.
Funko Pop! Disney 100th Anniversary: Woody on Luxo Ball Funko Pop! Train Vinyl Figure – Amazon Exclusive
Starting now, you can receive 10% off in-stock items with my special link at Entertainment Earth!
 Enjoy!
As an Amazon Associate I earn from qualifying purchases
Want more stuff like this?
Get the best viral stories straight into your inbox!
Don't worry, we don't spam