2023 Disney 100 Years: Baby Moana With Wave Funko Pop!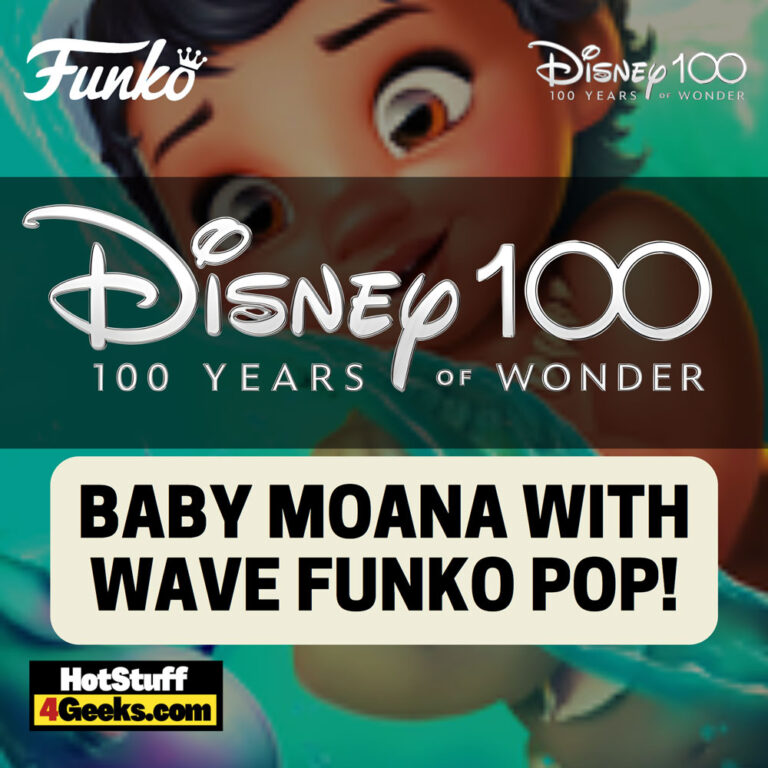 Not official until confirmed.
Get ready to sail the high seas with the newest addition to the Funko Pop! Disney 100th Anniversary collection: Baby Moana With Wave Funko Pop! Vinyl Figure. This little lady is so cute. She could make 100 years old and still look youthful!
For fans of the beloved movie Disney's Moana, this pint-sized Funko Pop character is a must-have.
Baby Moana captures the essence of the iconic heroine as she sets out on her spirited Polynesian adventure.
But what sets this particular Funko Pop apart from the rest is its unique depiction of Moana as a baby as she meets the water for the first time.
Baby Moana is a delightfully charming addition to any fan's collection, from her signature flower crown and outfit to her miniature proportions.
And despite her small size, she's just as fun and feisty as ever. This little warrior is always ready to take on any pretend wave the world has to offer!
Baby Moana With Wave Funko Pop! (Disney's 100 Years of Wonder) is coming soon. There's no release date yet, but stay tuned because I'll update more information in the long run.
Moana is a breathtaking and inspiring film that takes viewers on an epic journey of self-discovery and adventure, all while delivering a lighthearted twist.
This fantastic fairytale is a must-see for all young and old moviegoers.
The story revolves around Moana, a brave and adventurous teenage princess who is the daughter of the chief of a paradisiacal island.
Moana yearns to explore the vast and uncharted South Seas and discover what lies beyond the horizon.
Unfortunately, her father forbids her from doing so, fearing for her safety and the future of their tribe.
Thankfully, Moana has the unwavering support of her wise grandmother, who encourages her to be confident in herself and her abilities.
But it's not until their island is threatened by a dark and mysterious force that Moana is finally given a chance to follow her dreams and save her people.
In her quest to restore balance to her island and its people, Moana sets out on an adventure beyond the barrier reef and into the open ocean.
Along the way, she encounters the charismatic and shape-shifting demigod Maui, who becomes an unlikely ally in her quest.
Through their journey, Moana discovers the true power of believing in oneself and standing up for what you believe in.
The film's empowering message about the importance of courage, kindness, and compassion is a testament to the enduring spirit of humanity.
Moana is a perfect example of the power of storytelling to inspire and uplift us, regardless of age or background.
This film captures the essence of adventure and self-discovery and reminds us that sometimes, even the bravest of us need a little push from someone else to find our way.
So grab your popcorn and prepare for a journey you won't forget – Moana is an experience not to be missed!
Look for more Disney 100 Years of Wonder Funko Pops! here.
Funko Pop! Disney 100th Anniversary: Moana – Baby Moana With Wave Funko Pop! Vinyl Figure
Starting now, you can receive 10% off in-stock items with my special link at Entertainment Earth!
 Enjoy!
As an Amazon Associate I earn from qualifying purchases
Want more stuff like this?
Get the best viral stories straight into your inbox!
Don't worry, we don't spam