2023 Mickey Mouse Funko 25th Anniversary Special Edition Pop!
Funko Pop! Classics: Disney – Funko 25th Anniversary: Mickey Mouse Funko Pop! Vinyl Figure – Funko Shop Exclusive
Available at:
Step aside for the comeback kid – none other than the Mouse who kick-started a revolution of joy, Mickey Mouse! This time, he's popping back into our lives with a flair that's nothing short of dazzling. So if your collection is begging for a sprinkle of Disney magic, roll out the red carpet for the arrival of the new Funko Pop! Classics: Disney – Funko 25th Anniversary: Mickey Mouse Funko Pop! Vinyl Figure – Funko Shop Exclusive.
The pop figure is releasing today at 9:30 AM PT and can be found at the links below – click to jump or scroll to continue reading!
Upon first glance, he's cozily nested within a silver-tone window box, evoking a sense of nostalgic charm.
Beneath the surface, however, lies a distinctively embossed tin case, cuddling a black velvet cushion.
The excitement crescendos as you swing open this vault-like door, revealing the timeless hero himself, Mickey Mouse!
Accompanying our classic pal are a radiant enamel Pop! Pin and a robust stainless-steel Pop! Coin, both proudly showcasing Mickey's ever-cheery face.
A unique foil Certificate Card tells the tale of this legendary icon's biography. But remember, it's not just about the collectibles; it's about welcoming a piece of Disney's heart into your life.
Now, with only 25,000 of these limited-edition gems out there, what are you waiting for?
It's time to celebrate the enduring spirit of the Mouse who is always ready to make us laugh, dream, and believe – Mickey Mouse!
The Funko Shop Exclusive Mickey Mouse Funko Pop! 25th Anniversary Special Edition can be found at the links below (click to jump!)
Ah, Mickey Mouse, the quintessential all-American rodent, the undisputed maestro of mirth!
An icon with ears so famous they could probably have their own star on the Hollywood Walk of Fame.
Jokes aside, Mickey's universal appeal is as enduring as a vintage slice of Americana pie, and it's about time we tip our hats to this timeless toon titan.
When you first glimpse those three black circles – two for the ears, one for the head – a wave of warm familiarity washes over you.
It's like coming home after a long journey.
Mickey, in his jaunty red shorts and white gloves, embodies an unparalleled utopia that harkens back to the days of old-fashioned innocence and joy.
Mickey's kingdom is a sanctuary in a world of chaos where laughter reigns and problems are solvable with a sprinkle of pixie dust.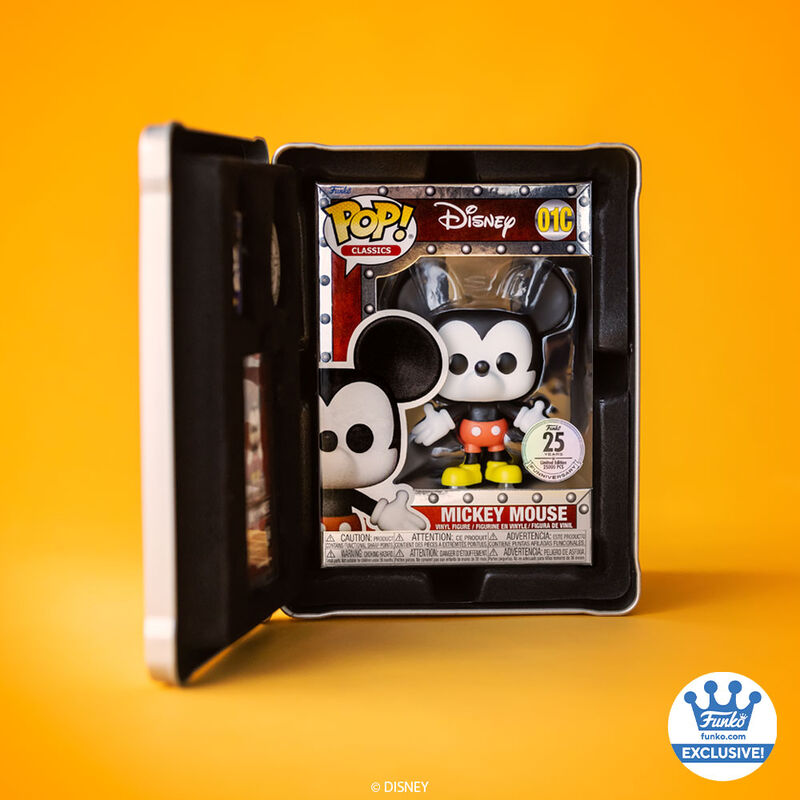 Yet, let's not put our cheese-loving friend on too lofty a pedestal. Mickey is a master juggler, effortlessly balancing our idealistic dreams with the inevitable realities of consumer culture.
While his cheery demeanor enchants us, his silhouette graces a staggering array of merchandise, transforming our nostalgia into neatly-packaged commodities.
It's a clever game he plays, reminding us that even in a utopia, someone's got to keep the lights on. It's almost as if the Mouse himself is whispering, "Hey, a guy's gotta eat!"
Our relationship with Mickey Mouse is a complex waltz of admiration, aspiration, and acceptance of the reality of commercialism.
He is a testament to our collective desire for simpler times and a gentle reminder of the world's pragmatic underbelly.
The sheer genius of Mickey Mouse is his ability to dance on the line between our romantic dreams and the undeniable allure of consumption.
So, here's to Mickey, the stalwart symbol of youthful exuberance, innocence, and just a dash of savvy capitalism. Oh, and those ears!
I mean, come on. How does he keep them so round? It's a secret the Mouse holds well-guarded under his jaunty hat!
As an Amazon Associate I earn from qualifying purchases
Funko Pop! Classics: Disney – Funko 25th Anniversary: Mickey Mouse Funko Pop! Vinyl Figure – Funko Shop Exclusive
Available at:
Want more stuff like this?
Get the best viral stories straight into your inbox!
Don't worry, we don't spam