Unveiling the Ultimate: GITD Mitsuri Funko Pop! Exclusive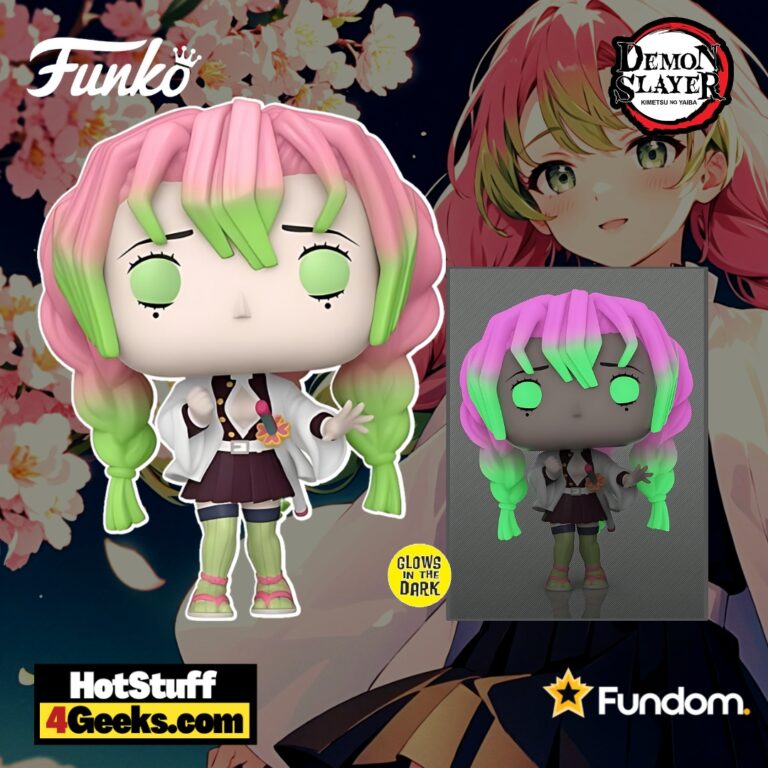 Get ready to make your Demon Slayer collection shine with the new exclusive Funko Pop! Animation: Demon Slayer – Mitsuri Kanroji Glow-In-The-Dark (GITD) Funko Pop! Vinyl Figure – Fundom Exclusive. This isn't just any addition to your shelf; it's a glowing tribute to the Love Hashira that will turn heads and brighten up any room with its unique charm. With this glow exclusive, prepare to watch Mitsuri steal the spotlight, day or night!
UPDATE: Now available for pre-order! To get your hands on this Pop Vinyl Figure, be sure to check out the links I've provided below – click to jump or keep scrolling for more details!
Mitsuri Kanroji Funko Pop! Glows in Your Collection – New Demon Slayer Exclusive
Mitsuri Kanroji takes the spotlight in a brand-new collectible that's as unique as her Love Breathing techniques.
The Demon Slayer Corps's powerhouse is now captured in vinyl and ready to glow in your collection as the latest Glow-In-The-Dark (GITD) Funko Pop! figure.
Exclusive and crafted with detail, this figure radiates Mitsuri's vibrant persona, even when the lights go out. Her iconic pink and green locks are rendered with an eye-catching neon glow, highlighting the same unpredictable energy she brings to demon confrontations.
True to her formidable presence in the 'Demon Slayer' series, this figure embodies Mitsuri's strength and her kind-hearted nature in equal measure.
Collectors and fans alike can now immortalize the Love Hashira's might and warmth in a spectacular display that shines, quite literally, in the dark.
This Mitsuri Kanroji Funko Pop! is a luminous tribute to one of the most beloved Hashira.
The Fundom Exclusive Mitsuri Kanroji Glow-In-The-Dark Funko Pop! Vinyl Figure with Chase Variant can be found for pre-order at the links below (click to jump!)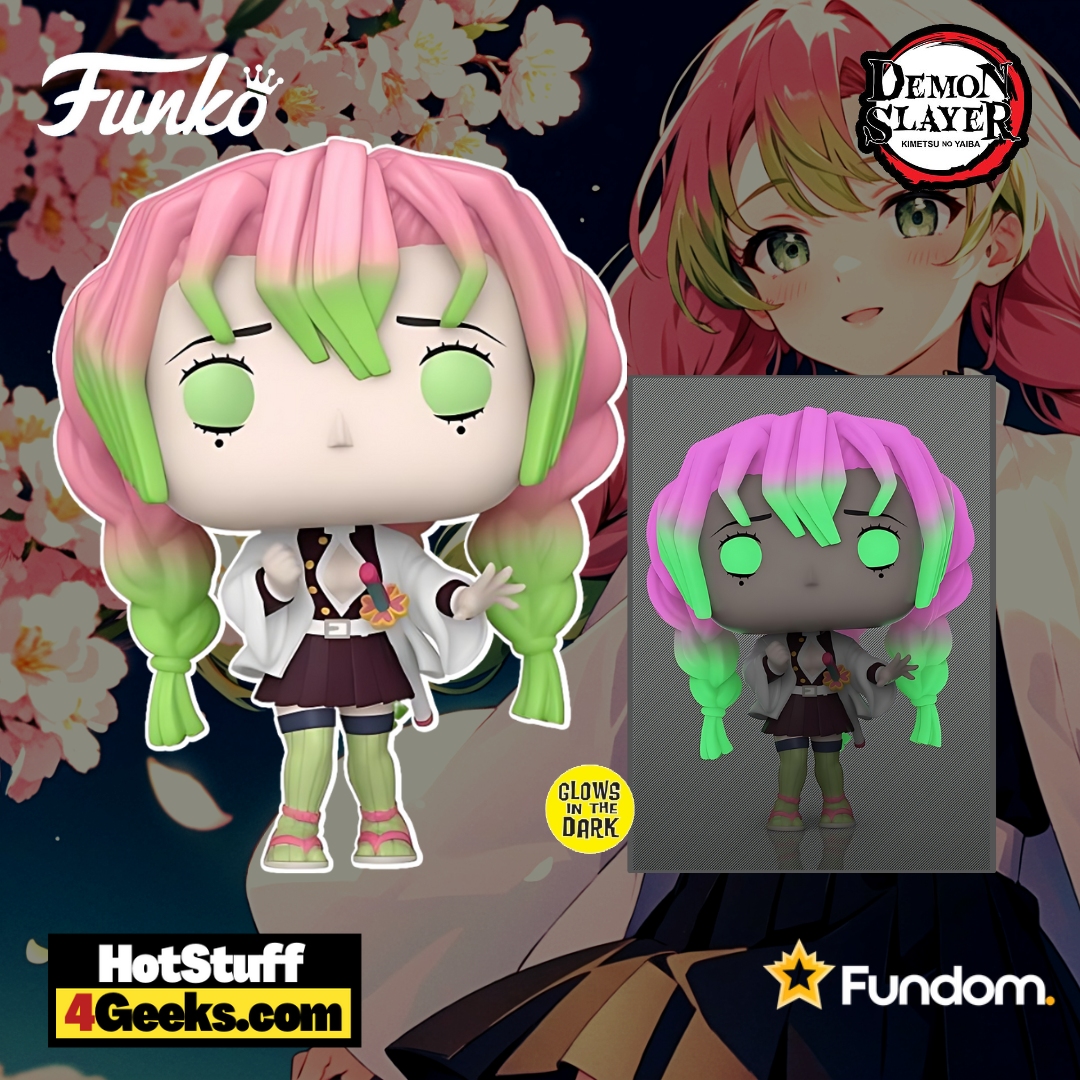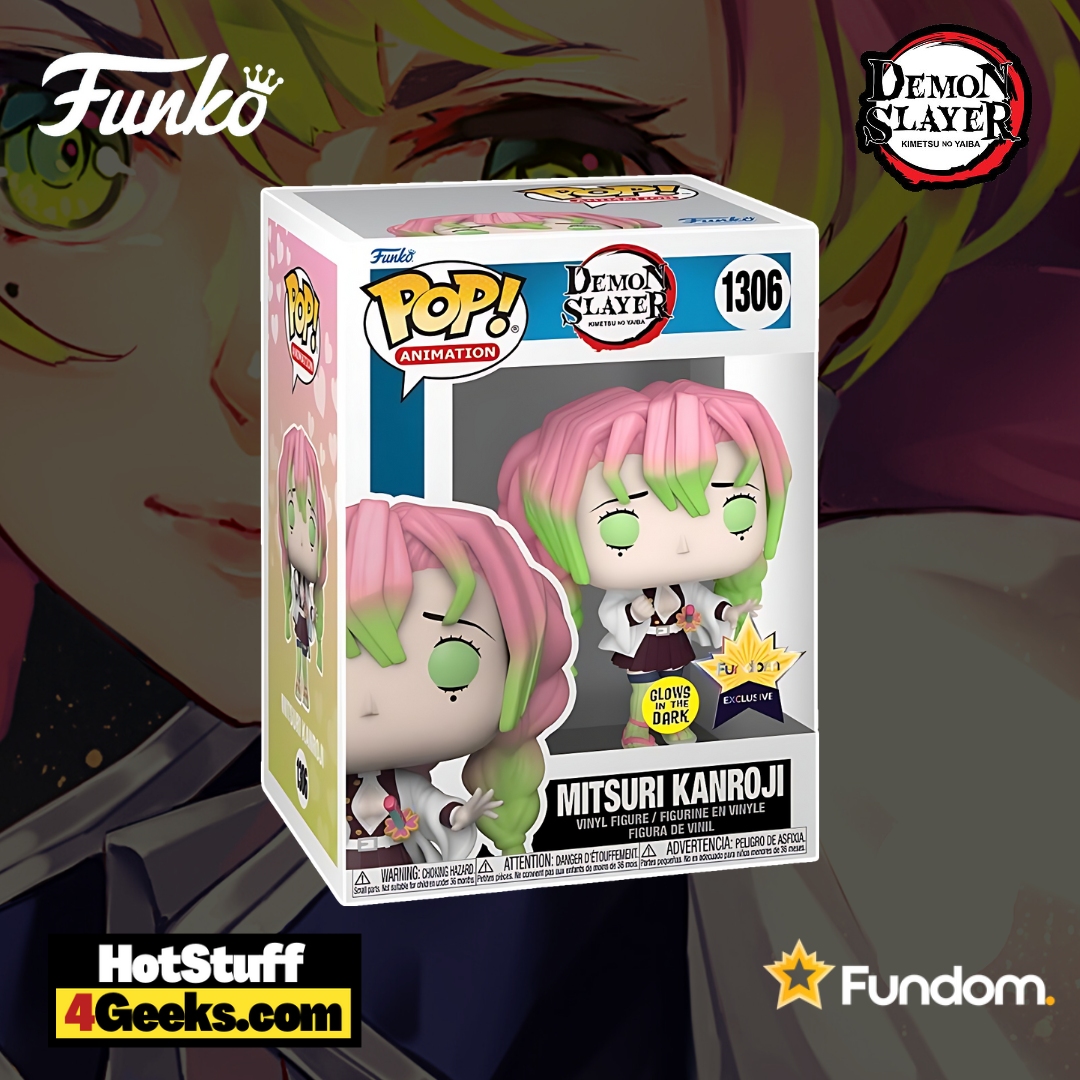 Unveiling the Might of Mitsuri Kanroji: The Love Hashira's True Power
Mitsuri Kanroji isn't your typical Hashira. Behind her pastel-hued locks and genial smile lies a powerhouse that defies the conventional boundaries of the 'Demon Slayer' universe.
In the Demon Slayer Corps ranks, where each member's mettle is as critical as their blade, Mitsuri stands out—not just for her distinctive whip-like sword but for her extraordinary strength.
Her journey from a misunderstood girl in the Meiji Period to a lauded pillar of strength is a tale of resilience.
As a child, Mitsuri's peculiarly dense muscle composition gave her Herculean strength, which bewildered even her own family.
This physical anomaly, which required her to consume massive quantities of food, made her an outcast and set her on a path that would later lead to her exceptional capabilities as a Hashira.
The Love Hashira's daily caloric intake could rival three sumo wrestlers—a necessity to sustain her intense physical prowess. Beneath her gentle exterior is a muscular framework eight times denser than an average person's.
This unique physiology grants her strength to eclipse even the most seasoned warriors.
Mitsuri's physical power is only half of the equation. The psychological barriers she faces, stemming from deep-seated fears of rejection, initially keep her true strength in check.
It is only when she confronts these fears that she fully unleashes her potential, awakening her Demon Slayer Mark.
This awakening turbocharges her capabilities, allowing her heart to pump at accelerated rates and her muscles to perform feats that border the impossible.
Her signature Love Breathing technique, a derivative of the Flame Breathing, is a testament to her ingenuity.
It's a fighting style that mirrors the unpredictability of love, with fluid movements that are as lethal as they are unpredictable.
Her sword, reminiscent of the traditional Indian urumi, is a steel whip capable of delivering cuts from angles no adversary could predict.
While the urumi was known for its multiple blades, Mitsuri's version is a testament to her unique combat style—a perfect blend of flexibility and strength.
Mitsuri's personality contrasts as vividly with her combat style as her hair does with the night sky.
Her pleasant nature, unwavering support for her comrades, and sunlit disposition make her an endearing presence.
Yet, in battle, her demeanor shifts, exemplifying the fierce determination of the Demon Slayer Corps.
Her aspirations are simple yet profound. In a society where strength defines potential partners, Mitsuri seeks someone whose spirit can match her own unyielding nature—a partner for whom her strength is an asset, not a barrier.
Mitsuri Kanroji is a character whose depth transcends the boundaries of her fictional world. She inspires audiences with her determination to remain true to herself in a society that often misunderstands strength in its many forms.
As she wields her whip sword with the grace of a dancer and the force of a storm, she redefines what it means to be powerful, proving that the most accurate strength comes from embracing one's own uniqueness.
As an Amazon Associate I earn from qualifying purchases
Want more stuff like this?
Get the best viral stories straight into your inbox!
Don't worry, we don't spam