2023 NBC: Santa Jack & Christmas Sally 2-Pack Diamond Funko Pops!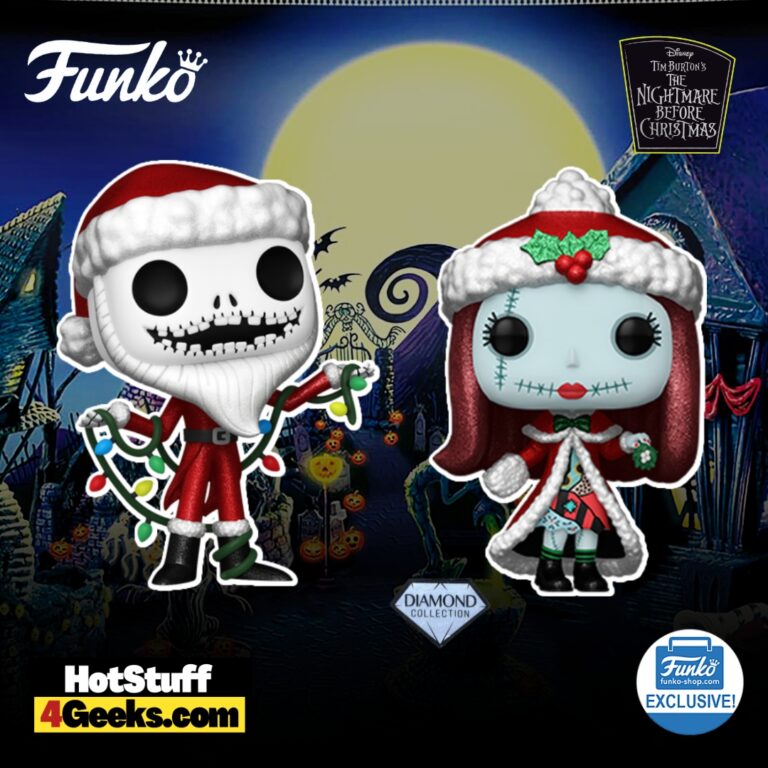 Well, isn't this a festive surprise? Straight from Halloween Town's most iconic duo, Santa Jack and Christmas Sally have slid down our chimneys a tad earlier to mark the 30th Anniversary of The Nightmare Before Christmas. Presenting the new Funko Pop! The Nightmare Before Christmas 30th Anniversary: Santa Jack and Christmas Sally 2-Pack Diamond Glitter Funko Pop! Vinyl Figures (2023 release) – Funko Shop Exclusive
To get your hands on this Pop Vinyl Figure at its release, be sure to check out the links I've provided below – click to jump or scroll to continue reading!
Glittering Holidays: Santa Jack and Christmas Sally 2023's NBC Diamond 2-Pack Funko Reveal!
If the looming 30th Anniversary of The Nightmare Before Christmas has you humming "What's This?", I've got delightful news.
Taking a festive spin on their classic personas, Santa Jack and Christmas Sally are shining brighter than ever – quite literally!
Presenting the new Funko Pop! Diamond Glitter 2-pack that's set to be the glint in every collector's eye.
Don't let the red and white festive outfits fool you; this pair hasn't lost their unique Halloween Town charm.
Amidst the twinkling lights and snowy festivities, imagine these two glittering figures standing out, encapsulating the crossover magic of both worlds.
Indeed, Santa Jack and Christmas Sally are preparing to sprinkle a bit of that iconic, eerie joy into our collection.
But remember, beneath the sparkle and holiday cheer, their true spirit remains timeless, just as we remember from that fateful film three decades ago.
The Funko Shop Exclusive Santa Jack and Christmas Sally Diamond Glitter 2-Pack Funko Pops! can be found for purchase at the links below (click to jump!)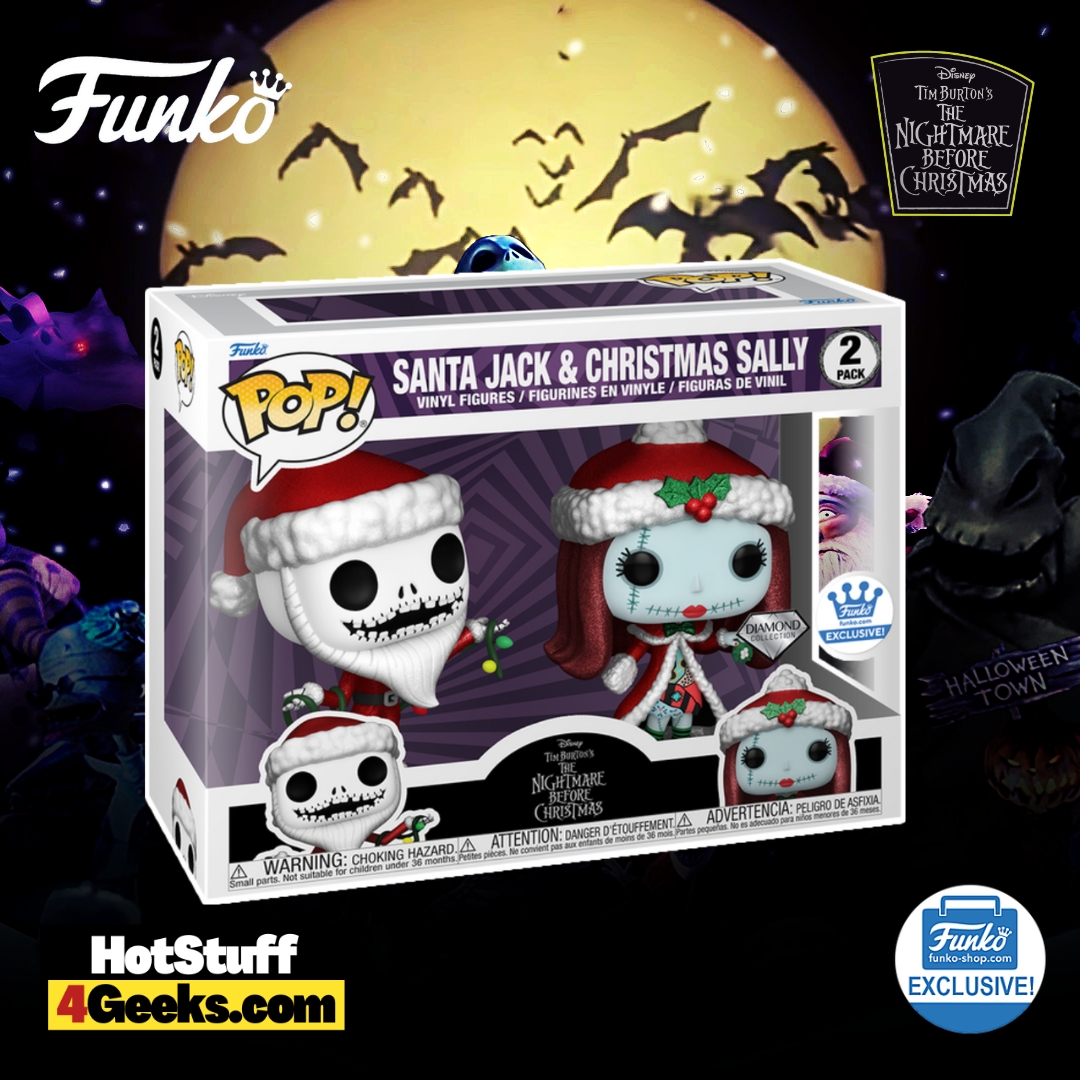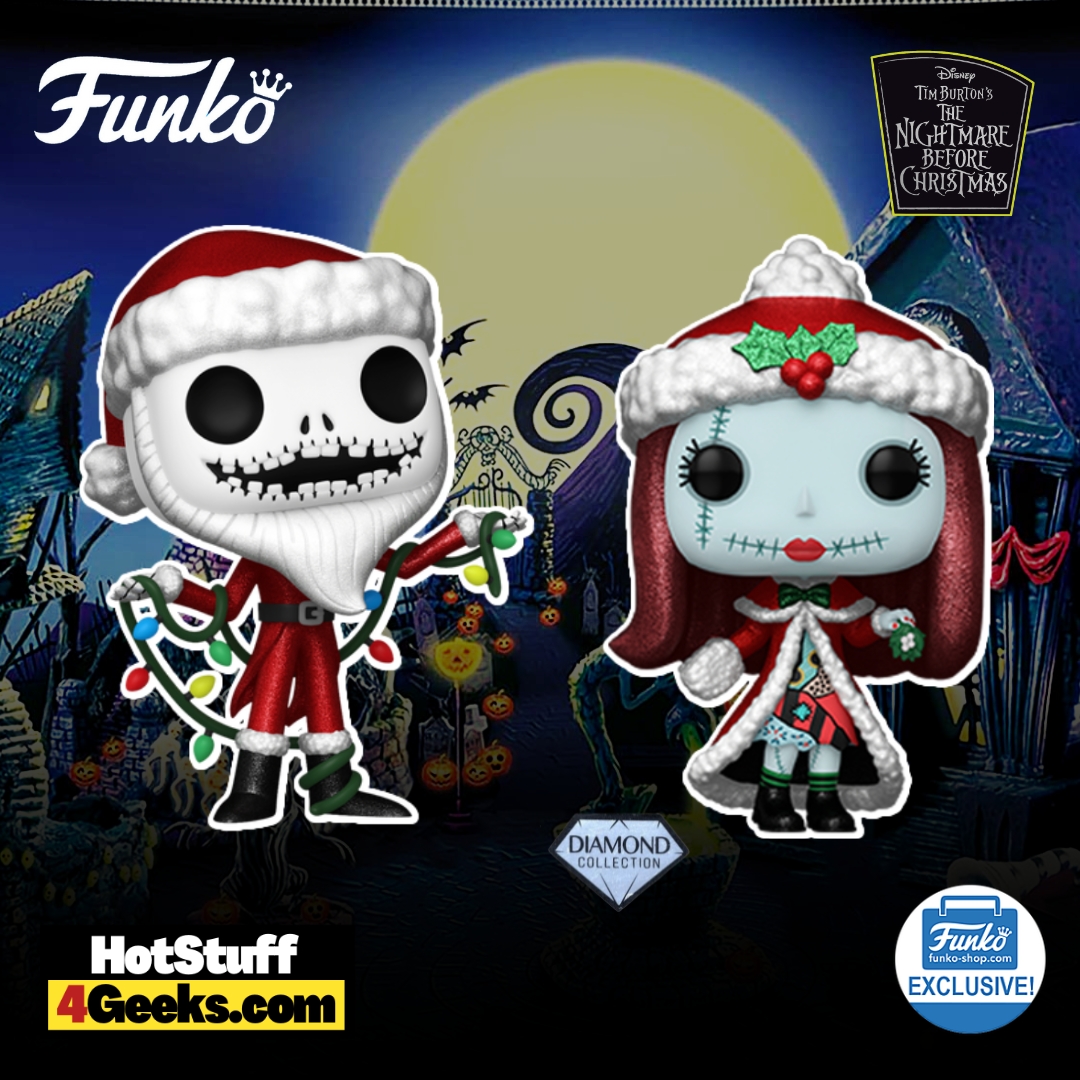 When Halloween Met Christmas: The Whimsical Dance of Jack and Sally
Halloween Town, in all its spine-chilling glory, has seen its fair share of oddities, but perhaps the most peculiar and delightful of them all is the enchanting waltz between Jack Skellington and Sally.
Ah, their tale isn't your typical love story, and thank goodness for that!
Jack Skellington, our beloved Pumpkin King, with a heart as big as his spooky smile, spent his days orchestrating the eeriest of Halloween celebrations.
But amid the cobwebs and pumpkins, he longed for something… different.
Sally, a patchwork maiden crafted by Dr. Finkelstein, felt the weight of her own chains, both literal and figurative.
While Jack yearned for a new adventure beyond the macabre, Sally desired freedom, a life less dictated and most secretly, a connection with our dear Mr. Skellington.
In a town that celebrates the bizarre, the universe conspired to have them stumble upon each other.
Maybe it was destiny, or perhaps it was the moonlit silhouette of Spiral Hill, but something clicked.
You see, these two weren't just passing ships in the night. No, they were kindred spirits lost in a sea of monsters, ghouls, and, well, misunderstood emotions.
Their relationship can best be described as a carefully choreographed dance, a dance where every step, every glance, told a story of longing and understanding.
And the best part?
It was never rushed. Their friendship bloomed organically, nurtured by shared moments of vulnerability.
Sally, with her delicate stitches and soft-spoken demeanor, often seemed overshadowed by the larger-than-life characters of Halloween Town.
Yet, she had a fierce spirit and intuition sharper than the edges of a jack-o'-lantern.
When Jack's eyes sparkled with the magic of Christmas Town, it was Sally who saw the potential pitfalls.
It was Sally who braved danger, and her creator's wrath, to try to shield him from his own enthusiasm.
In return, Jack offered Sally something no one else had: recognition.
He saw beyond her patchwork exterior, acknowledging her creativity, intelligence, and depth.
To Jack, Sally wasn't just a creation of Dr. Finkelstein; she was a dreamer, much like himself.
They both craved more from life – Jack, a new purpose beyond being the Pumpkin King, and Sally, freedom and genuine connection.
By the end, when the snow began to fall on Halloween Town, the universe's strange plan for Jack and Sally became crystal clear.
On top of Spiral Hill, surrounded by a world that blended Halloween's eeriness with Christmas's joy, they found each other.
The tale of Jack and Sally serves as a gentle reminder that amidst the chaos and unpredictability of life, there's always room for love, understanding, and a bit of unexpected magic.
After all, when Halloween met Christmas, it gave us one of the most endearing romances ever stitched together.
Funko Pop! The Nightmare Before Christmas 30th Anniversary: Santa Jack and Christmas Sally 2-Pack Diamond Glitter Funko Pop! Vinyl Figures (2023 release) – Funko Shop Exclusive
Available at:
Starting now, you can receive 10% off in-stock items with my special link at Entertainment Earth!
 Enjoy!
As an Amazon Associate I earn from qualifying purchases
Want more stuff like this?
Get the best viral stories straight into your inbox!
Don't worry, we don't spam