2023 NEW AC/DC – Bon Scott Funko Pop!
Funko Pop! Rocks: AC/DC – Bon Scott Funko Pop! Vinyl Figure
Available at:
Introducing the Funko Pop! Rocks: AC/DC – Bon Scott Funko Pop! Vinyl Figure – a miniature tribute to the rock 'n roll legend who defied all odds and captivated the world with his unmatched charisma and boundless energy. This incredible collectible is the perfect way to pay homage to the man who left an indelible mark on the music world and continues to inspire generations of fans and musicians alike.
The pop figure is now available for pre-order at the links below – click to jump or scroll to continue reading!
Bon Scott, the legendary AC/DC frontman, is now immortalized in the form of a Funko Pop! figure – a fitting tribute to a man whose larger-than-life persona and unforgettable performances continue to captivate fans.
With his trademark tight jeans and tank top, this miniature version of the rock icon captures the essence of Bon's rebellious spirit and distinctive style.
The Bon Scott Funko Pop! is more than just a collector's item; it's a symbol of the unyielding energy that this rock god brought to the stage.
With a mischievous grin and a microphone in hand, the figure exudes the charisma that made Bon a powerhouse of a frontman.
This tiny tribute to the legendary rocker is like a pocket-sized powerhouse of pure rock 'n roll attitude.
While the Funko Pop! might not possess Bon's whiskey-soaked vocals or the ability to belt out high notes, it serves as a nostalgic reminder of the golden era of rock.
In a world where rock legends are often remembered through memorabilia, the Bon Scott Funko Pop! stands out as a unique and entertaining homage to the man who defied expectations and left an indelible mark on the history of rock music.
Bon Scott Funko Pop! is now available for pre-order at the links below (click to jump!) It's expected to be released in August 2023.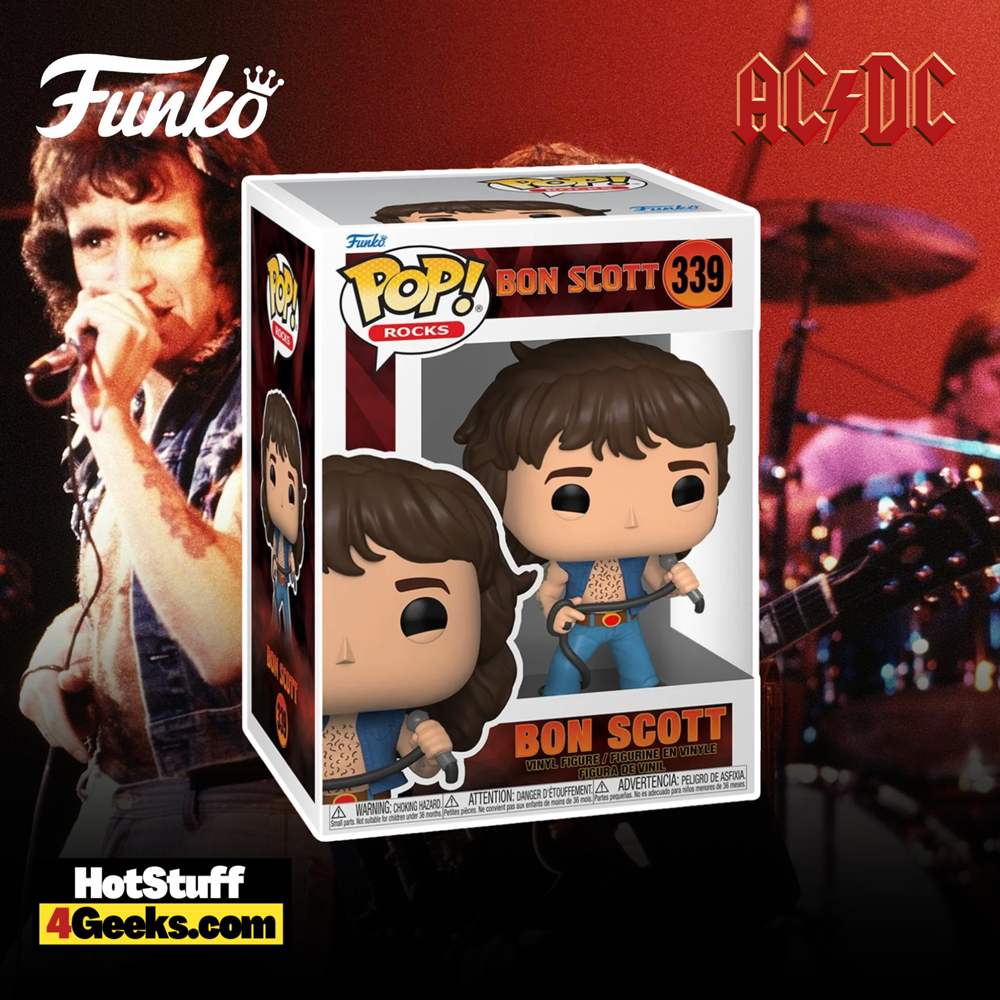 When the name Bon Scott is mentioned, it sends a thrilling sensation down the spine of rock enthusiasts everywhere.
As the iconic frontman of AC/DC, Bon's indomitable spirit and charisma solidified his place in rock history.
Bon Scott's journey to stardom was not an overnight success story.
Unlike many rock stars who burst onto the scene in their late teens, Bon didn't form his first band, The Spektors, until he was 20 years old.
However, this late start didn't deter him.
After a series of bands and odd jobs, Bon finally found his true calling when he joined AC/DC in 1974.
His determination and grit were a testament to his unyielding passion for music, proving that age is just a number when it comes to chasing dreams.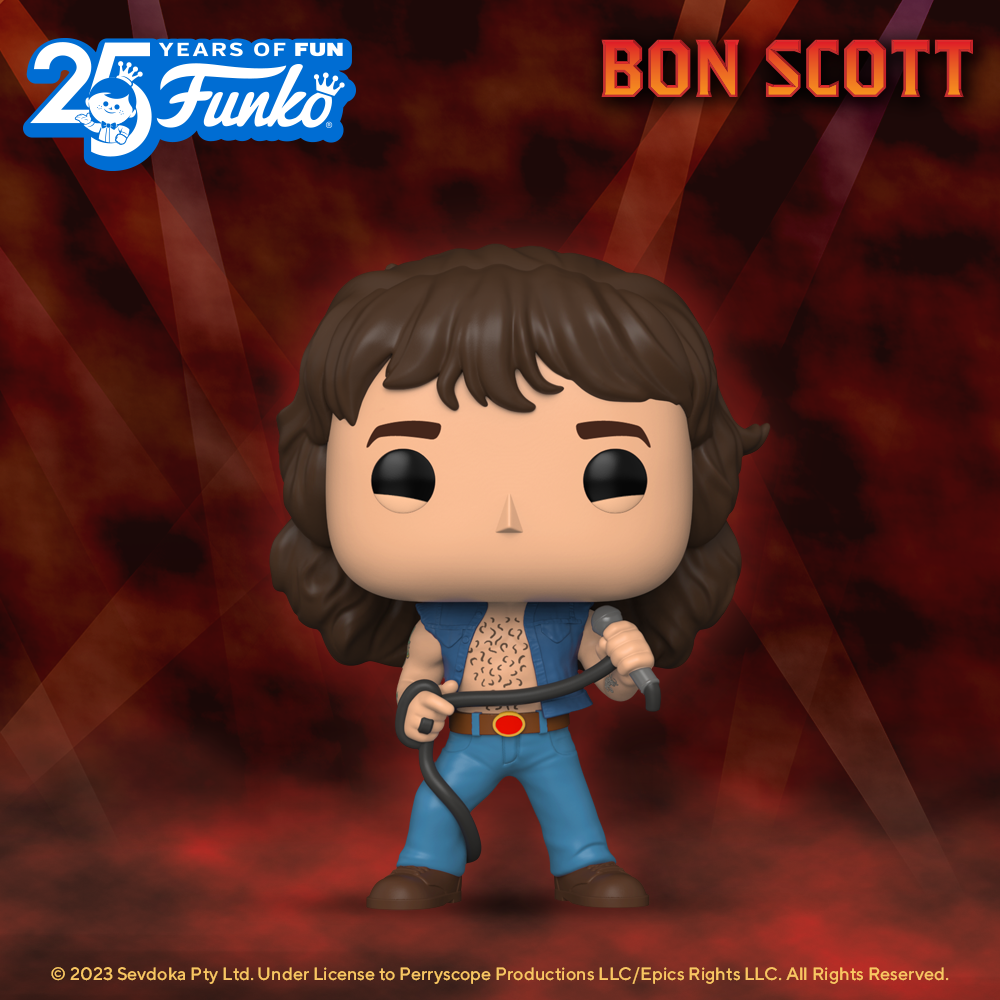 Bon Scott's unique charm and stage presence were rooted in his unwavering commitment to being true to himself.
From his early days in school, Bon refused to conform to societal norms, forging his own path and never letting others dictate his actions.
This rebellious spirit translated seamlessly into his performances, where he could easily hit high notes and captivate audiences with his devil-may-care attitude.
Bon's refusal to follow the rules made him a magnetic frontman and an inspiration to those who dared to break free from convention.
Bon Scott's legendary status extended beyond his larger-than-life stage presence.
He was a gifted lyricist known for his clever use of double entendres and his ability to evoke emotions through his words.
His gritty, whiskey-soaked vocals were a force to be reckoned with, setting him apart from other great vocalists of his time.
Bon's unforgettable voice and songwriting prowess perfectly matched AC/DC's straight-up rock 'n roll style, catapulting the band to international fame.
Although Bon Scott's life was tragically cut short, his impact on the music world continues to reverberate decades later.
Fans and fellow musicians alike remember Bon not only for his phenomenal vocal performances and captivating stage presence but also for his unwavering commitment to his craft and his refusal to bow down to societal norms.
Bon Scott's legacy reminds us all that true greatness can be achieved by embracing our unique qualities and staying true to ourselves, no matter the obstacles we face.
Bon Scott's legacy as a rock legend will stand the test of time.
From his humble beginnings to his meteoric rise to fame with AC/DC, Bon's charisma, talent, and rebellious spirit have left an indelible mark on the history of rock 'n roll.
As we celebrate his contributions to the world of music, let us remember the fearless and captivating performer who taught us all that it's a long way to the top if you want to rock 'n roll!
As an Amazon Associate I earn from qualifying purchases
Funko Pop! Rocks: AC/DC – Bon Scott Funko Pop! Vinyl Figure
Available at:
Want more stuff like this?
Get the best viral stories straight into your inbox!
Don't worry, we don't spam