2023 NEW Ad Icons: Julius Pringles Funko Pop! Exclusive
by

PopCorn Princess

April 19, 2023
Funko Pop! Ad Icons: Julius Pringles Funko Pop! Vinyl Figure – Funko Shop Exclusive
Available at:
Get ready to let out a triumphant "pop" as you welcome the newest addition to your Funko Pop! collection: the iconic Funko Pop! Ad Icons: Julius Pringles Funko Pop! Vinyl Figure – Funko Shop Exclusive!
The pop figure drops at 9:30 AM PT and can be found at the links below – click to jump or scroll to continue reading!
This mustachioed maestro of munchies has captured the hearts and taste buds of snack lovers worldwide, and now he's ready to make a grand entrance into your home as an exclusive Funko Pop! figure.
Perfect for anyone who enjoys a crispy, savory snack, this pint-sized potato chip purveyor is here to remind you that you can't stop at just one.
Clad in his trademark red bow tie and holding a can of Pringles potato chips in his hands, this figure perfectly captures the essence of the snacking legend.
Place him on your snack table during your next movie night or game day celebration, and watch your guests' eyes light up as they recognize the snack icon.
With his jovial grin and contagious enthusiasm, Julius Pringles is sure to add a playful vibe to any gathering.
The Funko Shop Exclusive Julius Pringles Funko Pop! can be found at the links below (click to jump!)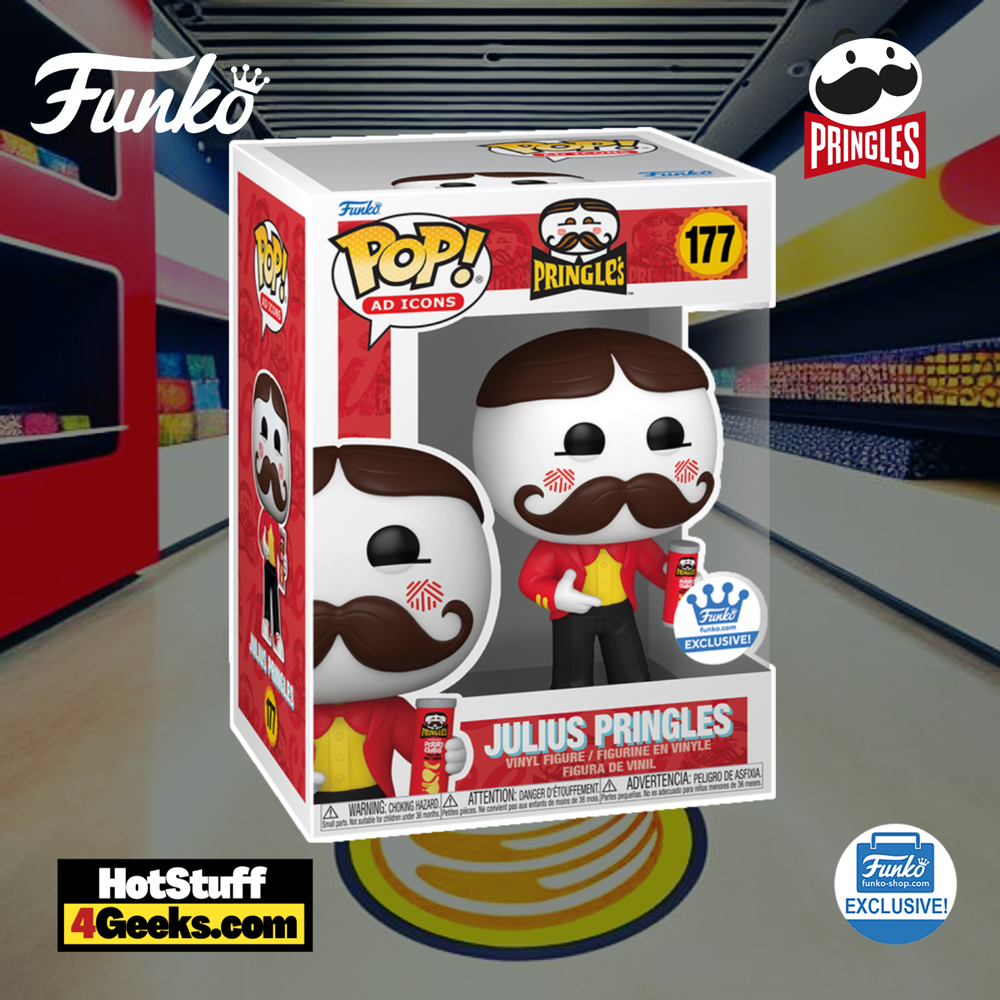 Hey, snack lovers!
Are you ready to embark on a fun and flavorful journey into the fascinating world of our beloved chip mascot, Julius Pringles?
With his mischievous mustache and snazzy attire, this legendary character has been delighting snackers for generations.
So, fasten your seatbelts because it's time to explore some juicy tidbits about this captivating crunch ambassador!
Julius Pringles was brought to life in 1967 by the incredibly talented Louis R. Dixon. Dixon's artistic prowess graced the advertising world with campaigns for giants like Coca-Cola and Frito-Lay.
He was designed to embody the unique and irresistible nature of Pringles chips.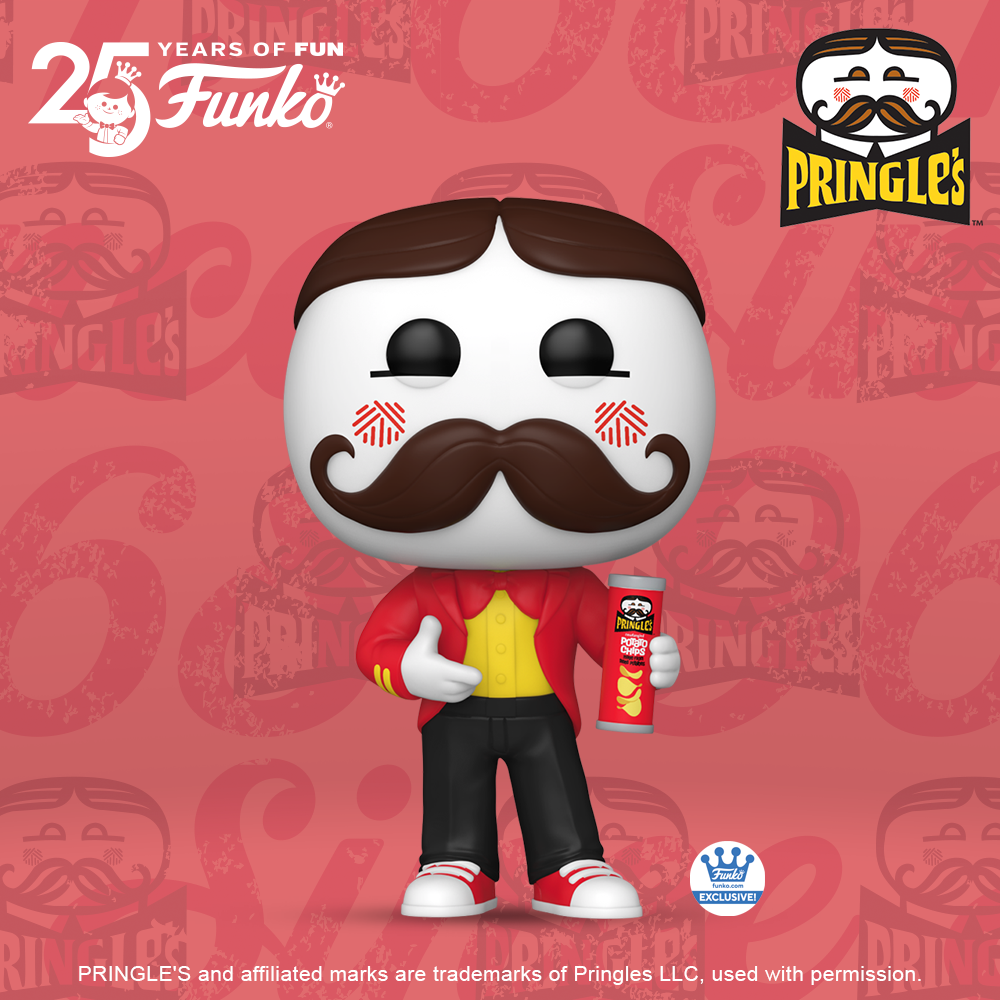 Throughout the years, our mustachioed friend has been revamped a few times, but his endearing charm has remained intact.
Before Julius Pringles snagged the spotlight, there were other mascot candidates vying for the role.
Imagine a chip-shaped crimefighter, a potato with a mustache, or even a wish-granting genie as the face of Pringles!
Our snacking escapades could have taken a very different turn if Julius Pringles hadn't won our hearts.
Since his 1967 debut, Julius Pringles has undergone numerous makeovers.
Initially, he sported a bushy mustache, a tiny mouth, and a rather serious expression.
As time went on, his mustache became more sophisticated, his grin broadened, and his eyes took on a more animated appearance.
In 2002, Julius bid farewell to his eyebrows, and in 2020, he ditched his bowtie for a sleek, contemporary look that still highlights his iconic mustache.
A Flavorful Feast of Pringles Facts
Let's dig into some scrumptious Pringles trivia to satisfy our curiosity!
The one-of-a-kind shape of Pringles is known as a "hyperbolic paraboloid." This ingenious design allows for the chips to stack neatly in their famous cans while also delivering an unbeatable crunch.
Pringles were the brainchild of chemist Fredric J. Baur, who also created the original metal can. Later, the can was switched to the cardboard version we know today.
Did you know that Pringles aren't classified as "potato chips" in the US? Made from a mix of potato flakes, rice, wheat, and corn, they've officially been deemed "potato crisps."
The catchy Pringles slogan, "Once you pop, the fun don't stop," has been turning heads since 1991 and continues to be a memorable catchphrase.
And there you have it, fellow snack enthusiasts! The entertaining saga of Julius Pringles and the delectable empire he represents. From his early days to his recent makeover, Julius has been a symbol of unbridled joy and mouthwatering flavor for more than five decades.
So don't let this opportunity to bring home a piece of snack history pass you by.
The exclusive Julius Pringles Funko Pop! figure is a must-have for collectors and potato chip enthusiasts alike.
With his iconic style and undeniable charm, Julius Pringles is ready to join your Ad Icons collection and share a can of crispy, delicious Pringles potato chips with you.
As an Amazon Associate I earn from qualifying purchases
Funko Pop! Ad Icons: Julius Pringles Funko Pop! Vinyl Figure – Funko Shop Exclusive
Available at:
Want more stuff like this?
Get the best viral stories straight into your inbox!
Don't worry, we don't spam
PopCorn Princess
Hey there, I'm Princess. I'm an annual comic con attendee, Star Wars-loving, and collector freak. My mission is simple: To bring cool geeky news and content and share my passion with the rest of the world. (... I secretly wish to save the world as a superheroine...)