2023 NEW Ahsoka – Sabine Wren Funko Pop! Amz Exclusive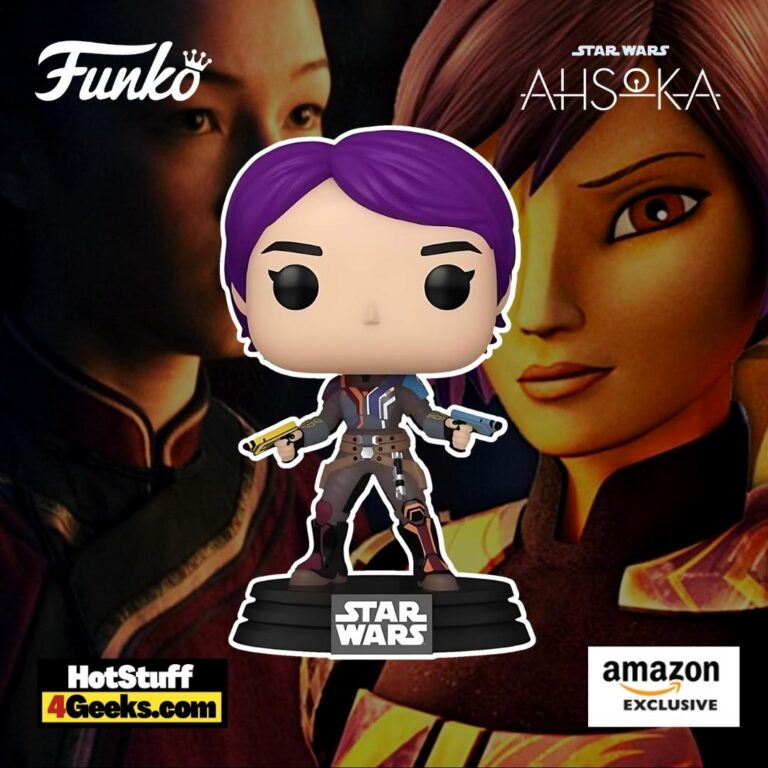 Diving into the effervescent world of Star Wars collectibles? Hold on to your helmets, Mandalorian aficionados! In tandem with the much-awaited Star Wars: Ahsoka series, the universe unveils another stellar surprise. Meet the new Funko Pop! Star Wars: Ahsoka Series – Sabine Wren Funko Pop! Vinyl Figure – Amazon Exclusive (2023 release).
To get your hands on this Pop Vinyl Figure at its release, be sure to check out the links I've provided below – click to jump or scroll to continue reading!
As the Star Wars: Ahsoka series unravels, one character is painting her way into the hearts of fans with even more vibrancy: Sabine Wren.
And now, you can get a slice of her zest exclusively on Amazon with the Sabine Wren Funko Pop! vinyl figure.
Every inch of this figure radiates the complexity of her character in the new Ahsoka series.
From her ever-changing hair palette to her Mandalorian armor reflecting the duality of her Imperial past and Rebel present, it's an artistic masterpiece.
Navigating her personal journey while hunting down Grand Admiral Thrawn and finding Ezra Bridger, her character's depth is immense.
And this Funko Pop! mirrors that depth, becoming an emblem of her evolution in the Ahsoka series.
For anyone tracing her arc, this exclusive piece is a must-have addition to truly embracing the spirit of Sabine Wren.
The Amazon Exclusive Sabine Wren Funko Pop! can be found for purchase at the links below (click to jump!)
Sabine Wren: The Colorful Warrior of Mandalore
Ever found yourself diving deep into the expansive realm of Star Wars and stumbled upon a Mandalorian with a flair for color and zest?
That's Sabine Wren!
Not your usual stoic Mando; she's a vibrant splash on the monochrome canvas of the galaxy far, far away.
We first crossed paths with Sabine in the Star Wars Rebels animated series.
But it's not just her vividly dyed hair or her penchant for graffiti art that makes her stand out.
Instead of sticking with the traditional Mandalorian ethos, she grabs an airbrush to brighten Imperial tech, leaving her signature starbird – an inspiration for the Rebellion symbol.
The upcoming Ahsoka series throws the spotlight back onto this charismatic warrior.
And trust me, if you thought you knew Sabine, there's a depth to her that's yet to be fully explored.
An Imperial cadet turned Rebel, her backstory is a poignant blend of guilt, redemption, and unyielding resilience.
To give you a bit of a backdrop, Sabine's dalliance with the Empire wasn't some starry-eyed alliance.
She genuinely believed she was contributing to the greater good.
It was only after realizing that the weapons she helped forge would be used against her kith and kin – the Mandalorians – that she turned her back on the Empire.
From there, it wasn't a straightforward dive into rebellion; her journey took a detour through bounty hunting before she fully committed to the cause of the Rebellion.
Fast-forward to her days with the Ghost crew, and Sabine's resilience is palpable.
By 16, she was at the heart of key missions, making a difference alongside iconic characters like Hera Syndulla, Jedi Kanan Jarrus, and Ezra Bridger.
Combat was her canvas, and Sabine's artistic flair made each battle a spectacle.
It's not just her combat skills that are commendable.
Sabine's past as an Imperial cadet has endowed her with a technical prowess.
She's the one you'd want by your side if your ship was in dire need of repairs or if you had to craft a strategy to defeat a foe.
But this same past sometimes comes back to bite.
The Empire's weapon that could decimate Beskar's armor?
Sabine had a hand in its creation, a fact that weighed heavily on her conscience.
Delving deeper into her Mandalorian roots, Sabine's tryst with the fabled Darksaber showcases her complex relationship with her lineage.
Initially reluctant to wield the blade, her eventual mastery and subsequent battles to free her family from Imperial control are nothing short of epic.
Now, as she leaps from animation to live-action, Australian actress Natasha Liu Bordizzo embodies Sabine Wren in Ahsoka.
As a character, Sabine's ties aren't just restricted to the Rebellion.
With connections to iconic figures like Ahsoka and Bo-Katan Kryze, she's central to the narrative.
And given the hints dropped, we might even see her treading the path of the Jedi.
Eager to catch her in action?
The first episodes of Ahsoka are now out on Disney+.
So, dive in and unravel the layered saga of Sabine Wren, the most vibrant Mandalorian you'll ever meet!
Starting now, you can receive 10% off in-stock items with my special link at Entertainment Earth!
 Enjoy!
As an Amazon Associate I earn from qualifying purchases
Want more stuff like this?
Get the best viral stories straight into your inbox!
Don't worry, we don't spam