2023 NEW Aquaman 2 – Aquaman on Wave Funko Pop! Exclusive
Funko Pop! DC: Aquaman and The Lost Kingdom (Aquaman 2) – Aquaman on Wave Funko Pop! Vinyl Figure – Funko Shop Exclusive (2023 release)
Available (soon) at:
Navigating the vast seas of superhero fandom comes a treasure most exquisite – The new Funko Pop! DC: Aquaman and The Lost Kingdom (Aquaman 2) – Aquaman on Wave Funko Pop! Vinyl Figure – Funko Shop Exclusive (2023 release). Melding mythical might and collector's delight, this exclusive piece rides the tide, promising to immerse your collection into the adventurous depths of Atlantis.
To get your hands on this Pop Vinyl Figure at its release, be sure to check out the links I've provided below – click to jump or scroll to continue reading!
Exclusive Reveal: Aquaman on Wave Funko Pop from The Lost Kingdom!
Emerging from the depths of DC Comics' latest cinematic venture, "Aquaman and the Lost Kingdom," the hero of the seven seas is now encapsulated in a charismatic new form: a Funko Shop Exclusive Pop! Vinyl figure.
Clad in his iconic hero suit, the king of Atlantis brandishes his mighty trident and majestically surfs the crest of a wave.
A representation of Arthur Curry's determination to explore enigmas beneath and beyond, this figure captures the essence of his drive to uncover concealed kingdoms and face challenges larger than life.
The meticulous detailing is a testament to the character's profound impact on the DC universe and is bound to be a centerpiece in any collector's lineup.
Navigate the waters of fandom with Aquaman, an emblem of marine valor and mystery, marking an exhilarating era in collectible history.
The Funko Shop Exclusive Aquaman on Wave Funko Pop! can be found for order at the links below (click to jump!)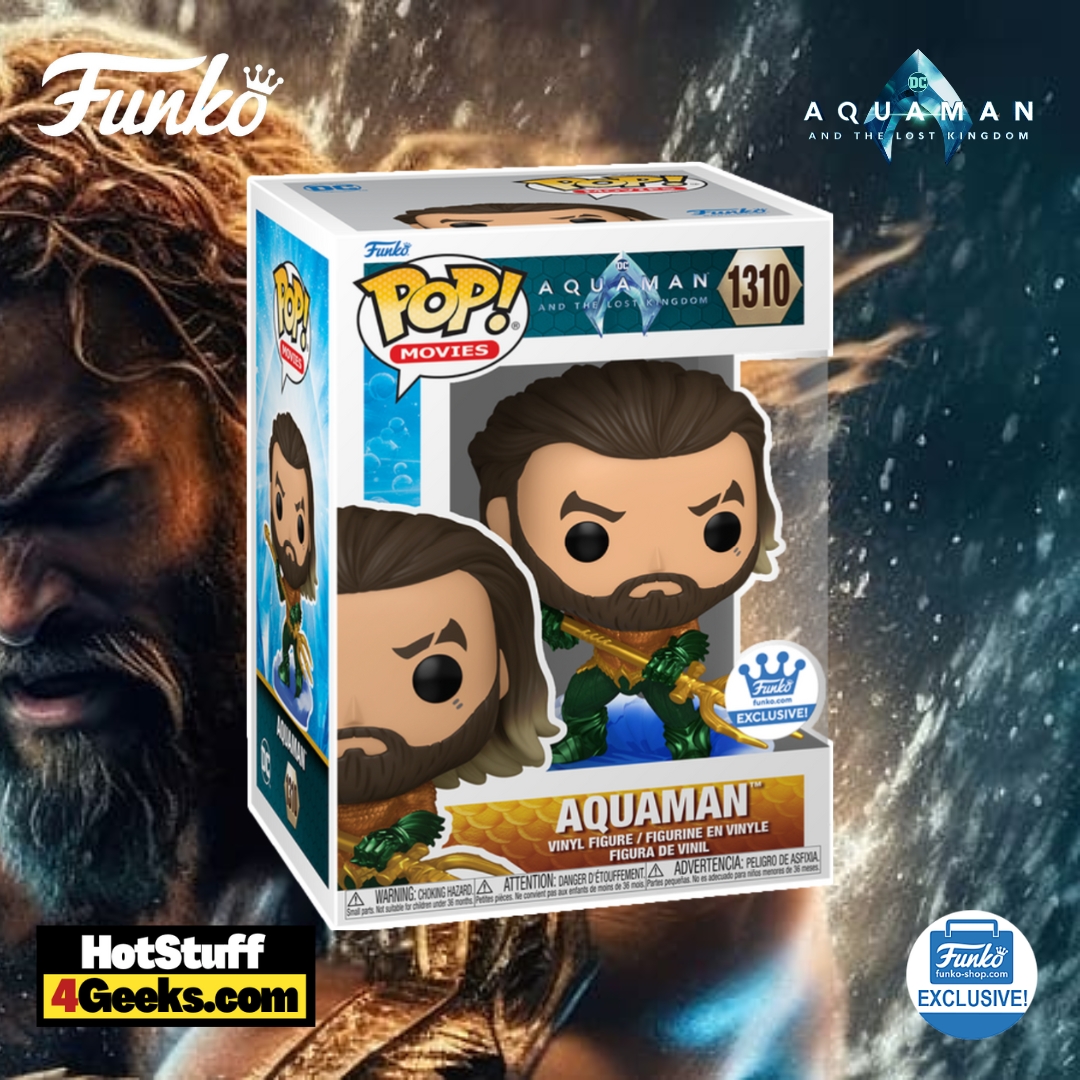 Unveiling the Depths of the Aquaman Phenomenon
Navigating through the enthralling underwater world of Aquaman, one gets drawn into a spectacular vortex of mythology, oceanic fantasy, and an awe-inspiring aquatic adventure that cascades beyond the visual spectacle witnessed on screens.
The character of Arthur Curry, famously known as Aquaman, whisks us into abyssal depths, where the kingdom of Atlantis harbors secrets and wonders that transcend our understanding of conventional superheroism.
And yet, there remains a multitude of astonishing facets about this aquatic warrior that remain veiled beneath the surface, tantalizingly awaiting discovery.
The creation of Aquaman by Paul Norris and Mort Weisinger in 1941 was not merely an introduction of a new superhero but an innovation that splashed vibrant colors onto the canvas of comic literature.
His debut in More Fun Comics #73 was just a ripple in the pond, which eventually spiraled into an all-encompassing tidal wave, deeply embedding itself within popular culture.
Unlike the prevalent heroic figures cloaked in a dazzling armor of invincibility, Arthur Curry presented a nuanced paradigm that amalgamated might with vulnerability, a concoction seldom explored.
Aquaman's powers stretch far beyond his astounding ability to communicate with sea creatures and superb underwater combat skills.
He possesses superhuman strength that propels him to lift and hurl objects as hefty as a city bus with striking ease.
His aquatic nature bestows upon him a stunningly swift swimming prowess, yet his abilities are not confined to the ocean's embrace.
Contrary to popular belief, Arthur Curry can wage battle and survive on land with equal courage, courtesy of his Atlantean physiology that grants him augmented strength and resilience, allowing him to venture into territories beyond his marine domicile.
However, the very essence of Aquaman, emblematically encapsulated by his aquatic supremacy, flutters between the delicate balance of the earthly and the submerged worlds.
His identity teeters between the dual realms, unraveling a narrative entwining royalty and outcast, power and benevolence, lore and reality.
Arthur's struggle, often mirrored through his oscillation between terrestrial and oceanic domains, crafts a narrative that seamlessly waltzes between palpable human tribulations and fantastical escapades beneath the sea.
A compelling aspect of the Aquaman Odyssey is the intricacy of his relationships and alliances.
His bond with Mera, a warrior queen from the parallel dimension of Xebel, spirals into a romantic yet fiercely empowering partnership, signifying not just an alliance of hearts but also a confluence of potent sovereignties.
Similarly, the contentious relationship with his half-brother Orm unravels an intriguing tapestry that weaves through familial ties strained by discord, ambition, and contrasting ideologies.
The arena of Atlantis, while spectacularly rich in its cultural and architectural splendor, also thrives as a potent symbol of socio-political turmoil and moral contemplation.
The kingdom's underwater magnificence belies turbulence that cascades into various story arcs, exploring the spectrum of leadership, accountability, and ethical dilemmas, wherein Arthur Curry persistently navigates through the tides of ruling and morality.
Delving into the unseen layers of Aquaman's world, the perception shifts, enabling an appreciation of a domain where fantastical marine escapades beautifully intertwine with tales of humanity, power, and emotional depth.
It isn't merely an exploration into the azure abyss but a journey through a multi-dimensional character and culture that gracefully sails through waves of marvel, intricacy, and enigmatic allure.
Aquaman emerges not just as a superhero but as a multifaceted entity who, amid the enthralling escapades, reveals tales submerged in depths awaiting exploration by those daring enough to venture into the vast narrative ocean.
Embarking on the exhilarating voyage through the Aquaman saga, the enchantment of underwater kingdoms and heroic tales unfurl with a majesty that resonates beyond the comic panels and screen portrayal.
The Aquaman on Wave Funko Pop! Vinyl Figure – Funko Shop Exclusive, in its small yet impeccably detailed form, seamlessly condenses the grandeur and essence of the aquatic hero, bestowing upon collectors a tangible piece of the mystical marine epic.
A splendid spectacle of the superhero realm is now immortalized, ready to cascade a tidal thrill into your esteemed collection.
Check out more Aquaman and The Lost Kingdom Funko Pops HERE!
As an Amazon Associate I earn from qualifying purchases
Funko Pop! DC: Aquaman and The Lost Kingdom (Aquaman 2) – Aquaman on Wave Funko Pop! Vinyl Figure – Funko Shop Exclusive (2023 release)
Available (soon) at:
Want more stuff like this?
Get the best viral stories straight into your inbox!
Don't worry, we don't spam