Collecting Atlantis: Aquaman 2 Funko Pops 2023 Revealed
The anticipation is palpable as fans await the cinematic return of the Atlantean king. The new Aquaman and The Lost Kingdom (Aquaman 2) Funko Pops (2023 release) celebrates this underwater epic and offers enthusiasts a tangible piece of the movie's magic. Dive in and discover what these collectibles have in store!
UPDATE: Now available for pre-order! To get your hands on these Pop Vinyl Figures, be sure to check out the links I've provided below – click to jump or scroll to continue reading!
Atlantean Treasures: Unveiling the New Aquaman 2 Funko Pops
Aquatic adventures rise to the surface again as "Aquaman and The Lost Kingdom" prepares to make a splash in 2023.
Along with it? An irresistible assortment of Funko Pop! Vinyl and Soda Figures that are as alluring as the mysteries of the deep.
Fans can revel in Aquaman's majesty adorned in a glorious Gold and Green Suit and a sleek Stealth Suit.
But wait, the depths hold more: Black Manta wielding a trident, the intriguing Orm, the magnificent Storm, the spirited Mera showcasing hydrokinesis, the regal Atlanna, and the enigmatic Dr. Shin.
And for those craving that added thrill? The Aquaman and Storm Funko Pop! Ride Vinyl emerges as a dazzling collectible treasure.
On the effervescent side, the Funko Soda Figures capture Aquaman's dual suits, Mera and Black Manta, in bubbly brilliance.
Prepare to be submerged in a sea of collectible euphoria!
Unveiling the Aquaman 2 Funko Pops and Sodas List for this year's release:
Aquaman in Hero Suit Funko Pop! Vinyl Figure
Aquaman in Stealth Suit Funko Pop! Vinyl Figure
Mera (Hydrokinesis) Funko Pop! Vinyl Figure
Atlanna Funko Pop! Vinyl Figure
Black Manta with Trident Funko Pop! Vinyl Figure
Orm Funko Pop! Vinyl Figure
Storm Funko Pop! Vinyl Figure
Dr. Shin Funko Pop! Vinyl Figure
Aquaman and Storm Funko Pop! Ride Vinyl Figure
Aquaman in Hero Suit Diamond Glitter Funko Pop! Vinyl Figure – Amazon Exclusive
Aquaman and The Lost Kingdom Funko Pop! Vinyl Figures can be found for pre-order at the links below (click to jump!)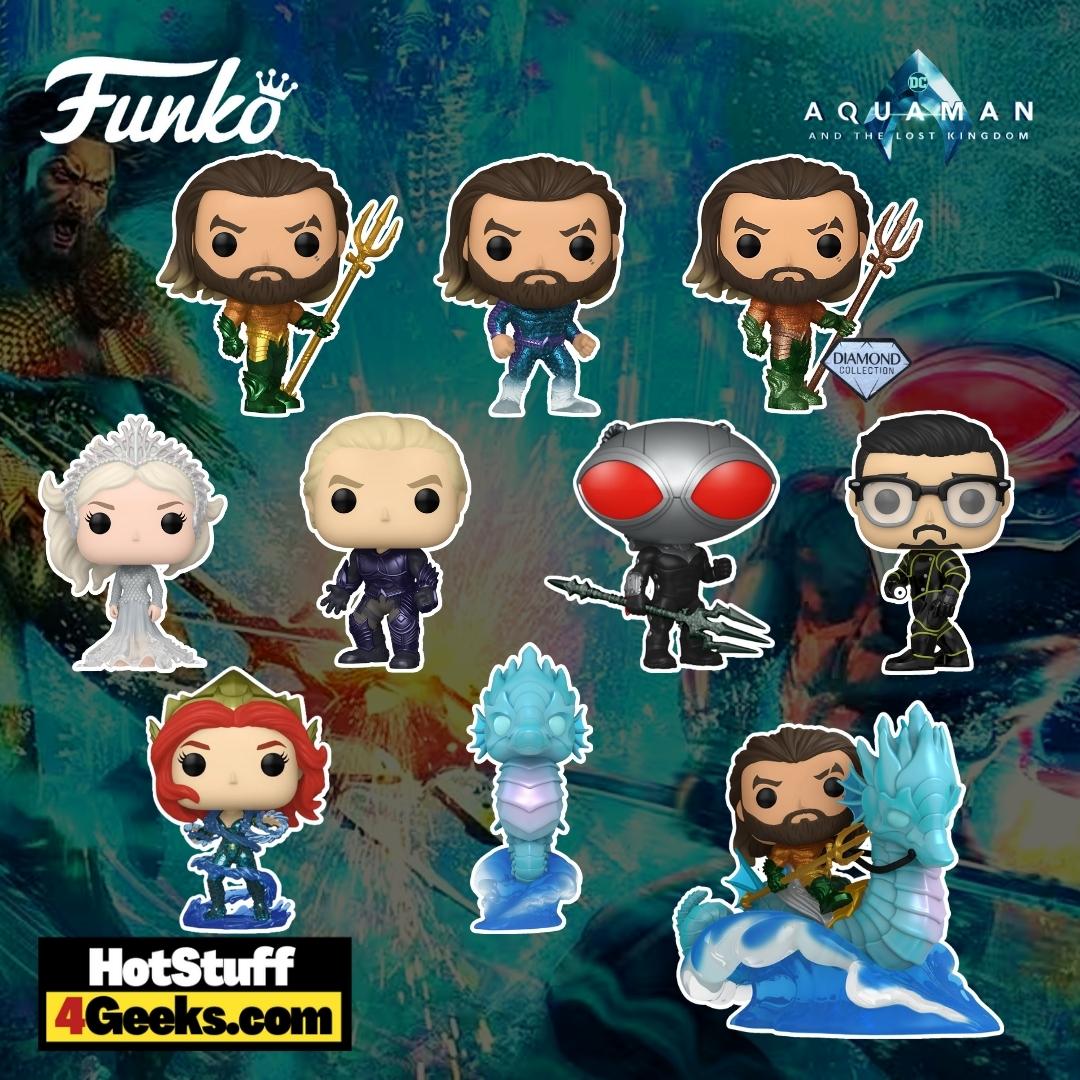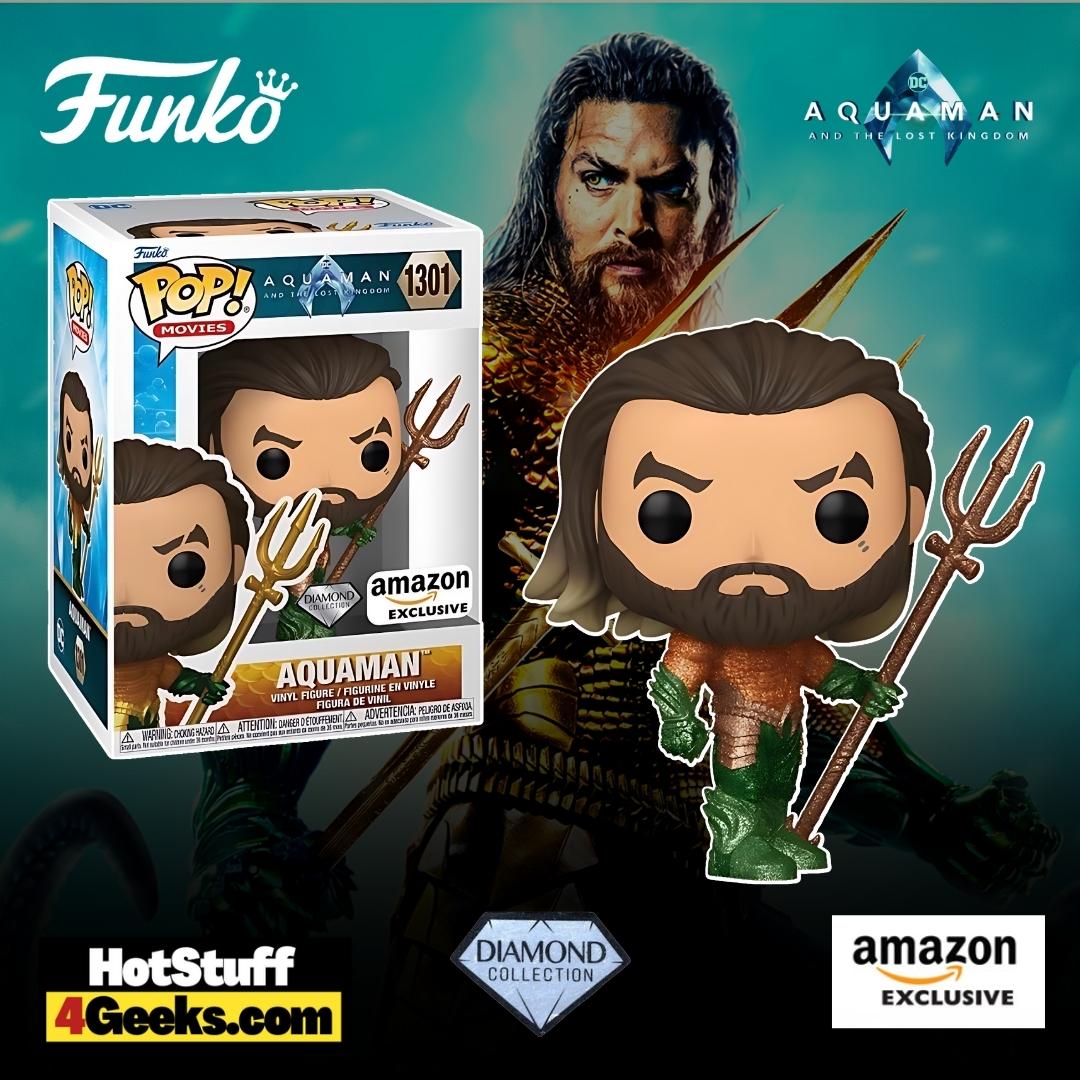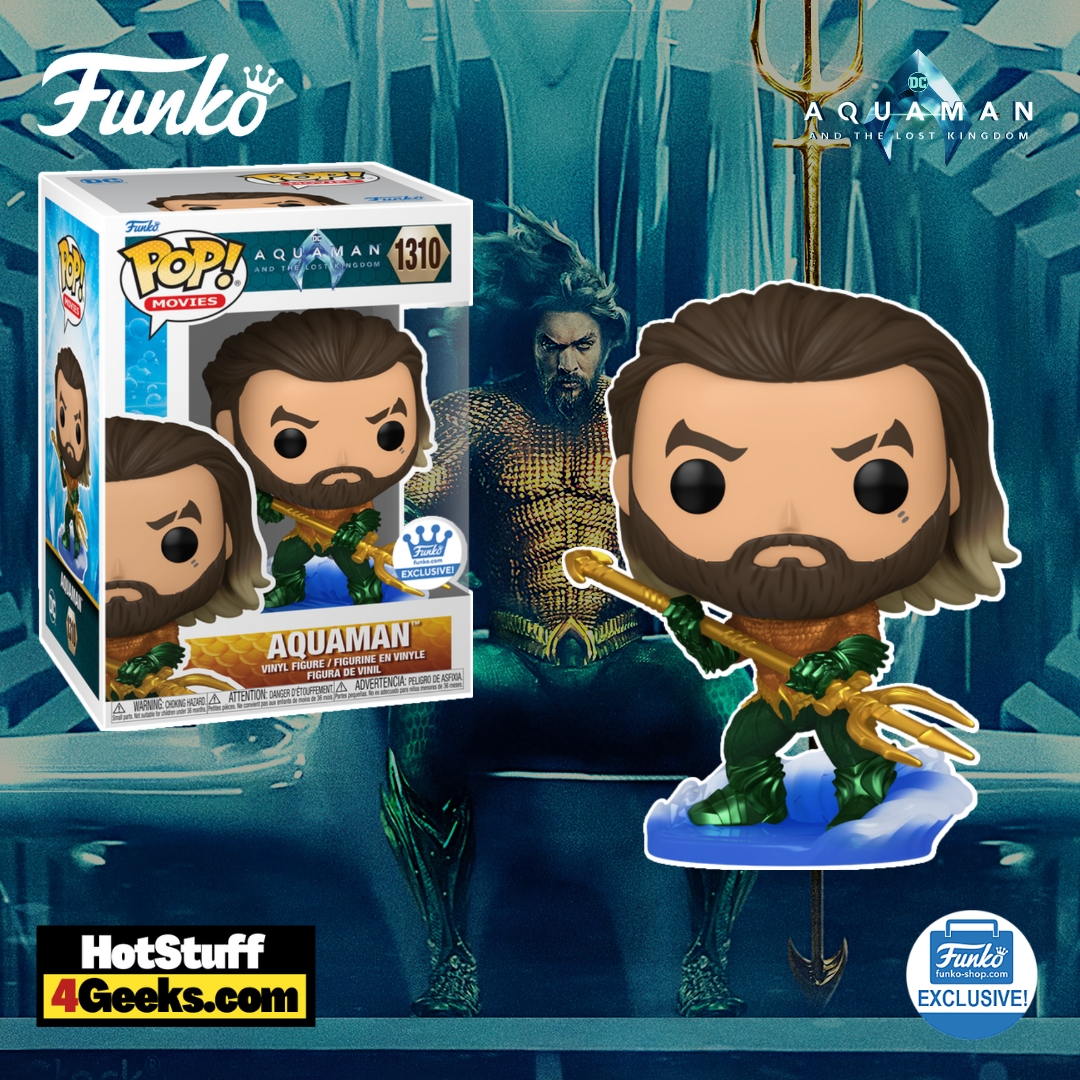 The Return to Atlantis: Everything We Know So Far About "Aquaman and the Lost Kingdom"
If you've been eagerly waiting to dive back into the underwater realms of Atlantis, your patience is about to be rewarded.
Here's what we've unearthed about the much-anticipated "Aquaman and the Lost Kingdom."
The waves of anticipation have been building steadily, and now we're on the brink of the tidal wave. Aquaman's first venture was nothing short of spectacular, sweeping up a billion dollars globally.
Not bad for a guy who converses with fish, right? It was a visual feast, complete with Atlanteans on seahorses, daunting deep-sea monsters, and, who could forget, those crab folks.
With the delightful balance of action and '80s camp, it was a cinematic experience that danced on the line between classic and modern filmmaking.
And now, we're about to submerge once again. James Wan returns to the director's chair, ensuring that this sequel captures the magic and grandeur of its predecessor.
Scheduled to make a splash on December 20, 2023, fans are eager to see if it can stand tall amidst a crowded holiday movie lineup, especially with a potential rival like Sony's Ghostbusters sequel releasing the same day.
A few hiccups with the release date, including pushbacks and readjustments, keep us on our toes.
And while we're talking about screens, keep an eye out on Warner Bros' streaming platform, Max, where our beloved Aquaman will be swimming his way into our homes soon after its theatrical run.
Excited for a teaser? The trailer dropped on September 14, 2023, and it's a whirlpool of nostalgia and promise.
We catch glimpses of Jason Momoa's Arthur Curry grappling with his new life, but Black Manta's return guarantees that tranquility is short-lived.
Speaking of cast members, Atlantis's courts will witness familiar faces and some fresh ones too. Jason Momoa reigns supreme, of course, returning as the mighty Aquaman.
The passion he brings to the character is palpable, not just onscreen but behind the scenes too, having a hand in shaping the story itself.
Amber Heard is back as Mera, and despite some offscreen turbulence, she's geared up for the sequel.
With Yahya Abdul-Mateen II slipping back into his Black Manta gear and Patrick Wilson as Orm, the ensemble is star-studded, to say the least.
New entrants include the likes of Vincent Regan and Indya Moore, ensuring the sequel keeps things fresh.
Plot details remain shrouded in mystery. But with hints from Wan and snippets from trailers and interviews, the narrative seems to lean a bit darker than the original.
The intriguing parallels with the 1965 Italian horror film, Planet of the Vampires, coupled with references to the lost kingdom of Atlantis, known as Necrus, hint at an exhilarating adventure.
With this sequel signaling the end of this chapter in the DCEU, stakes are high, and expectations are even higher.
Wrapping up our little sneak peek, it's worth noting that the cameras started capturing the magic in July 2021, wrapping up by January 2022.
With a few reshoots to ensure everything aligns perfectly, it's clear that meticulous care is being taken to deliver a masterpiece.
Our return to Atlantis is on the horizon. With an epic blend of old faces, new twists, and the same beloved underwater world, "Aquaman and the Lost Kingdom" promises a deep-sea adventure that we won't soon forget.
Dive in this December!
As an Amazon Associate I earn from qualifying purchases
Want more stuff like this?
Get the best viral stories straight into your inbox!
Don't worry, we don't spam