2023 NEW Attack on Titan – Eren Jaeger Funko Pop! and Tee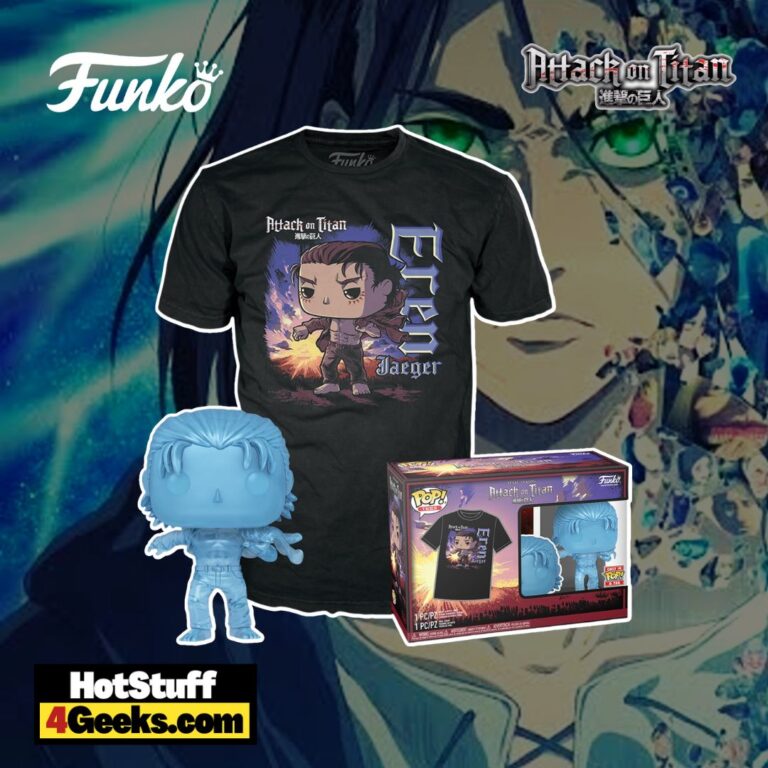 Meet your new favorite addition to your wardrobe and your "Attack on Titan" collection – the latest Funko Pop! and Tee: Attack on Titan –  Eren Jaeger Transparent Funko Pop! Vinyl Figure and Adult T-Shirt Bundle. Now, isn't that a mouthful? But trust me. It's every bit as awe-inspiring as it sounds.
To get your hands on this Pop! and Tee, be sure to check out the links I've provided below – click to jump or scroll to continue reading!
Imagine strutting around in a cozy black crew neck tee, Eren Jaeger emblazoned on the front, ready for action.
The shirt captures him in all his glory, marks of battle still fresh on his face, yet undeterred in his mission to free humanity from the Titans.
The design practically pulsates with intensity, right? As if Eren was about to leap out from the Tee and take on a Titan or two.
But the fun doesn't stop there.
Accompanying the Tee is a transparent Eren Jaeger Funko Pop! figure.
The figure, just like our favorite protagonist, is bursting with energy, ready to join you on all your adventures.
It's the perfect companion for when you're out and about or enjoying downtime at home.
This bundle is not just a piece of merchandise; it's a testament to Eren's resolve and spirit, captured perfectly in a tee and a figure.
And isn't that the kind of spirit you'd love to carry with you, whether running errands, lounging at home, or taking down Titans in your dreams?
Talk about an upgrade to your everyday ensemble!
So, go ahead and let Eren Jaeger – the embodiment of relentless determination – transform your wardrobe and your "Attack on Titan" collection.
It's an addition that genuinely captures the enigmatic, awe-inspiring energy of Eren Jaeger.
Eren Jaeger Funko Pop! and Tee is now available for pre-order at the links below (click to jump!) It's expected to be released in October 2023.
In the realm of anime, few characters resonate with audiences quite like Eren Jaeger from the acclaimed series, "Attack on Titan."
This charismatic protagonist is not your typical anime hero.
The complexity of his character has intrigued fans since the show's inception, sparking fiery debates worldwide.
Is Eren Jaeger a hero, a villain, or a perplexing blend of both?
For a significant part of the series, Eren was the embodiment of hope and determination for the people of Paradis Island.
His fiery resolve to exterminate the Titans, following the tragic loss of his mother, painted a picture of a quintessential hero, rallying those around him to fight for a shared cause.
He courageously faced towering beasts, leading the charge against the likes of Annie, Reiner, and Bertholt.
However, as the narrative unfolded, Eren's character took on darker undertones.
The idealistic youngster, driven by the desire to free humanity from its Titan-infested prison, gradually morphed into a hardened warrior with a complex moral compass.
He committed acts that pushed the boundaries of what we typically expect from our heroes, sacrificing his humanity in the name of freedom.
Eren's actions in the latest season significantly blur the line between hero and villain.
He didn't flinch at the prospect of a civil war within Paradis or the possibility of causing harm to his closest allies.
His disregard for human life in pursuit of his vision for a utopia founded on genocide is a stark contrast to the Eren we met early in the series.
Yet, despite this shift, he remains the narrative's focal point. It's his saga that unfolds, his struggles that we track, and his transformation that intrigues us.
His intent, though marred by questionable methods, is still driven by the desire for peace and justice.
And therein lies the mysterious nature of Eren Jaeger.
The fascinating dichotomy of Eren Jaeger is a testament to the depth and intricacy of "Attack on Titan."
His transformation serves as a reminder that heroes and villains aren't made overnight, nor are they forged in vacuums.
They are shaped by their experiences, motivations, and the world around them. Eren, in essence, mirrors the world he inhabits – harsh, relentless, yet striving for a better tomorrow.
So, the next time you find yourself watching "Attack on Titan," take a moment to ponder the enigmatic figure of Eren Jaeger.
Is he a hero, a villain, or an embodiment of the intriguing gray areas that lie in between?
One thing's for sure, though – Eren Jaeger continues to captivate us, ensuring we remain engrossed in his journey, eagerly awaiting what comes next.
Funko Pop! and Tee: Attack on Titan –  Eren Jaeger Transparent Funko Pop! Vinyl Figure and Adult T-Shirt Bundle
Available at:
Starting now, you can receive 10% off in-stock items with my special link at Entertainment Earth!
 Enjoy!
As an Amazon Associate I earn from qualifying purchases
Want more stuff like this?
Get the best viral stories straight into your inbox!
Don't worry, we don't spam