2023 NEW Attack on Titan: Eren Yeager (Metallic) Funko Pop!
Every "Attack on Titan" fan knows Eren Yeager's pivotal role in the relentless battle for humanity's survival. With that said, the anticipation has been building up for the arrival of the newest addition to our collection arsenal, the Funko Pop! Attack on Titan: Eren Yeager (Metallic) Funko Pop!  – Amazon Exclusive.
To get your hands on this Pop Vinyl Figure, be sure to check out the links I've provided below – click to jump or scroll to continue reading!
A Titan-sized Upgrade: The Metallic Eren Yeager Funko Pop!
Amazon's exclusive offer is as distinctive as it gets.
The metallic finish lends an extra edge to this stylized figure, making it a must-have for die-hard "Attack on Titan" enthusiasts.
Designed meticulously, this Funko Pop encapsulates the essence of Eren, ready to combat the monstrous Titans that threaten his world.
What truly sets this piece apart is its commitment to the character. The figure's design echoes Eren's relentless determination to liberate humanity from the Titans' terror.
His unwavering stance, metallic sheen, and focused gaze capture his intensity perfectly.
In short, the metallic Eren Yeager Funko Pop is a well-crafted tribute to an anime character who's loved by many.
It's an exciting addition to any "Attack on Titan" collection, symbolizing Eren's enthusiasm, courage, and unwavering commitment to freedom.
While the fate of humanity hangs in the balance, this exclusive collectible showcases the strength and tenacity of one of the show's most iconic characters.
The Amazon Exclusive Eren Yeager (Metallic) Funko Pop! is now available for pre-order at the links below (click to jump!)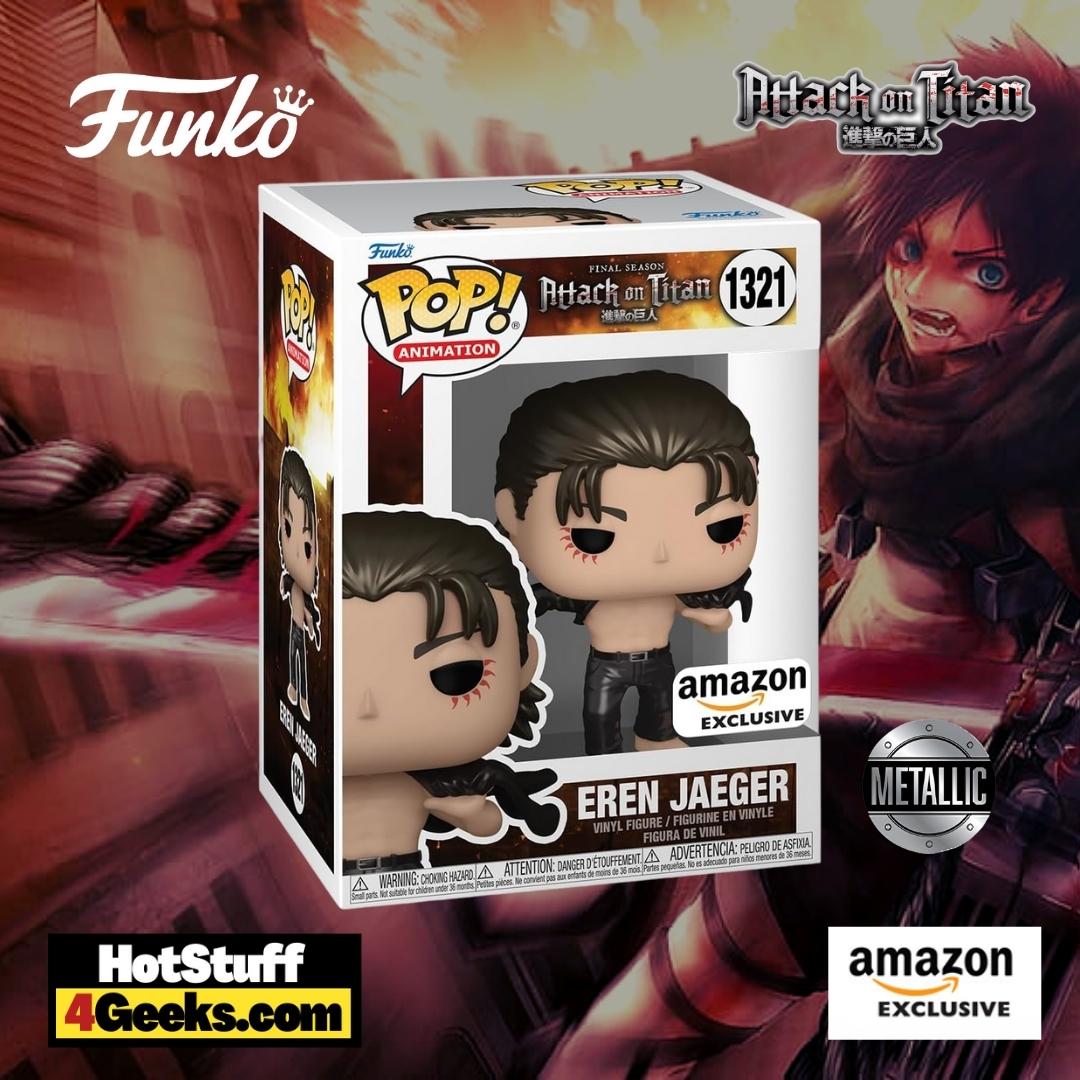 Eren Yeager: Unveiling the Heroic Paradox in Attack on Titan
Embarking on exploring the intricacies and complexities of a certain Eren Yeager might leave your head spinning a bit.
This enigmatic hero from the globally recognized anime, "Attack on Titan," merits extra attention.
His recent shift towards an international mission of destruction has given the fans a reason to reassess their loyalty.
But then again, isn't the path to greatness always riddled with potholes of doubt and suspicion?
Eren's character arcs from a naive daydreamer from Shiganshina to an overpowered juggernaut, encapsulating the essence of a classic Shonen protagonist.
His evolution was gradual but emphatic. His dominance became unquestionable as he gained the prowess of the Attack, Warhammer, and Founding Titan.
Yet, the weight of his responsibility underscored his extraordinary power, placing him head and shoulders above everyone else in the world of "Attack on Titan."
Fervor and courage have always been Eren's calling cards. Remember his role as the Attack Titan?
Even when the world seemed to stumble and stutter, he boldly led his allies into battle without even a flicker of hesitation.
This audacious disposition enabled him to eliminate the Titans and catapult the Scouts into the thick of a centuries-old war.
His fearlessness was a beacon, and it certainly wasn't for show.
Eren's courage was genuine, and he demonstrated it repeatedly, whether face-to-face with the Colossal Titan that devastated his home or throwing punches at the Smiling Titan, the monstrous nemesis who killed his mother.
Eren, in many ways, is the embodiment of a strategic mastermind.
He was not your stereotypical anime hero who wore his plans on his sleeves.
Instead, Eren navigated a twisted path to gain complete control of the Founding Titan.
His actions and intentions remained mysterious, creating a narrative that kept his opponents guessing and his fans intrigued.
His relationship with his friends, Armin and Mikasa, forms crucial parts of his journey.
His unwavering faith in Armin's brilliance and close bond with Mikasa, who kept his ego in check, showcase Eren's ability to build and maintain profound relationships.
His intentions remained selfless even when he chose the path of violence over diplomacy.
He was ready to throw his life into the fray to champion a cause no one asked him to, for the safety and freedom of his people.
While controversial, this unwavering loyalty and relentless pursuit of freedom undoubtedly mark him as a hero of unusual mettle.
In conclusion, Eren Yeager is a character study in paradoxes – a hero who has trod the line of villainy, a courageous leader who has succumbed to his fears, and a selfless friend who risks all for the sake of his people.
Through all these contradictions, he emerges as one of the most layered and fascinating figures in the universe of "Attack on Titan."
Starting now, you can receive 10% off in-stock items with my special link at Entertainment Earth!
 Enjoy!
As an Amazon Associate I earn from qualifying purchases
Want more stuff like this?
Get the best viral stories straight into your inbox!
Don't worry, we don't spam