2023 NEW Avatar: Kyoshi Spirit Glow Funko Pop! EE Exclusive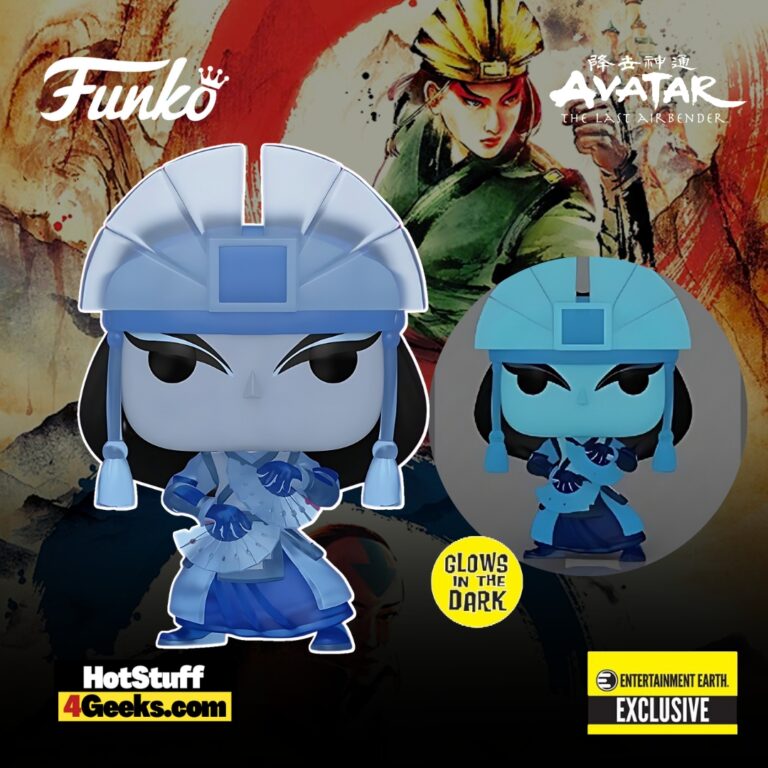 The new Funko Pop! Animation: Avatar The Last Airbender – Kyoshi Spirit Glow-in-the-Dark (GITD) Funko Pop! Vinyl Figure – Entertainment Earth Exclusive (2023 release) is not just a mouthful to say but also a mesmerizing piece that encapsulates the enigma and spirit of Avatar Kyoshi in its glow. This exclusive item promises to be the luminous gem every Avatar fan will want to possess.
UPDATE: Now Available for pre-order! To get your hands on this Pop Vinyl Figure at its release, be sure to check out the links I've provided below – click to jump or scroll to continue reading!
The Mystique of Avatar Kyoshi: Now in Glowing Funko Pop!
The majestic world of Avatar The Last Airbender welcomes a radiant addition with the launch of Spirit Kyoshi Glow-in-the-Dark Funko Pop! Vinyl Figure.
Exclusive to Entertainment Earth, this luminous figurine encapsulates the essence and enigma of Avatar Kyoshi.
Drenched in detailed artistry, her powerful Earth Kingdom heritage and iconic headdress meld flawlessly with the ethereal glow emanating from her in the dark, amplifying the character's ethereal nature.
Kyoshi, renowned for her towering stature and unwavering justice, finds herself intricately represented in this figure, transcending mere aesthetics.
The glow encapsulates the Avatar's powerful spirit, and with the lights off, it seems she's channeling her energies from the Spirit World itself.
For avid fans and collectors, it's an exquisite homage to a character whose impact in the animation was as radiant as this Funko Pop promises to be.
A shimmering tribute to an Avatar of unparalleled complexity!
The Entertainment Earth Exclusive Kyoshi Spirit Glow Funko Pop! can be found for pre-order at the links below (click to jump!)
The Enigmatic Avatar Kyoshi: A Conundrum of Strength and Complexity
Avatar Kyoshi, hailing from the Earth Kingdom, is an awe-inspiring blend of mystery, prowess, and complexity.
A tapestry of contradictions, her story redefines the notions of justice, power, and leadership in the Avatar universe.
Born to parents on the wrong side of the law, Kyoshi's life trajectory was anything but straightforward.
Her mother, a renegade Air Nomad nun, and her father, a thief with a family background in acting, played an unintentional yet influential role in shaping her unique sense of style.
Imagine a golden headdress fused with earthy face paint—this was Kyoshi, and the ensemble wasn't just cosmetic; it represented her fragmented heritage and complex identity.
Often, the tale of an Avatar begins with early recognition of their powers.
But not for Kyoshi. Initially, her friend Yun was inaccurately identified as the Avatar, a catastrophic error that catapulted both of their lives into chaos.
Yun was sacrificed, and her surrogate father, Kelsang, met a violent end, setting Kyoshi on a path tinged with vengeance and fear.
It's intriguing how her journey took her to the criminal underworld, particularly to her parents' former gang, the Flying Opera Company.
As fate would have it, this was where she honed her skills and found the strength to defeat Jianzhu, Yun's former master.
With the tables turned, Kyoshi had to navigate her new identity amidst the Earth Kingdom's power vacuum left in Jianzhu's wake.
While other Avatars like Roku and Aang sought peace through less lethal means, Kyoshi's sense of justice was more…final.
She displayed a remarkable absence of hesitation when it came to killing enemies if it served her notion of justice.
This cold pragmatism can be polarizing, but it was effective.
Her influence was far-reaching and indisputable, from halting the Yellow Neck Uprising to reformatting the Earth Kingdom into a constitutional monarchy.
But her legacy wasn't without shadows.
The Dai Li, a secret police force she founded to maintain peace within the Earth Kingdom, later became the antithesis of her ideals.
Moreover, her training initiatives, like the Kyoshi Warriors, reveal her predilection to institutionalize her ideals, sometimes with unintended consequences, as they were later exploited.
In closing, Avatar Kyoshi lived for an astonishing 230 years, each decade adding layers to her enigmatic persona.
Her actions—both heroic and questionable—left an indelible mark on the world, contributing to an era of peace but also sowing the seeds for future unrest.
Her life is an opulent narrative quilt, each patch a lesson in power, morality, and the human condition.
Starting now, you can receive 10% off in-stock items with my special link at Entertainment Earth!
 Enjoy!
As an Amazon Associate I earn from qualifying purchases
Want more stuff like this?
Get the best viral stories straight into your inbox!
Don't worry, we don't spam