2023 NEW BB-8 Pride: Glitter Funko Pop! & Mini Backpack Bundle
Loungefly Star Wars BB-8 Pride Diamond Glitter Funko Pop! and Mini Backpack – Funko Shop Exclusive
Available at:
Our favorite astromech, BB-8, is rolling in style with a colorful revamp. It's the new Loungefly Star Wars BB-8 Pride Diamond Glitter Funko Pop! and Mini Backpack – Funko Shop Exclusive – a true celebration of Pride with its vibrant palette, adorning BB-8's unique design.
The pop and mini backpack bundle will drop online on May 24 at 9.00 AM PT and can be found at the links below – click to jump or scroll to continue reading!
Our charismatic astro-droid, BB-8, is donning a festive new look.
An exclusive bundle that marries fandom and fashion.
This isn't just a backpack; it's a vibrant tapestry narrating BB-8's story.
The bold colors splash across BB-8's signature features, infusing a sense of life into our beloved mechanical friend.
The sprinkling of colorful markings on his face and body only amplifies the charm.
And guess who's peeping from the back, right beside the rainbow-striped straps?
Yep, our spherical companion is making his encore.
Wait, there's more.
A glittering Diamond Collection Bobble-Head Pop! BB-8 accompanies this swanky backpack.
But remember, this exclusive bundle is a limited 4,000-piece edition.
Priced at $120, it's a purchase that adds sparkle to your Star Wars collection and contributes $65 to the It Gets Better Project.
Talk about style with substance!
So why wait? Light up your galaxy with this striking ensemble today.
The Funko Shop Exclusive BB-8 Pride: Glitter Funko Pop! &  Loungefly Mini Backpack Bundle can be found at the links below (click to jump!)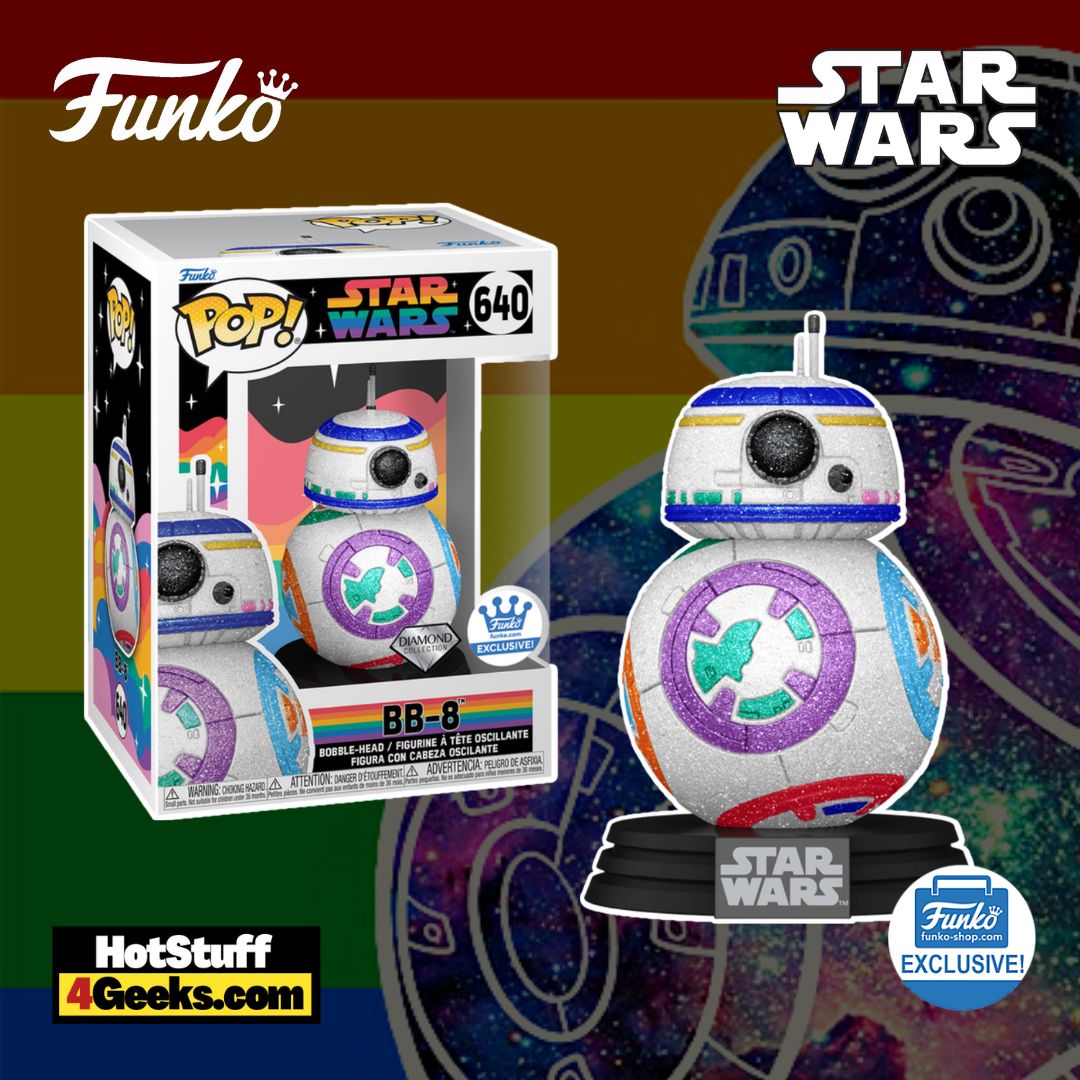 Today we're spotlighting one of the galaxy's most lovable droids: BB-8.
This lil' fellow has wheeled into our hearts quicker than a podracer on Tatooine.
BB-8, our charismatic roly-poly companion, is a design marvel.
Just envision J.J. Abrams, casually sketching two circles with a dot on a napkin, unknowingly crafting a pop culture icon.
A seemingly haphazard pattern of panels wraps around this globular wonder, offering a clue to his direction of movement yet intriguing us with their undisclosed potential.
This cleverly constructed companion reminds you of a soccer ball, doesn't it?
Bingo!
Our spherical friend took inspiration from the beautiful game's primary piece of equipment.
It's as if the excitement of a goal-bound ball has been channeled into this adorable droid.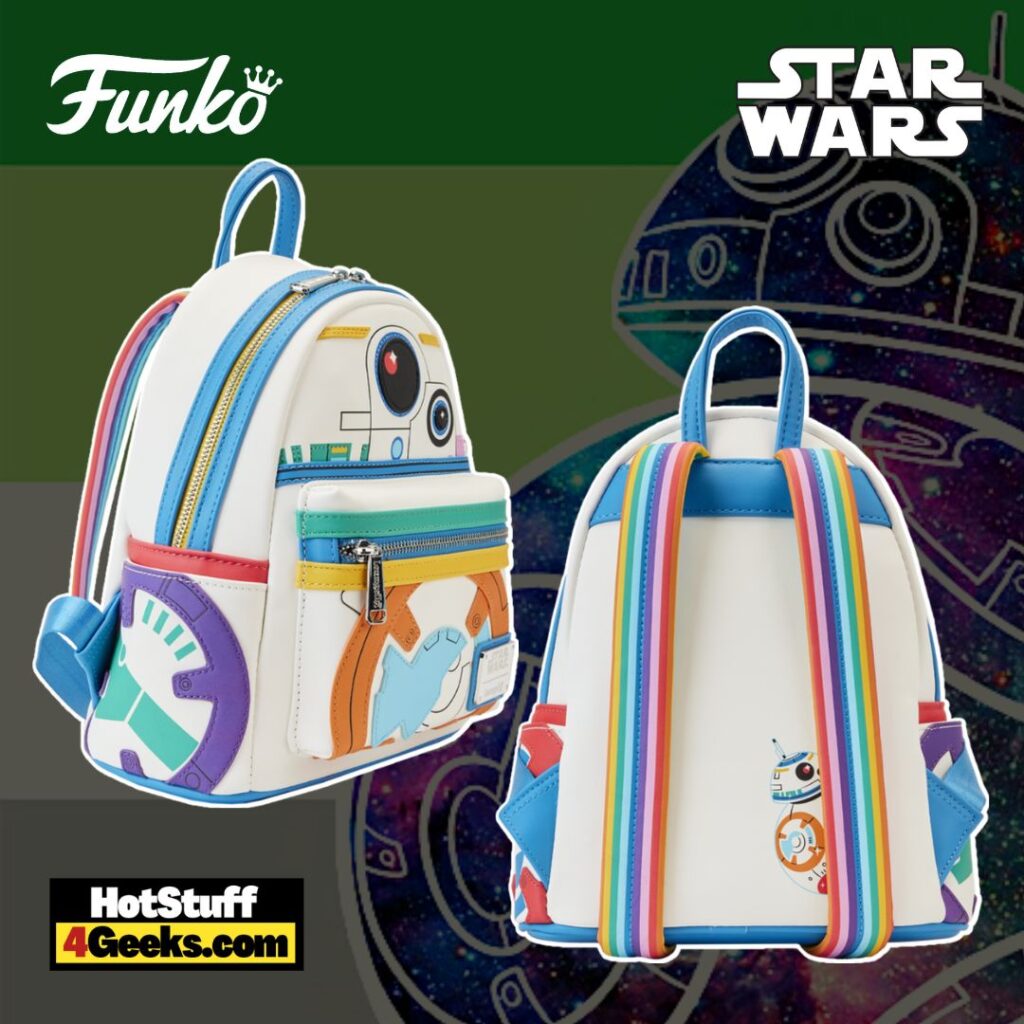 BB-8's name is a playful nod to its appearance.
A sonic interpretation of its visual charm, if you will.
The way Abrams named this little guy — "BB-8" — is practically onomatopoeic.
This decision showcases the thoughtful design and intricate detailing that went into creating this character, and it's one of the reasons we adore BB-8.
Behind the scenes, BB-8 is an impressive piece of real-life tech magic.
No, not just CGI, but a tangible marvel, a blend of puppetry and radio-controlled technology.
This off-screen complexity translates on-screen into what seems like an authentic, living creature with a unique, often endearing, personality.
BB-8 knows he's a charmer and uses it to his advantage.
He's got that childlike knack for nudging you subtly in his favor.
His expressive beeps and boops, ingeniously crafted with a little help from comedians Bill Hader and Ben Schwartz, are essential in making BB-8's personality shine.
To wrap up, the beauty of BB-8 lies in the balance between its visually pleasing design, the mystery of its functionality, and its endearing personality.
Regardless of gender perceptions, BB-8 transcends these labels, simply being the adorable, plucky droid we've all grown to love.
Here's to BB-8, the soccer-ball-shaped, manipulative sweetheart of the Star Wars universe.
As an Amazon Associate I earn from qualifying purchases
Loungefly Star Wars BB-8 Pride Diamond Glitter Funko Pop! and Mini Backpack – Funko Shop Exclusive
Available at:
Want more stuff like this?
Get the best viral stories straight into your inbox!
Don't worry, we don't spam