2023 NEW Beach Mickey and Minnie Mouse Funko Sodas
Prepare to welcome a new wave of nostalgia as I present the new Funko Pop! Sodas: Beach Mickey and Minnie Mouse Funko Soda Vinyl Figures with Neon Chase – Funko Shop Exclusives! These adorable collectibles capture our beloved mouse duo in the throes of a sun-soaked holiday.
The Funko Sodas are releasing today at 9.30 AM PT and can be found at the links below – click to jump or scroll to continue reading!
Picture Mickey, his trademark grin peeking out from under cool sunglasses, clutching a vibrant innertube – ready for a splash!
And then, there's Minnie, equally stylish in her shades, equipped with a cheerful pail for a day of seaside fun.
These figurines are not just recreations but encapsulations of the very essence of our beloved Disney characters.
Their vibrant colors and playful designs bring to life those summer moments filled with sunshine and happiness, just like Mickey and Minnie's evergreen charm.
The rarity factor ups the ante even further.
With only 10,000 of each made, they're exclusives you'd love to add to your collection.
But the excitement doesn't stop there. If luck is on your side, you could be among the few to discover the Neon Chase versions of these beach-ready mice!
These vibrant iterations are like capturing a flash of Disney magic – a perfect blend of the new and the nostalgic, the dynamic and the classic.
So, are you ready for the beach with Mickey and Minnie?
The Funko Shop Exclusives Beach Mickey and Minnie Mouse with Neon Chase Funko Sodas can be found at the links below (click to jump!)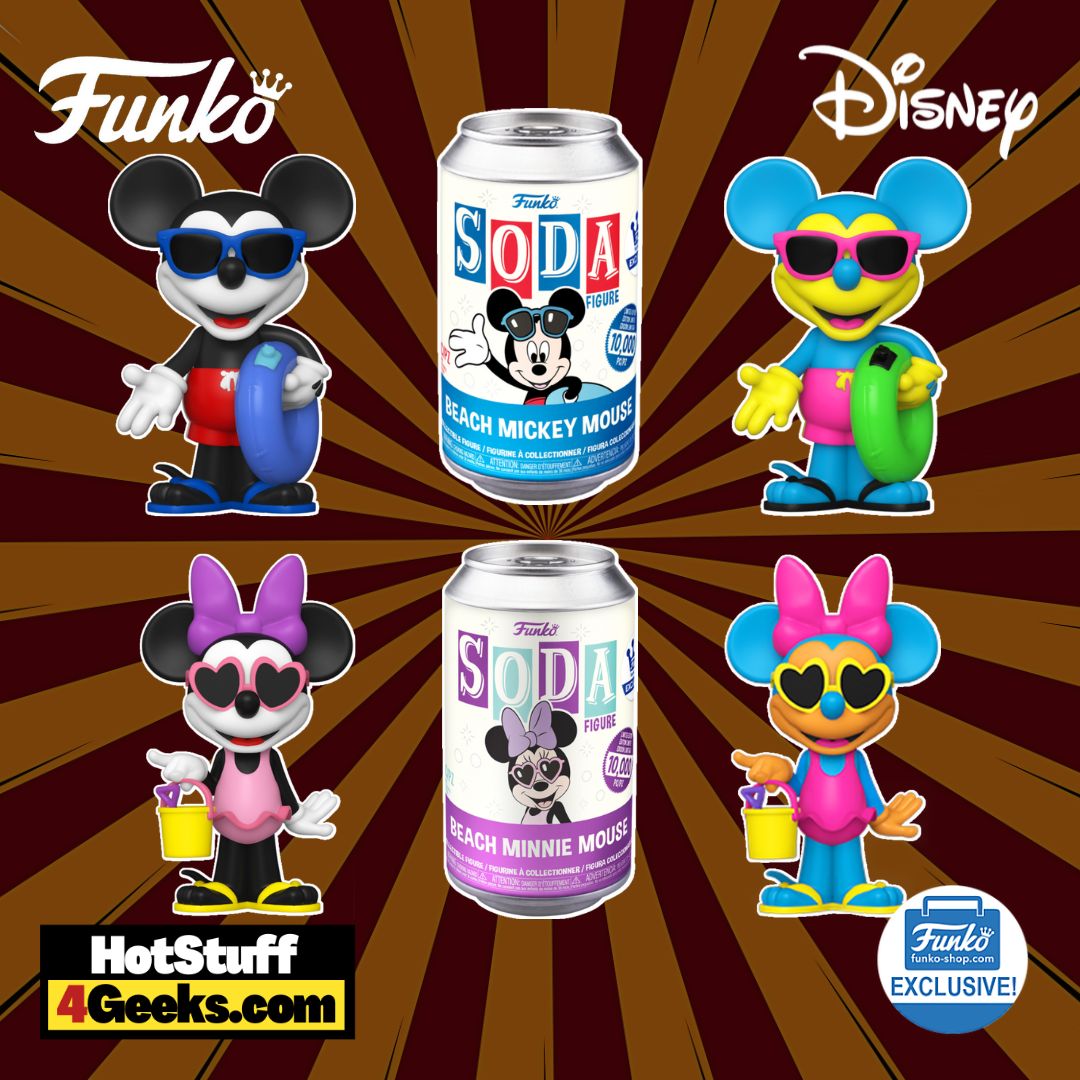 Have you ever wondered about the eternal love story of Disney's most iconic couple, Mickey and Minnie Mouse?
It's a tale filled with sweetness, charm, and a dash of old-world magic that echoes through the corridors of Disney history.
This dynamic duo debuted in the black and white short film "Steamboat Willie" in 1928.
Yep, that's right – our favorite pair of mice has been stealing our hearts for nearly a century now!
It's fair to say in the annals of animated history, no other couple can match the longevity and popularity of Mickey and Minnie.
Here's an interesting nugget of trivia – did you know these beloved characters didn't always go by their famous monikers?
Mickey was almost christened 'Mortimer Mouse' until Walt Disney's wife, Lillian, advised a change, suggesting the friendlier-sounding 'Mickey.'
On the other hand, Minnie is formally known as Minerva Mouse, a tidbit mentioned only sporadically throughout Disney's voluminous comics.
You may ask, "Are Mickey and Minnie siblings, given their shared last name?"
No, they're not!
They share an even deeper bond – they're a married couple!
Despite the numerous narratives showing them as dating or courting, Walt Disney confirmed in an interview that Mickey and Minnie are, indeed, husband and wife.
However, as charming as their on-screen romance is, there's an even more heartwarming tale off-screen.
The voice actors behind Mickey and Minnie – Wayne Allwine and Russi Taylor – were a real-life couple, mirroring their characters' love story beautifully.
All in all, the enduring love story of Mickey and Minnie Mouse has brought smiles, laughter, and heartwarming moments to millions around the globe.
It's a tale spun from the loom of Disney magic, a timeless narrative that continues to captivate hearts, transcending borders and generations.
Here's to the charming pair that has, and will continue to, spread joy for many more years to come!
Funko Pop! Sodas: Beach Mickey and Minnie Mouse Funko Soda Vinyl Figures – Funko Shop Exclusives
Available at:
Starting now, you can receive 10% off in-stock items with my special link at Entertainment Earth!
 Enjoy!
As an Amazon Associate I earn from qualifying purchases
Want more stuff like this?
Get the best viral stories straight into your inbox!
Don't worry, we don't spam