2023 NEW Beauty & The Beast -Tale as Old as Time Funko Pop! Moment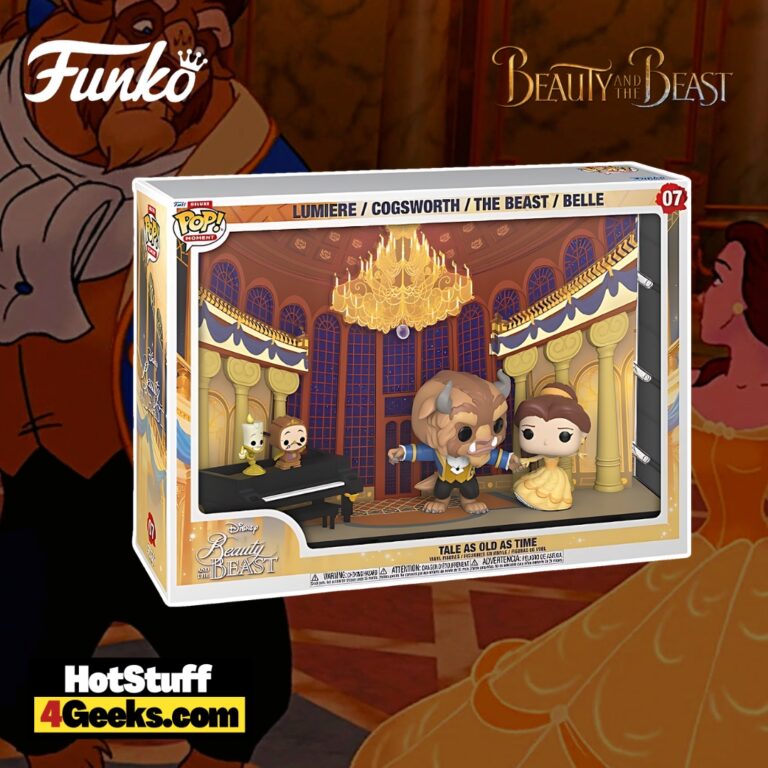 Get ready to relive the enchantment of one of Disney's most iconic scenes! The new Funko Pop! Disney Moments Deluxe: Beauty and The Beast – Lumiere, Cogsworth, The Beast, Belle – Tale as Old as Time Funko Pop! Moment Deluxe Funko Pop! Vinyl Figures are here, capturing the magic and emotion of the unforgettable ballroom dance. This collectible set is the ultimate tribute, offering fans a chance to hold a piece of cinematic brilliance in their hands.
UPDATE: Now Available for pre-order! To get your hands on this Pop Vinyl Figure, be sure to check out the links I've provided below – click to jump or scroll to continue reading!
Capturing a Tale as Old as Time: The Latest Beauty and The Beast Funko Pop! Deluxe Disney Moment Release
Just when you thought you'd seen it all, Funko Pop! rolls out their newest gem—a Disney Moments Deluxe set centered around that quintessential "Beauty and the Beast" scene: the ballroom dance.
You know, the one where Belle whirls around in that golden gown while the Beast steps with newfound grace, both their hearts skipping a beat.
But wait, there's more. Lumiere and Cogsworth aren't just bystanders; they're placed by a piano, taking in the love story as it unfolds. It's as if you're getting a behind-the-scenes look at a cinematic masterpiece.
Ah, the artistry of it! The intricacies of Belle's gown, the Beast's subtle transformation, and the luminescence of Lumiere are all captured in vinyl yet manage to retain their ethereal qualities. Just like the film, this set transcends its medium.
It brings you right into that grand, opulent ballroom where two souls found love. While you won't hear Mrs. Potts' voice singing "Tale as Old as Time," your own imagination will fill in the tune perfectly.
It's like holding a piece of cinematic history in your hands; let me tell you, it's pure magic.
Beauty and The Beast – Tale as Old as Time Funko Pop! Moment Funko Pop! Vinyl Figure with Lumiere, Cogsworth, The Beast, and Belle Pops! is now available for pre-order at the links below (click to jump!)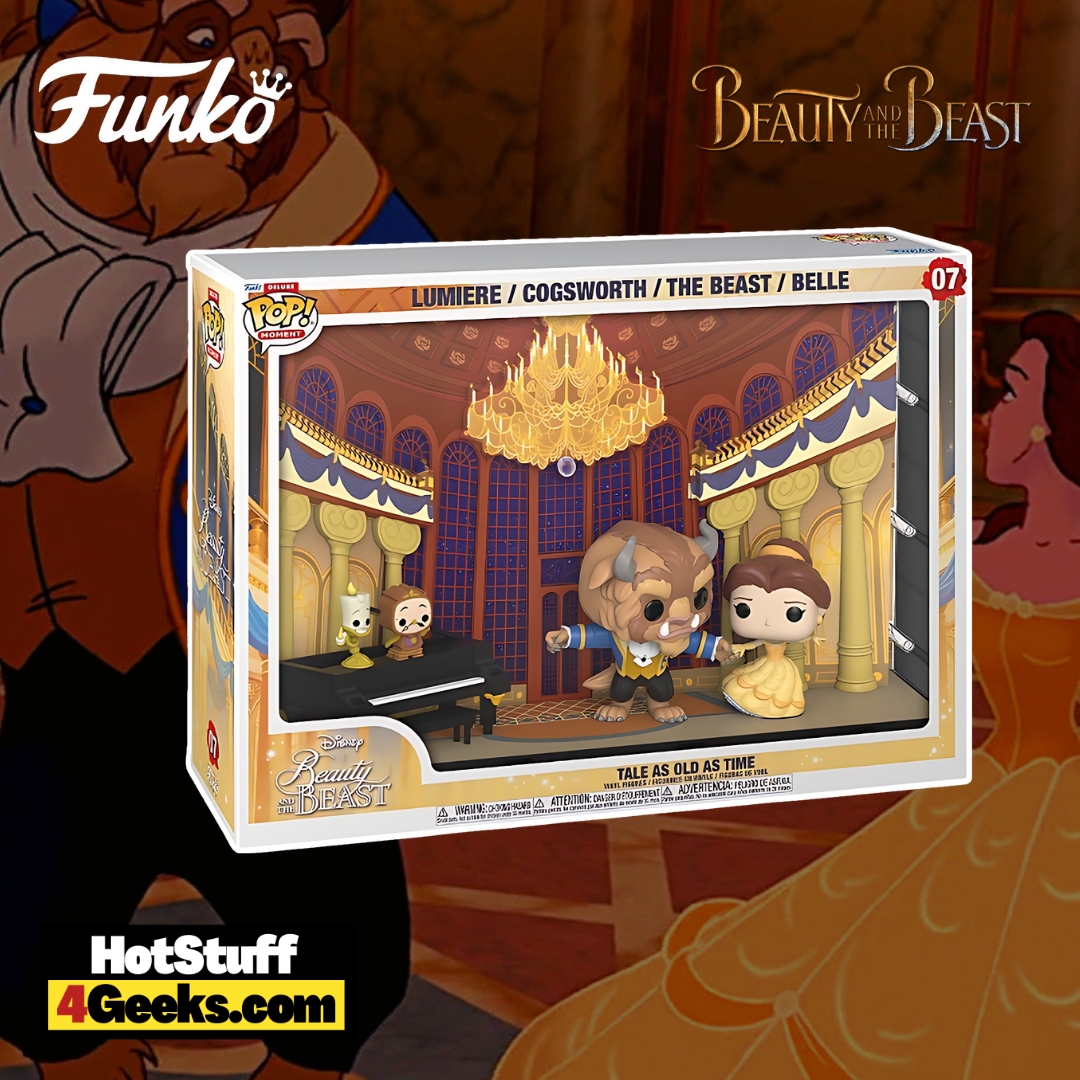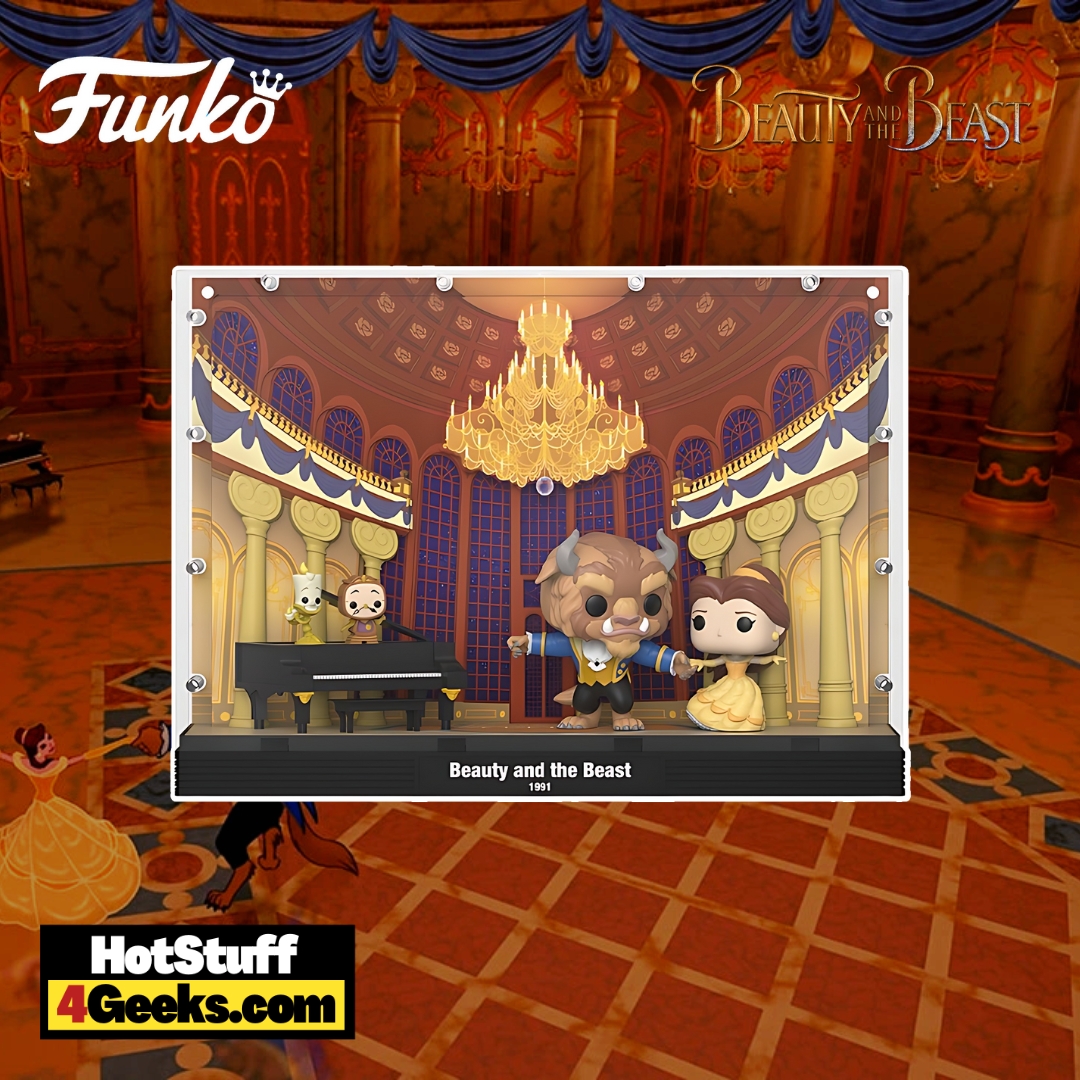 The Magical Alchemy of Animation and Emotion: The Ballroom Scene in "Beauty and the Beast"
The whimsy of waltzing in a grand chandelier-lit ballroom, where two souls connect and boundaries dissolve! "Beauty and the Beast" achieved just that, but with an added layer of complexity—blending old-world charm with cutting-edge technology.
Let's talk about how this tale, as old as time, was brought to life in a scene that captivated audiences of all ages.
It all goes down in the Beast's grand ballroom, a location so significant that it could very well be called a character in itself.
It's where Belle and the Beast's narrative arcs poetically intersect, journeying from guarded interaction to emotional revelation.
Belle begins to see past the Beast's rugged exterior, while the Beast starts to fathom his own feelings for Belle, recognizing that they transcend mere gratitude.
The moment is scored by Mrs. Potts' lilting tune that defines love as an age-old but evergreen tale—universal, yet newly extraordinary for each pair of lovers.
Behind the scenes, this monumental sequence was a marvel of animation and computer-generated imagery.
The animators faced the unique challenge of marrying traditional 2D characters with a 3D environment that is constantly evolving.
Supervising animator James Baxter and designer Scott F. Johnston were among the key figures who harmonized this aesthetic tango.
What's even more astonishing is that the technology allowed the camera to move through this 3D space as if it were actually floating around the characters.
Thanks to meticulously crafted camera movements, you get the sensation of drifting alongside Belle and the Beast, swooping under the chandelier, and winding around the dance floor.
The scene was also a ballet of visual, auditory, and narrative elements.
Executive producer Jeffrey Katzenberg was obsessed with finding that "wowie" moment for the film, and boy, did they find it.
The characters waltz around the room while the camera sways and swoops, creating a sweeping cinematic experience that pulls you right into the screen.
The ballroom itself, envisioned by story artists Brenda Chapman and Roger Allers, had a live-action vibe, breaking the mold of traditional animation with its scale and grandeur.
Ultimately, the scene stands as a harmonious melding of technological innovation and emotional depth, the culmination of Belle and the Beast's evolving relationship.
The enchanting synergy of the moment—musically, visually, and emotionally—delivers a multi-layered experience that has etched itself in the annals of cinematic history.
It adds layers to the characters we thought we knew, reshaping them into figures capable of growth, change, and, most importantly, love.
There you have it. A magical fusion of artistry and emotion, the ballroom scene in "Beauty and the Beast" is a masterclass in how to tell a story that resonates across time and technology.
Starting now, you can receive 10% off in-stock items with my special link at Entertainment Earth!
 Enjoy!
As an Amazon Associate I earn from qualifying purchases
Want more stuff like this?
Get the best viral stories straight into your inbox!
Don't worry, we don't spam