2023 NEW Bob Gurr Funko Pop! Celebrating a Disney Genius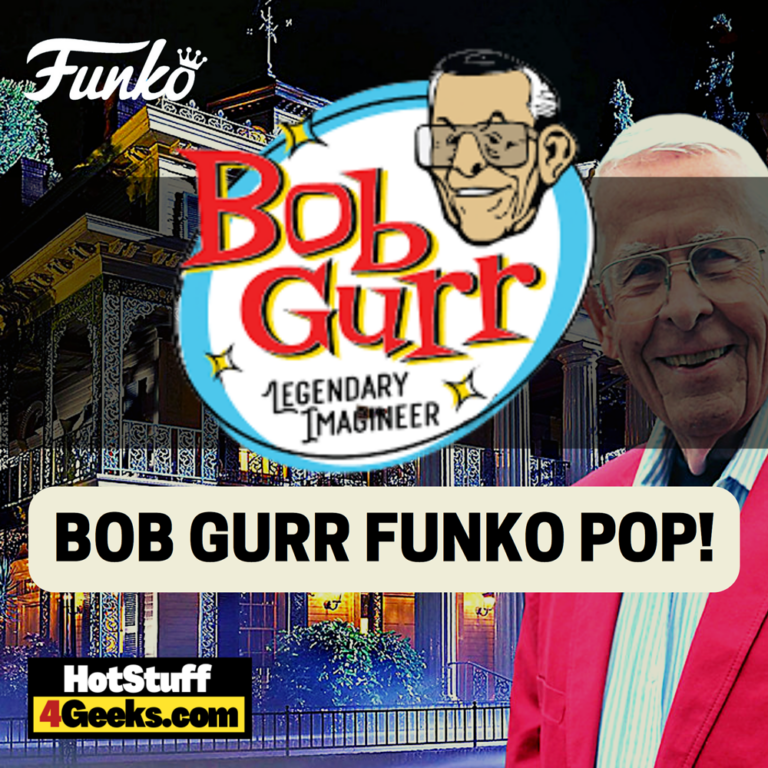 Not official until confirmed.
What better way to celebrate the man who put the "fun" in Disneyland's countless attractions than with a charming Funko Pop! Disney: Bob Gurr Funko Pop! Vinyl Figure? This incredible collectible pays homage to the ingenious Imagineer who single-handedly revolutionized theme park rides, one set of wheels at a time.
In a fitting nod to his legendary status, the new Bob Gurr Funko Pop! figure captures the essence of our favorite Imagineer, sporting a vibrant flower tee and all set to embark on one of his iconic Waltland bus tours.
This whimsical collectible immortalizes the man who crafted countless Disney dreams, now ready to guide fans on a journey through the magic he's created.
So, let's celebrate the inimitable Bob Gurr – the visionary Imagineer, the wheeled-wonder worker, and now, the star of our Funko Pop! collection.
With a wink and a wave, this charming figure reminds us that creativity knows no bounds and that the spirit of imagination is alive and well.
Here's to you, Bob Gurr, and to the generations of joy you've inspired.
The new Bob Gurr Funko Pop! is an unconfirmed release. It is only official when or if Funko announces it. I'll update more information in the long run.
When you think of Disneyland, the "Happiest Place on Earth," you can't help but marvel at the attractions that whisk you away to imaginative realms.
From underwater voyages to snow-capped mountains, the park has something for everyone. The man behind the magic?
The incomparable Bob Gurr.
Bob Gurr, the last original Imagineer, has a witty retort: "If it moves on wheels at Disneyland, I probably designed it."
Indeed, his impressive portfolio boasts over 200 motion projects, including the Autopia cars, Haunted Mansion doom buggies, and the iconic Disneyland Monorail.
A true Disney Legend, Gurr's captivating story unfolds like a riveting theme park ride.
Growing up near Grand Central Air Terminal, Gurr was enthralled by the planes overhead. This fascination led him to study industrial design at the Art Center College of Design in Los Angeles.
Little did he know that his passion for mechanics would collide with Disney's world of enchantment.
Walt Disney's keen eye recognized Gurr's talent, and in 1954, he invited him to join WED Enterprises, now known as Disney Imagineering.
Tasked with designing miniature Autopia vehicles, Gurr created a sensation when Disneyland opened in 1955. Despite his initial aversion to mathematics, his work continued to thrill parkgoers with the Matterhorn bobsleds.
Gurr's knack for innovation didn't stop at Disneyland. He collaborated with Universal Studios Hollywood, designing the colossal King Kong Encounter animatronic.
His work with Steven Spielberg on the Jurassic Park T-Rex animatronic dinosaur and Michael Jackson's Victory Tour are just a few examples of his creative prowess.
The revered Disney Legend Award was bestowed upon Gurr in 2004, and his handprints grace the Court of Legends at Walt Disney Studios in Burbank.
With his name adorning Main Street USA in Disneyland and The Magic Kingdom, Gurr's legacy is etched into the fabric of Disney history.
Bob Gurr, the mastermind behind Disneyland's most iconic ride vehicles, has left an indelible mark on the hearts of Disney enthusiasts worldwide.
With a career spanning over six decades, Gurr's imaginative spirit continues to inspire future generations of Imagineers.
In a delightful twist of fate, the man who once breathed life into inanimate objects now finds himself immortalized as a whimsical collectible.
Bob Gurr, the master of magical motion, has been transformed into a charming Funko Pop! figure.
It's the ultimate tribute to a man who's brought so much joy and wonder to the world.
So, let's raise a toast to Bob Gurr – the original Imagineer, the ride vehicle virtuoso, and the newest addition to our Funko Pop! collection. Here's to the creative genius who made wheels spin, bobsleds slide, and our hearts soar.
Bob, you truly are a Disney Legend.
Starting now, you can receive 10% off in-stock items with my special link at Entertainment Earth!
 Enjoy!
As an Amazon Associate I earn from qualifying purchases
Want more stuff like this?
Get the best viral stories straight into your inbox!
Don't worry, we don't spam